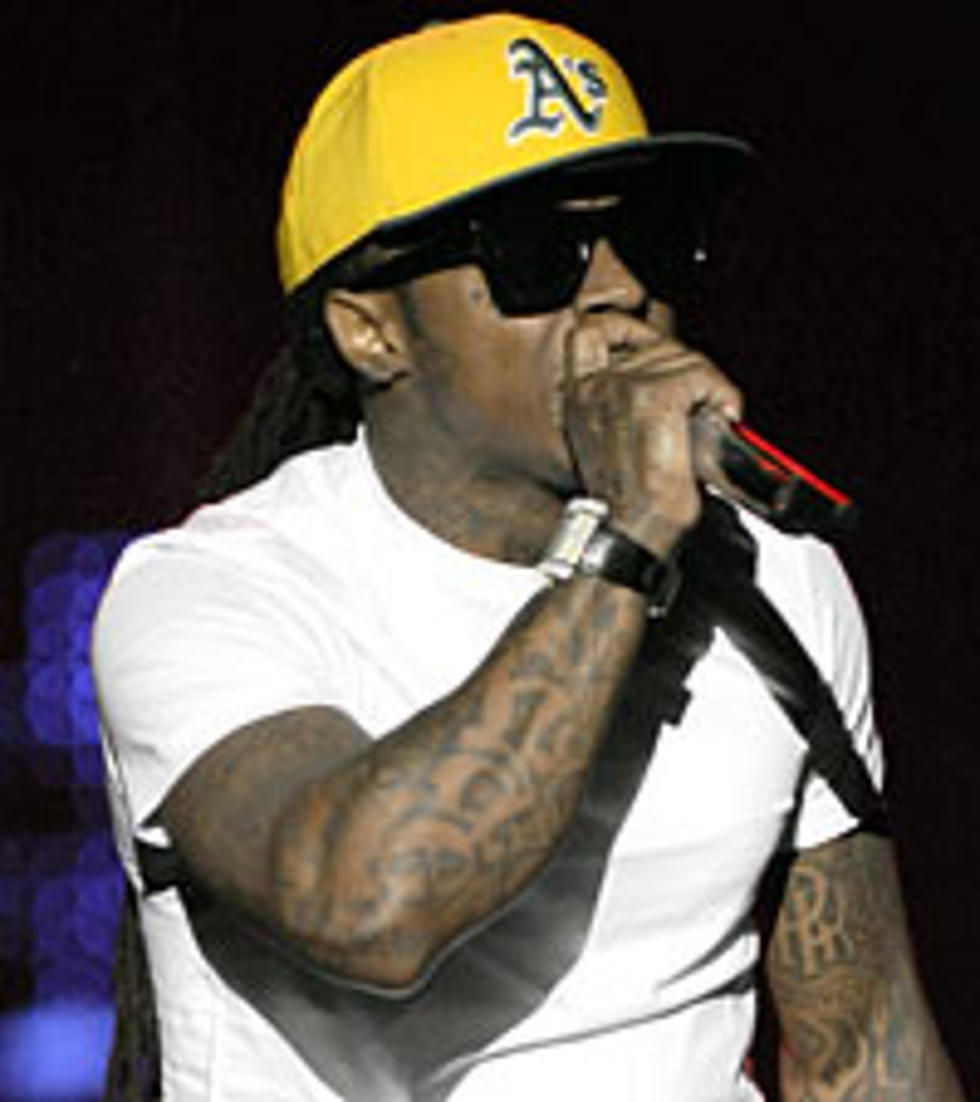 Lil Wayne Extends I Am Still Music Tour Into Summer 2011
Tim Mosenfelder/Getty Images
Missed Lil Wayne as he hit arenas on his first tour since spending a year in prison for gun charges? You're in luck! After wrapping up his two-month-long I Am Still Music tour at the Bamboozle Festival on May 1, Weezy has decided to stay on the road. The '6 Foot 7 Foot' rapper has announced a second leg to the touring hip-hop circus that will hit 40 cities, beginning July 13 in Hartford, Conn.
Things are getting a little bigger the second time around. Rick Ross, a staple of the I Am Still Music tour's first leg, will stay onboard for part deux, but Young Money's First Lady Nicki Minaj, who accepted a opening gig on Britney Spears' summer Femme Fatale tour, will be replaced by 'Pretty Girl Swag' singer Keri Hilson. Gone is drummer Travis Barker, but say hello to 'Like a G6' rappers Far East Movement and R&B crooner Lloyd, who will each take the stage at the start of the show.
With Weezy releasing 'Tha Carter IV' on June 21, expect a boatload of new tunes to show up in the setlists of the second leg of I Am Still Music tour. Select tickets go on sale via LiveNation.com beginning May 20.
Lil Wayne I Am Still Music summer tour dates:

7/13: Comcast Theater, Hartford, Conn.

7/15: Jiffy Lube Live Amphitheater, Bristow, Va.

7/16: PNC Bank Arts Center, Holmdel, N.J.

7/17: Comcast Center, Mansfield, Mass.

7/19: Toyota Pavilion, Scranton, Penn.

7/20: Performing Arts Center, Saratoga Springs, N.Y.

7/22: Blossom Music Center, Cuyahoga Falls, Ohio

7/23: Susquehanna Bank Center, Camden, N.J.

7/24: Darien Lake, Darien, N.Y.

7/26: Hershey Pavilion, Hershey, Penn.

7/27: Riverbed Amphitheater, Cincinnati, Ohio

7/29: Walnut Creek, Raleigh, N.C.

7/30: Farm Bureau Amphitheater, Virginia Beach, Va.

8/2: Cruzan Amphitheater, West Palm Beach, Fla.

8/3: 1-800 ASK GARY Amphitheater, Tampa, Fla.

8/5: Verizon Wireless Music Center, Birmingham, Ala.

8/6: Aaron's At Lakewood, Atlanta, Ga.

8/7: Verizon Wireless Amphitheater, Charlotte, N.C.

8/9: XCEL Center, Minneapolis, Minn.

8/10: Marcus Amphitheater, Milwaukee, Wis.

8/12: First Niagara Pavilion, Pittsburgh, Penn.

8/13: Midwest Amphitheater, Tinley, Ill.

8/14: Verizon Wireless Amphitheater, Noblesville, Ind.

8/16: Scotia Bank Place, Ottawa, ON

8/17: Bell Centre, Montreal, QC

8/19: Molson Amphitheater, Toronto, ON

8/20: DTE Energy Theater, Clarkston, Mich.

8/21: Verizon Wireless Amphitheater, Maryland Heights, MO

8/23: Spring Center, Kansas City, MO

8/25: Ashley Furniture Pavilion, Phoenix, Ariz.

8/26: Cricket Wireless, San Diego, Calif.

8/27: Glen Helen Pavilion, San Bernardino, Calif.

8/30 Comfort Dental Amphitheater, Denver, Colo.

8/31: Hard Rock Pavilion, Albuquerque, N.M.

9/2: Shoreline Amphitheater, Mountain View, Calif.

9/3: Sleep Train Amphitheater, Marysville, Calif.

9/7: Qwest Arena, Omaha, Neb.

9/9: AT&T Center, San Antonio, Texas

9/10: Gexa Energy Pavilion, Dallas, Texas

9/11: Woodlands Amphitheater, Woodlands, Texas


Watch Lil Wayne's '6 Foot 7 Foot'
if(typeof AOLVP_cfg==='undefined')AOLVP_cfg=[];AOLVP_cfg.push({id:'AOLVP_865327477001','codever':0.1,'autoload':false,'autoplay':false,'displaymnads':true,'playerid':'89761511001','videoid':'865327477001','width':476,'height':357,'playertype':'inline','stillurl':'dynamic','videolink':'#','videotitle':'dynamic','videodesc':''});