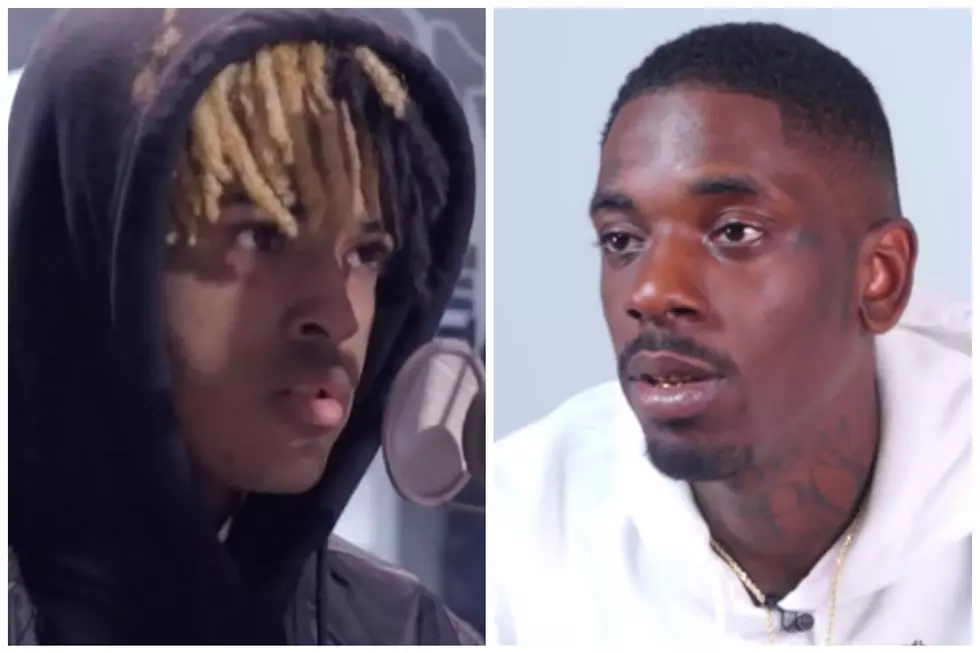 Kanye West, Biz Markie, Diddy and More React to the Shooting Deaths of XXXTentacion and Jimmy Wopo
YouTube/YouTube via DJ Vlad
Yesterday (June 18), hip-hop lost two young, up-and-coming rappers to gun violence.  Florida rapper, XXXTentatcion (Jahseh Onfroy), 20, was gunned down in his home state, and 21-year-old rapper, Jimmy Wopo (Travon Smart) was killed in a drive-by shooting in Pittsburgh.
In spite of the controversy that has surrounded him for the past year, stemming from over a dozen felony charges regarding a harrowing domestic violence case involving his pregnant girlfriend, XXXTentacion continued to have success. In fact, rapper Denzel Curry said his trouble with the law, in some ways, fueled his rise.
"The thing with X is, when he got into trouble, that's what blew him up," Curry told HotNewHipHop.
Back in March, XXXTentacion's second album, ?, hit the no. 1 spot on the Billboard 200, solidifying his rise in the rap game, and establishing him as one of the most recognizable young rappers in music, with lyrics that spoke about pain and depression, as illustrated on tracks like "SAD!" from his ? album.
"This got me fucked up," J. Cole wrote upon hearing news of his passing. "RIP X. Enormous talent and limitless potential and a strong desire to be a better person. God bless his family, friends and fans."
Jimmy Wopo, who was also killed in a shooting yesterday, was a rising rap star from Pittsburgh, who made a splash on the scene with his song "Elm Street" from his Jordan Kobe project. The 21-year-old rapper and father had already been shot twice before, and in a sit-down interview with DJ Vlad, said that the second shooting changed his perspective.
"Anytime something happens to you twice... if you keep getting caught out here you're not good at it. So, I keep getting shot, I guess I'm not good at that," he admitted, adding that he'd changed his idea about he wanted his life to be and was more focused than ever. "It's who you got with you."
Biz Markie called Wopo's death "terrible and senseless" and also called him "the best rapper to ever break out of Pittsburgh."
"Radiant 1000-watt charisma and a legitimately original stylist. Kendrick's "Humble" was nothing if not an homage to "Elm Street,'" Biz Markie wrote on Twitter.
The sudden deaths of the two rising rap stars within just hours of one another was shocking. As artists and producers including DJ Premier, Diddy, Juicy J, and Wiz Khalifa offered the condolences, some took the time to make broader statements about youth culture and society's violent climate.
"America it's it young," Questlove wrote on Twitter in his RiP to XXXTentacion.
You can see more reactions below.
50 Greatest East Coast Hip-Hop Albums of the 1990s