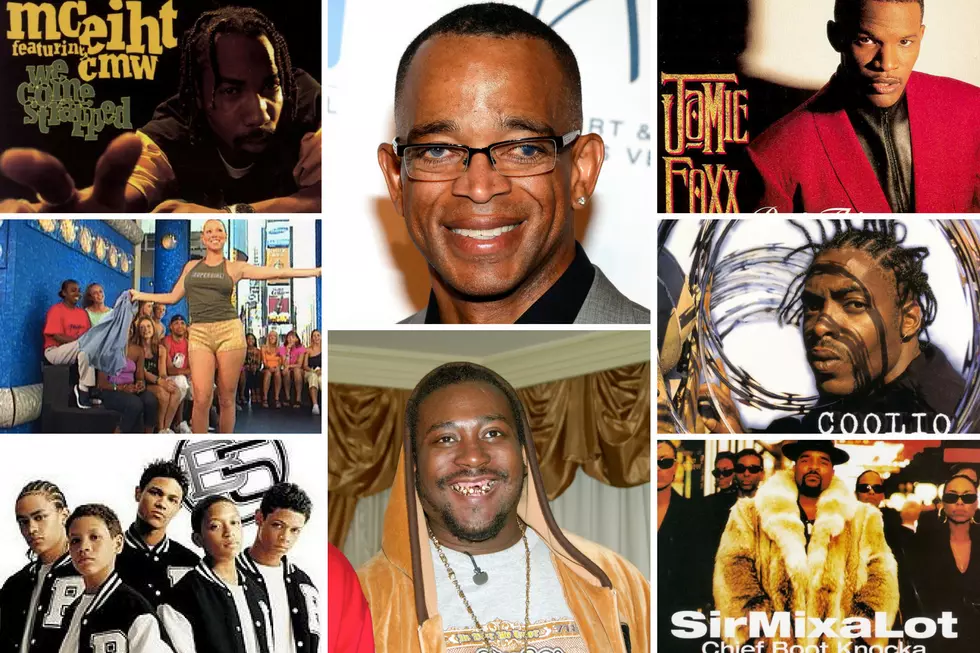 Ol' Dirty Bastard, Mariah Carey + More: July 19 in Hip-Hop History
iTunes/YouTube/ Scott Gries, Ethan Miller/Getty Images
Breakdowns, come-ups and remembrances are all a part of today in hip-hop history, which is jam-packed with fun facts.
July 19, 1965: Stuart Scott Is Born
Born in Chicago, ESPN anchor Stuart Scott brought a hip-hop edge to his sportscasting that's sorely missed by the community; Scott tragically passed away from cancer in 2015 at age 49.
The Atlantic noted that it was rare to see a successful African-American who wasn't a professional athlete in sportscasting. SportsCenter, for which he is best known, made a massive impact on other non-athletes and fans that could relate to him.
"Stuart Scott was a hero," rapper Freddie Gibbs told Billboard. "Stuart revolutionized being a sports anchor— he brought hip-hop culture into it. Nobody else was saying what he said on air, and sometimes he pushed the envelope when he said the newest Jay-Z line with a Michael Jordan highlight. But Stuart Scott was an artist. He's right up there with Dan Patrick and Keith Olbermann in bringing personality to that network. He changed a lot of people's days with the positive energy he'd bring to the screen every time you turned on SportsCenter; you could be having a bad day and look at Stuart Scott, always in a positive mood with positive energy. I would look forward to seeing those shows at the end of the day."
"He didn't just push the envelope," Dan Patrick, a former ESPN anchor and radio personality, told the network after Scott's death. "He bulldozed the envelope."
July 19, 1994: Sir Mix-A-Lot Releases Chief Boot Knocka
Chief Boot Knocka is Sir Mix-A-Lot's fourth album, and his third album Mack Daddy contained the runaway smash "Baby Got Back," so the pressure was on to have more hits. "Put 'Em on the Glass" channeled similar machismo and was a minor hit and "Just Da Pimpin' in Me" was nominated for a Grammy Award for Best Rap Performance, but Chief Boot Knocka didn't reach the same heights, however, he still had the admiration of one of the greats.
"I like great music, and I think Mix-A-Lot is a tremendous artist," rap label impresario and producer Rick Rubin, who served as a co-producer on the album (as he had on Mack Daddy and would again on 1996's Return of the Bumpasaurus), told Rolling Stone.
"He's a great entertainer. From the first time I ever heard him, I just loved him."
July 19, 1994: Coolio Drops It Takes a Thief
Coolio's debut album It Takes a Thief was certified Platinum in three months for the Tommy Boy Records empire. Radio couldn't stop playing the single "Fantastic Voyage," a reinterpretation of the Lakeside funk classic of the same name that brought a self-confessed L.A. "gangsta" and all his tales of youthful hustling into the spotlight for all of 1994. It Takes a Thief has an air of the past, due to Coolio growing up on old soul music.
"When I was a kid, my mom and stepfather was listening to Miles Davis, Stevie Wonder, the Supremes, the Dramatics, Marvin Gaye, Curtis Mayfield — all that shit," he told Rolling Stone in 1995. "Back in those days, people didn't have big album collections, at least not in the ghetto, but we did. I listen to old soul, old funk, a couple of old rap albums, maybe some new rap stuff here and there. I don't like new R&B — period."
July 19, 1994: Jamie Foxx Releases Peep This
When Jamie Foxx dropped his debut album Peep This, he was known as the In Living Color funny man who often wore a dress on the classic sketch comedy TV show that aired its final episode just two months before. Music was his first love, and he was finally ready to show it.
"My whole plan was do the comedy however you do the comedy," he said in a 1994 interview on San Francisco CBS affiliate KPIX (via The Undefeated). "Get your name out there. Get the HBO special and you control what's going on. So I did 50 minutes of comedy, and then I take it into the music real smooth."
Released independently, not that many decided to Peep This, and Jamie took an 11-year break from releasing albums until he dropped the double platinum Unpredictable in 2005.
July 19, 1994: MC Eiht Drops We Come Strapped
O.G. Compton rapper MC Eiht of Compton's Most Wanted has done a lot of work with legendary producer DJ Premier, but he produced his whole solo debut album with CMW's DJ Slip. We Come Strapped struck Gold certification with more than 500,000 copies sold, topped the R&B/Hip-Hop chart and also hit an impressive No. 5 on the Billboard 200. The album features guest appearances by Redman and Spice 1, foreshadowing many East Coast and West Coast collaborations he would subsequently do.
Kronick asked Eiht years after the release if We Come Strapped is still a motto.
"Hell yea! I don't go nowhere without my strap. I'm heated all the time! You can't roll like that out here in L.A. and not have no heat. Whether it's just to have, or whether you got beef, or whatever the case may be; havin' heat is mandatory."
July 19, 2001: Ol' Dirty Bastard is Sentenced to 2-4 Years for Drug Possession
A New York State Supreme Court judge gave Ol' Dirty Bastard a 2-4 year sentence after he pleaded guilty for possession of a controlled substance (cocaine and marijuana, which police found after stopping him for running a red light). He ultimately served two years and was released in 2003. He died just over a year later after taking accidental overdoses of cocaine and tramadol.
"I'm just trying to come and be like the eagle over the other birds," he told Vice a few months after his release from what was rumored to be a tumultuous time in prison.
July 19, 2001: Mariah Carey Has Her Infamous Appearance on TRL
Mariah Carey revealed in 2018 that she was diagnosed with bipolar disorder after a 2001 hospitalization that followed a bizarre appearance on MTV's Total Request Live (TRL) in which she stripped down to her skivvies and passed out ice cream treats.
"Until recently I lived in denial and isolation and in constant fear someone would expose me," she told PEOPLE. When she got the diagnosis, she said, "I didn't want to believe it."
"It was too heavy a burden to carry and I simply couldn't do that anymore," she admitted. "I sought and received treatment, I put positive people around me and I got back to doing what I love — writing songs and making music."
July 19, 2005: B5 Releases Their Debut Album B5
Brothers Dustin, Kelly, Patrick, Carnell and Bryan Breeding were B5, Diddy's answer to New Edition before he actually signed New Edition. He executive produced the group's self-titled debut album, assembling a team of producers and songwriters including Rodney Jerkins, Ryan Leslie and Sean Garrett to take them into the Top 20 of the Billboard Hot 200.
As fans of Michael Jackson, the brothers might have had their eye on another young group who had come before them. "When I was little he was the only thing that I looked at on TV," Patrick told Scholastic after the album dropped. He is the best entertainer in the world."