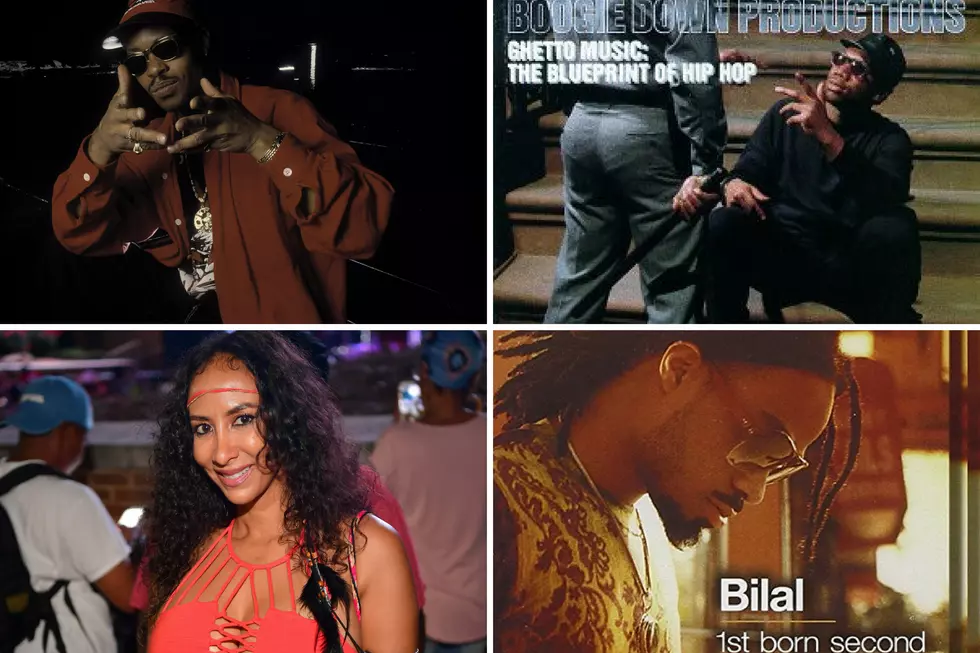 July 17 in Hip-Hop History: Guru, Boogie Down Productions + More
Paul Natkin/WireImage, iTunes, Prince Williams/WireImage, iTunes
Today's look at July 17 in hip-hop history is bittersweet as we reflect on those who we have lost, like Eric Garner and Guru, as we also celebrate milestone releases in hip-hop and R&B.
July 17, 1961: Guru Is Born
Hip-hop legend Keith Elam came into the world on this day, born in Roxbury, Massachusetts. He was best known as rapper Guru of the mighty Gang Starr, a partnership with DJ Premier that yielded six studio albums and timeless rap anthems like "Words I Manifest," "Mass Appeal," and "DWYCK."
Before he passed away from cancer-related causes on April 19, 2010, he released a final letter to his friends and fans via XXL.
"I, Guru, am writing this letter to my fans, friends and loved ones around the world," he wrote. "I have had a long battle with cancer and have succumbed to the disease. I have suffered with this illness for over a year. I have exhausted all medical options."
Guru and Premier weren't speaking at the time of his death, but Premier had fond memories after his passing that he shared with Vibe.
"He was the go-out king," Premiere recalled. "That was his routine. He was definitely a celebratory guy. Anyone from our era knows that Guru was in every club and every bar and every spot. He could go all night, all day. And he would never be tired!"
July 17, 1973: Solé Is Born
Solé was born Tonya M. Johnston in Kansas City, Missouri, and came to national attention with a featured verse on Miami rapper J.T. Money's Top 10 hit single "Who Dat" in 1999. After releasing one studio album called Skin Deep that year, she seemingly retreated into family life.
She's now a mother of four, including two children with ex-husband, "Pony" singer Ginuwine, who she was married to between 2000-2014. She married Public Enemy's Professor Griff in an Indian rakhi ceremony in 2017. She's cordial with Ginuwine and he even defended her new relationship on social media a few months before the wedding, saying they are "friends forever and much better that way," in response to people trying to tear down the new couple.
"She is an amazing woman and I wish her and Griff nothing but love and happiness in [their] life and marriage."
July 17, 1989: Boogie Down Productions releases Ghetto Music: The Blueprint of Hip-Hop
Boogie Down Production's Gold-certified and Top 40 charting third album brought the classic single "You Must Learn" and touches on issues that are still in play today, as evidenced by the bombastic "Bo! Bo! Bo!" The album cut feels pulled out of current headlines about police brutality.
"'Bo! Bo! Bo!' is an episode in the life of this hero of the ghetto," KRS-One told film director Charlie Ahearn in a 1990 chat for Interview. "I relate myself to situations that happen to kids every [day] that never seem to come up in the news. 'Bo! Bo! Bo!' is a story about how, jogging down the street, I, like almost every black man, am mistaken for a criminal because I'm running. I'm confronted with racism—blatant racism, at that—and run over by a cop car. I get up, then the cop hits me in the head with a gun. When I reach the end of my rope, and I can't take any more of the brutality, I pick up the nearest thing—a bottle on the ground, a Snapple bottle—which adds a little metaphor to the poem. I hit the redneck cop in his fucking Adam's apple. I cross the line from an average black kid to a hero, from pedestrian to criminal. In the story I'm running…I run and I run and I run. I throw grenades—I'm trying to defend myself. All through the rap you can hear the kids rooting for me to go and go and go. And its ends when I find refuge in intelligence, refuge in a bookstore called the Tree of Life. The parable is that when you're confronted with racism you handle it like the average ghetto kid would handle it. But you will find refuge when you deal with it intelligently. I don't come out and say this, but it's the subliminal message."
July 17, 2001: Bilal releases 1st Born Second
"Mr. Wonderful" Bilal Sayeed Oliver (but just Bilal or "Beloved, Intelligent, Lustful and Livin' It" will do, thank you) dropped his Top 40 charting debut album on this day. 1st Born Second features a dream team of producers and collaborators, including cameos by Common and the artist formerly known as Mos Def on "Reminisce" and beats by Dr. Dre, J Dilla and Raphael Saadiq, to name a few legends.
In recent years, he's reflected on how he's got more musical freedom than he did back in the day.
"Around the time I was making my first album and going into my second, I didn't have complete creative control," he told SFGate in 2016. "As an independent, there's not a discussion about how I want my music to sound like, how I want to look, what I want to get across in my videos. I don't have to fight. It's like, how weird can you go? I like that."
July 17, 2014: Eric Garner Dies After Being Put in a Headlock by NYPD.
This week, the NYPD begins disciplinary procedures against Officer Daniel Pantaleo, accused of the chokehold death of Eric Garner on July 17, 2014, and awaiting federal authorities to decide whether or not to file charges against Pantaleo.
Garner's death by choking, which became a touchstone in the Black Lives Matter movement, was seen in a viral video. His last words were, "I can't breathe."
"Sometimes I regret just not minding my business," Ramsey Orta, who documented the incident and fears police harassment to this day, told TIME. "Because it just put me in a messed-up predicament."
Eric Garner's family continues to endure tragedy. His daughter Erica Garner passed away in February of a heart attack at age 27.
"I'm past the anger, it's pointless," her mother and Eric Garner's widow Esaw Snipes told Vibe of the lack of charges being brought against Pantaleo to date.