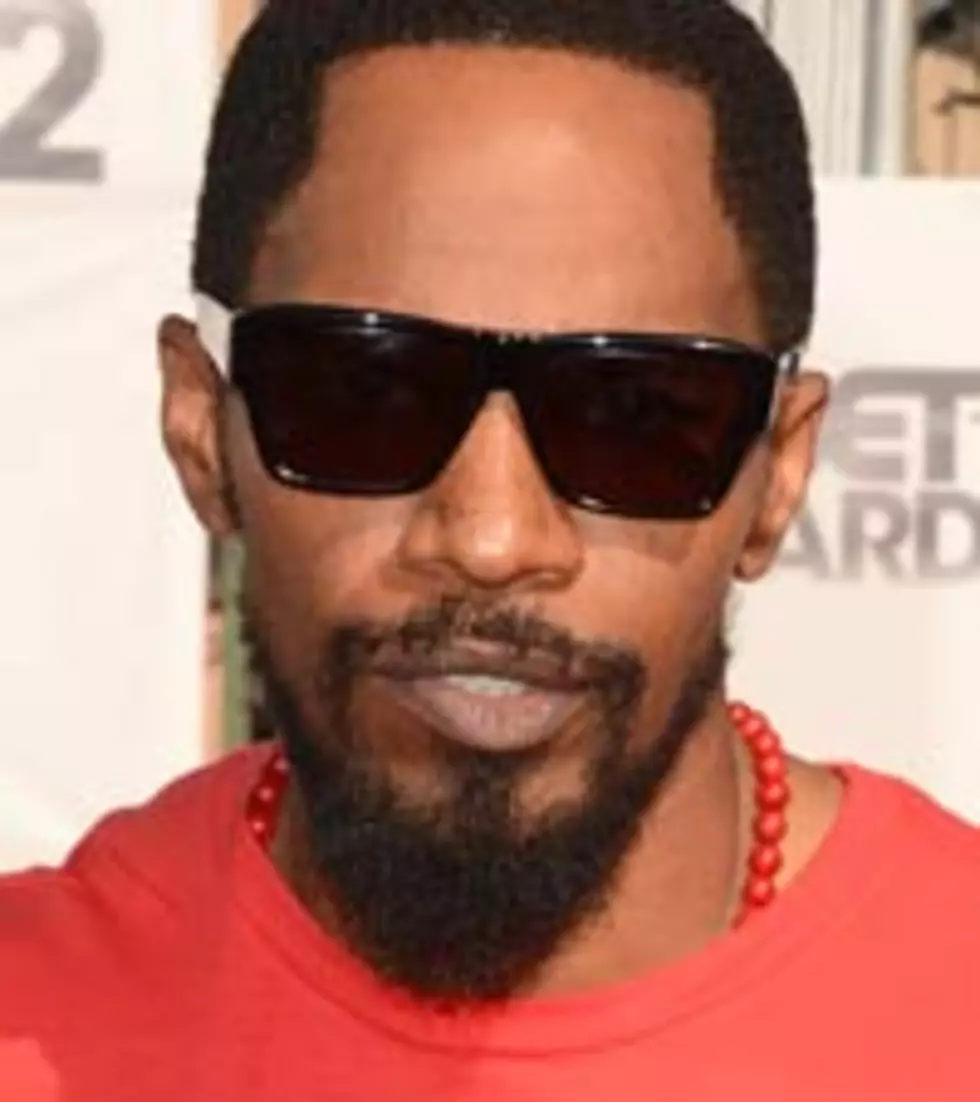 Jamie Foxx Preps Foxxhole Comedy Jam at Caesars, Talks 'Django Unchained'
Getty Images for BET
Jamie Foxx is returning to his comedic roots. The Oscar-winning actor and Grammy-nominated singer will bring his Foxxhole Comedy Jam to Caesars Atlantic City in New Jersey July 5 and 6.
The event will also feature a live broadcast of the multi-talented performer's acclaimed Sirius XM Foxxhole Radio show at the Caesars Palladium Ballroom. According to Foxx, the two gigs will be more like a celebration than a performance.
"I think Atlantic City is a great place to party," Foxx tells The BoomBox of the upcoming festivities, which also includes a Celebrity All-White Gala at Harrah's Pool After Dark in Atlantic City.
"There are a lot of people getting up there more. I call my friends from Philly and all my homies on the East Coast; Atlantic City represents a little bit of a vacation for them. A lot of times a lot of people can't get down to the Essence Festival. So my manager came up with the idea to do our own thing. I'm going to be doing my Foxxhole radio show from Atlantic City. We are putting our own stamp on it."
This will mark the second time Foxx will bring his show to the A.C. Last year, his Foxxhole Comedy Jam played at Caesars and the Grammy-winning vocalist performed a musical set at the House of Blues. This year, Foxx promises even more diverse entertainment. There will also be some hip-hop flavor as Hot 97 radio DJ and MTV host Funkmaster Flex will be on the ones and twos during the All-White affair.
"We got some extremely talented people, comedians and singers who are going to be at the shows," the "Unpredictable" crooner says. "We got Tony Rock, Bill Bellamy, a whole host of people, man. I'm going to get up on stage and chop up a few lines here and there to make it pop. And we've been doing the radio show for so long that it's like breathing. That's what the fans really look forward to because we have our own take on everything.
"It's no-holds-barred and no censors. We get into a whole lot of trouble [laughs]. You can ask all the people that we've told jokes about. People come for that excitement alone because we are going to get buck wild on the radio."
Foxx adds that he is planning to go back on tour with some pretty high profile funny friends in the near future if he has his way.
"I'm going to get a couple of these movies out of the way first," he says. "Me and Chris Rock have been talking about getting together for a comedy tour. And I know Chris Tucker is doing shows again. And I just left a message with Martin Lawrence like, 'Look man, these young comedy dudes are saying that they are holding it down. Let's get back out there for the fans."
One of those "movies," Quentin Tarantino's highly anticipated pre-Civil War slave epic "Django Unchained," due Dec. 25, has been getting serious buzz. Even as Foxx prepares for his Caesars comedy takeover, the busy actor couldn't resist dropping a little info on his controversial role, in which he stars as a slave who teams up with a bounty hunter mentor -- played by fellow Oscar winner Christopher Waltz -- to track down his wife. Leonardo DiCaprio plays a villainous plantation owner alongside Kerry Washington and Samuel L. Jackson.
"I believe this movie is one for the ages," Foxx says of the film. "I have to say that it's Samuel Jackson at his best; and it's Leonardo DiCaprio at his best. It's one of the truest looks at slavery that you will ever see."


See 10 Outrageous Hip-Hop & R&B Weddings
%VIRTUAL-MultiGallery-158834|159736|159566%