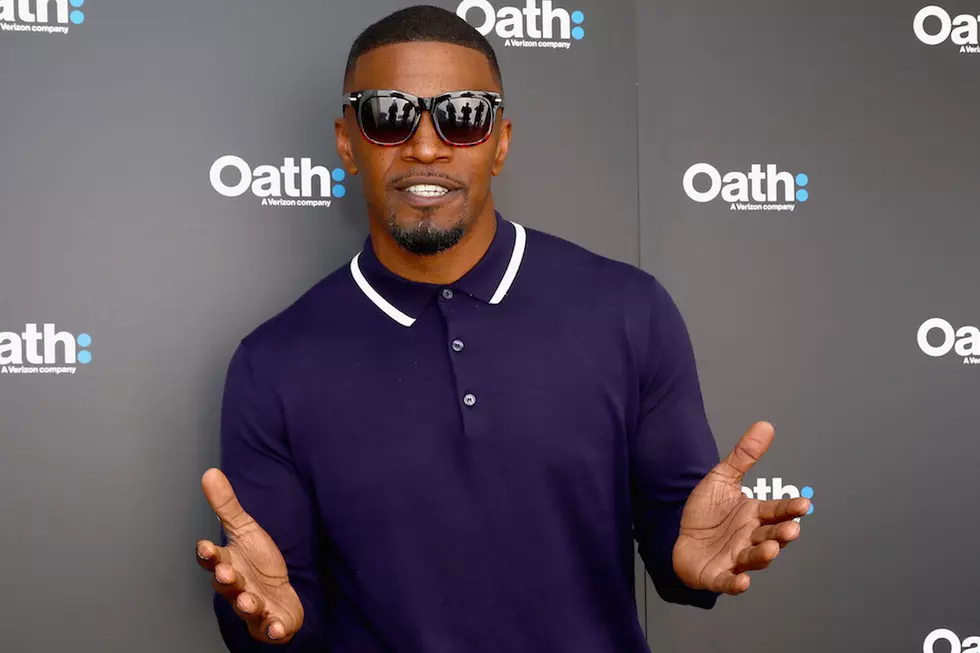 Jamie Foxx to Star in Todd McFarlane-Directed 'Spawn' Movie
Astrid Stawiarz, Getty Images
Jamie Foxx has been tapped to play antihero Spawn for Blumhouse, based on Todd McFarlane's comic book creation of the same name. McFarlane will also make his directorial debut with the film.
According to Deadline, the movie's storyline follows Al Simmons, a CIA agent of a black ops team who gets setup by his cohorts to be murdered with his body burned. After being double crossed in hell, Simmons comes back to Earth as a Hellspawn warrior in exchange for being able to be reunited with his wife.
Unfortunately, Simmons finds himself as a ferocious creature while his wife has moved on and married his best friend. This infuriates Spawn and he becomes an antihero struggling to battle his own demons. Additionally, he has to deal with other threats including the Violator, another demon sent to Earth to bring evil and enlist soldiers for Hell's army disguised as a clown.
Mcfarlane told Deadline that the movie is going to be an R-rated, supernatural flick. He also said that Spawn wouldn't speak in the flick, which is on par with the popular comic book series, but studio executives are a little scared by this approach.
"It confuses people because of the comic book industry, and because they all default into their Captain America mindset and I keep saying, no, get into John Carpenter's mindset or Hitchcock," he said. "This is not a man in a rubber suit, it's not a hero that's going to come and save the damsel. It's none of that. At the end of the movie, I'm hoping that the audience will say either, is this a ghost that turns into a man, or is it a man that turns into a ghost? I've got a trilogy in mind here, and I'm not inclined in this first movie to do an origin story."
McFarlane also adds that Foxx was the actor he had in mind when he was writing the script.
"Jamie came to my office five years ago, and he had an idea about Spawn, and we talked about it," he said. "I never forgot him, and when I was writing this script, you sort of plug people in, and he was my visual guy, and I never let go of him."
"When I got done and my agents and everybody was talking about what actor, I said, I'm going to Jamie first and until he says no I don't want to think about anyone else because I've never had anyone else in my head," he continued. "Luckily, he hadn't forgotten either. I said, 'Hey, I'm back to talk about Spawn again, and he was like, let's do it.'"
Foxx tells Deadline he's ready to go. "I told him no one would work harder than me if given the opportunity," he said. "Well, the opportunity is here!! I'm humbled and ready to transform."
Foxx is not the first actor to play Spawn. Actor Michael Jai White portrayed the titular character in a 1997 film co-starring John Leguizamo who played The Violator.
13 Hip-Hop/R&B Dream Collaborations We Would Love to See Happen