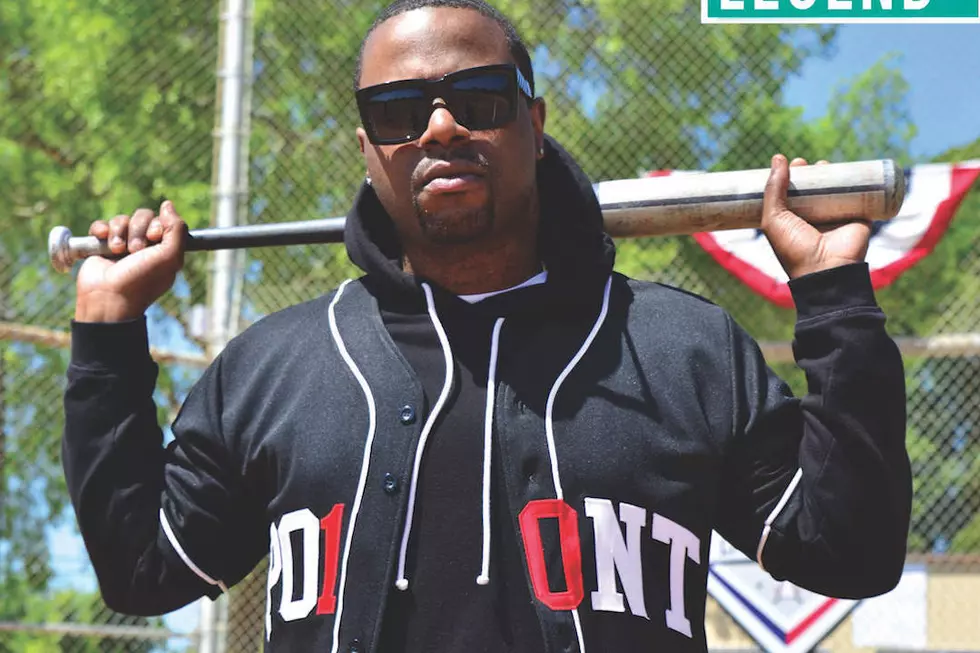 Jae Millz on 'Lenox Ave Legend' and Leaving Young Money: 'It Was Time for Me To Go'
PO10NT Entertainment
Jae Millz needed a change. After breaking out with "No, No No" in 2003, he got a major boost when he signed with Young Money in 2008. The Harlem rapper seemed primed to become a breakout star on one of the hottest labels in music; he appeared on the successful compilation album We Are Young Money and on the hit single "Every Girl." He also made appearances on two follow-up compilations, Rich Gang and Young Money: Rise of an Empire. But at the top of 2017, he departed the house that Lil Wayne built to forge his own path. Millz talked to The Boombox's Monique "Milly" Brand about his departure and latest EP, Lenox Ave Legend, and what happens next.
There's something to be said for the security of a major label. Having decided to try things on your own, what's it been like? 
JM: Everything's going good. I left Young Money a few months ago, so as far now I'm just focusing on the restart and expanding my whole PO10NT brand and all of my artist.
You were a part of the Young Money camp for a while--what's your relationship with them currently?
JM: My relationship is still cool with everybody. It's not a beef situation or a bad situation, it was just time for me to go as an artist. Not as a friend. I'm thankful for everything Lil Wayne did for me and I'm thankful for everything he also tried to. It was just time ... I'm actually living in LA. Loving this Cali weather. Haa! Still back for NY, tho.
In Potent Music, you had a straight pattern of jazz influence throughout the mixtape while Lenox Ave Legend there is different genres in sometimes in one song.
When I recorded Potent Music I was living in Miami on the 32nd floor over the water. And that was [me] coming from living on the 2nd floor in a building in NJ with 2 floors. So my mind was in a totally different space when I wrote that--and also recorded it all myself in my condo. Like, literally pressing the space bar and the apple and rapping into the mic. Lenox Ave Legend is more of a complete sound of me from day one. Battle flow, aggressive flow, witty punchlines and hard beats. I felt my fans deserved that, being that this was the first official project I've dropped since leaving Young Money.
What else was different about working on Lenox Ave Legend? 
Lenox Ave Legend like I said is more back to my day one feel with songs like "Who." Savage was actually my last attempt at trying to see if I could get something to pop at Young Money, but I think by that time, the Wayne and Birdman situation was so deep that...that was a situation that needed to get handled. So a lot of us got lost in the midst of that getting resolved. Back In My Bag was an EP that I came up with and just recorded some new shit to immediately drop for my fans after leaving Young Money. I think I dropped Back In My Bag probably four days after I decided to leave.
Having dealt with major labels and now being on indie side of the industry, which do you prefer? 
That a hard question. At this point, I prefer the indie flow, but that's me. Some artists need to take the executive route because they don't know what I know and they haven't been around as long as I [have.]  I know a little bit more about the behind the scenes than an average new artist--or any artist, for that matter. I pay attention. So, I prefer the indie route, but everybody doesn't know the business. Some people need the machine because it helps pick up the slack of what they don't know or can't do. I'm just more hands on with mines at this point ... and I'm a Virgo, so I'm kinda hands-on with everything.
And the fans have received it well. Glad you wanted to get the word directly to the people!
Just wanna say thanks for taking to time to chop it up with me and get some answers out to the people, I appreciate it. Other than that, I just want everybody to make sure they check out my album Lenox Ave Legend. Once again, it's available for stream or download or purchase on iTunes/ Apple Music, TIDAL, Spotify, Amazon Music and Google Play.
The 25 Best Hip-Hop Albums of 2016