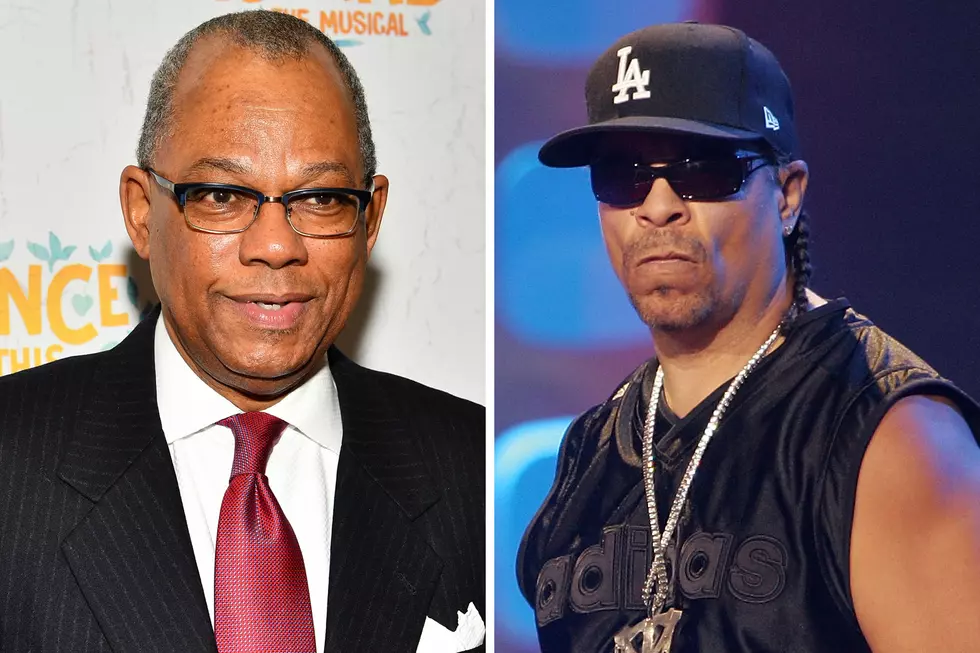 25 Years Ago: Ice-T Battles Church Leader Protesting 'Negative' Rap
Dia Dipasupil, Scott Gries / Getty Images
On June 5, 1993, Rev. Calvin O. Butts, pastor of the Abyssinian Baptist Church in Harlem, staged a protest against explicit rap lyrics (or "negative" rap, as he termed it) outside his church, giving what the New York Times called a "fiery speech from the pulpit against some rap music, which he called vulgar and offensive to women, before climbing onto [a] steamroller," with the intent of crushing a pile of rap recordings his congregants had collected.
Butts' protest was novel, because to that point, rap and hip-hop had largely avoided the kind of criticism and attempted censorship by authorities and authority figures that had long plagued rock 'n' roll music. For example, Elvis Presley was filmed only from the waist up on The Ed Sullivan Show in 1957, to protect the "decency" of young viewers. The Beatles' records were publicly burned and banned from numerous radio stations across Americac in 1966 because John Lennon told a reporter the group was "more popular than Jesus." The Parents Music Resource Center (PMRC) was formed in 1985 by the wives of several Congressmen, resulting in albums with "offensive" content being stickered as a warning to parents.
Butts' protest put rap and hip-hop in the cultural cross-hairs, touching off a debate that put gangsta rappers in particular on the defensive.
At the event, a conversation with a group of counter-protesters (led by rappers like Preacher Earl and Freedom Williams) who accused him of censorship, led Butts to abandon his plan to destroy the collected cassettes and CDs (he eventually dumped them outside of Sony Records' Manhattan offices). But he made his point clear: "[W]e will not stand for vile, ugly, low, abusive and rough music," he declared, adding that he was willing to meet further with rappers to discuss the effect of their artistry on the community and black culture in general. "If the rappers think that they can raise the standards of their music and unite with our community for our redemption," he said, "then we are willing to hear and willing to work."
One member of the rap community who tended to get singled out in these discussions was Ice-T, who debated Butts on WNYC-TV several weeks after the protest. Ice-T noted that pointing a finger at rappers for the ills of a community was aiming at the wrong target, and the message that Butts and his followers wanted to spread was not getting through.
"Your tactics and the positiveness that you guys want, [leave] a whole sector of the people that listen to music out in the open, because they ain't gonna listen to you, no matter what you say," he told Butts. "I go to the penitentiaries; I go to the brothers that are stuck and ain't comin' out. Why? Because I'm talkin' their language. I talk in the dialog of the streets. You would like, in a perfect world, for things to be different, but they simply aren't."
He encouraged Butts and others calling out "negative" rap to make records of their own and let the listeners decide which better represented their lives and spoke to the concerns of their communities. It was a sentiment echoed at the June 5 protest by rapper Preacher Earl, who called the event "a mechanical book burning," according to UPI.
"Unlike the Nazis and a host of other misled souls throughout history who sought to stifle artistic expression through book burning and oppression," he told Butts and his followers, "concentrate on attacking the elements which have brought about negative attitudes and images, not the messengers."