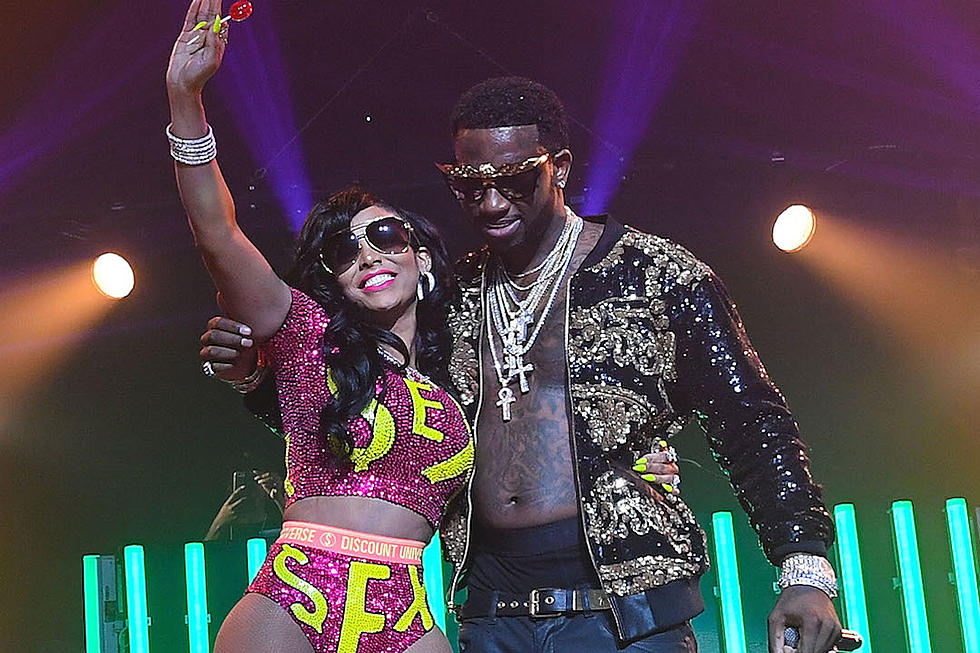 Gucci Mane Overcame His Demons to Become Rap's Greatest Redemption Story
Paras Griffin, Getty Images
When Gucci Mane was sentenced to four years in prison after he'd pleaded guilty to possession of a firearm by a convicted felon, he was in the midst of what looked like one of hip-hop's most self-destructive downward spirals. His name had been synonymous with arrests and jail stints virtually from the moment he became the hood's favorite trap star.
Gucci, born Radric Davis, became infamous after he was ambushed in a 2005 attempted robbery that ended with a man dead. That man was Henry Clark III, known as Pookie Loc, and affiliated with Gucci's then-rival Young Jeezy. Gucci would plead self-defense after he was charged with first degree murder and those charges would eventually be dropped due to lack of evidence. As harrowing as that ordeal was, it was just the beginning.
Gucci was charged with assault in 2005 for an altercation at a nightclub in Florida. He served six months of a yearlong sentence from September 2008 to March 2009 after failing to complete 600 hours of community service stemming from those charges. In November of that year, he was found guilty of violating his probation and sentenced to six months.
He would be arrested again in 2010, after an altercation with a man at a body shop, and once again faced jail for violating probation. In January 2011, Gucci filed a "Special Plea of Mental Incompetency," which explained that he was unable to "intelligently participate in the probation revocation hearing" and wasn't capable of fighting prosecutors' efforts to revoke his probation. The following April, he was arrested in Atlanta and charged with misdemeanor battery for pushing a woman out of his moving vehicle back in January. He would serve three months and the woman won a settlement for an estimated $58,000.
In March 2013, he would turn himself in to authorities after a man alleged that Gucci struck him with a champagne bottle at an Atlanta nightclub. Later in 2013, over the span of two weeks, Gucci was involved in a fight at Lenox Mall in Atlanta and was arrested twice for behaving erratically. In the midst of the tailspin, he exploded in what has become one of the most infamous celebrity rants in Twitter history.
"Fuck jeezy. Tip. Gotti. Waka.Nicki minaj drake d a Wooh.frenchy 2 chainz coachk kkaior eminem oj rock Quavo takeoff cardo dam g," Gucci tweeted in September 2013. "Me and waka fuck nikki minaj dats nothing." He would go on to berate a host of other celebs.
That December, he was charged in federal court with two counts of possessing a firearm as a felon. He would plead guilty to possession of firearms by a convicted felon in March 2014 and went to prison. This time, he stayed there for more than two years.
Gucci had risen to fame at an interesting time for trap music. He hadn't become the crossover star a la T.I. and Jeezy, but his work ethic and omnipresence on mixtapes made him an influential figure for a second wave of trap artists emerging out of Atlanta. His constant stints in jail seemed to boost his notoriety, but as the 2010s creeped on, it appeared that newer names like 2 Chainz and Future had usurped him.
But anticipation grew as his impending release got closer. He would release a flood of mixtapes while in prison like East Atlanta Santa and Trap House 5. "Free Gucci" had become a part of his persona and as younger acts like Migos and Young Thug headed to the forefront of southern rap, it was clear that Gucci's influence on a generation was undeniable.
Then in spring 2016, it was announced that Gucci was coming home early. He left the Terra Haute, Indiana penitentiary four months ahead of schedule. "Already today I'm getting just endless thank-you messages from fans all over America, thanking me for their favorite artist coming back into the public," Gucci's attorney Drew Findling told the New York Daily News on the day of his release. "It's truly remarkable."
And it was truly remarkable. Gucci Mane came home to an audience that loved him more than ever. But most uniquely, it appeared that Gucci had truly, finally, put his past behind him. He was sporting sparkly white teeth and he was noticeably fit after prison; his famous gut replaced with washboard abs. He was sober for the first time in his adult life. He was reading Malcolm Gladwell. He reconciled with Nicki Minaj.
And as opposed to an entourage of tough guys perpetually surrounding him, Gucci was most often photographed alongside his girlfriend, Keyshia Ka'oir.
It was Ka'oir who had announced that Gucci was free with a "reunited" tattoo Snapchat. "The person everyone is seeing today," Ka'oir told The New York Times in 2016. "I've always known that person. This is nothing new for me." She added, "He's grown up now, like, 'I no longer have to hide this part of me — either you like it or you don't.'"
The pair got engaged after Gucci famously proposed to her at an Atlanta Hawks game in November 2016. She explained to Fader earlier this year that their solidarity was born of his struggles.
"Gucci has always meant a lot to me," she shared. "A lot of times, I feel like he's misunderstood. I know that I'm one of the few people that really understands him. I was his biggest support system, and no matter what he goes through I'm going to be there for him. Why would I turn my back on him now?"
"It's been tough to be a Gucci fan," Gucci told the Times while promoting his 2016 comeback album Everybody Looking. "It's been tough to be a Gucci friend, a Gucci sibling, a Gucci girlfriend or a Gucci partner. I done took people through a lot, man."
He discussed his newfound sobriety in that same interview. "I felt like I couldn't make music sober, I couldn't enjoy my money sober. Why would I wanna go to a club and couldn't smoke or drink? I felt like sex wouldn't be good sober. I associated everything with being high.... In hindsight I see it for what it was: I was a drug addict. I was naïve to the fact that I was numb."
He's fully awake now. And it shows in both his output and the success he's garnered post-prison. Gucci dropped the winking "First Day Out Tha Feds" immediately after leaving prison, scored his first Billboard No. 1 hit with his guest appearance on Rae Sremmurd's 2016 smash "Black Beatles." Everybody Looking reached #2 on the Billboard 200 chart and made it to #1 on Billboard's Top R&B/Hip-Hop Albums chart. He followed with Return of the East Atlanta Santa. The album has been streamed 22.5 million times since it dropped in December 2016. He's released EPs with Future, Lil Uzi Vert and Zaytoven; and Gucci Mane's dropped two mixtapes: Woptober and the Metro Boomin-produced DropTopWop this past week--a year to the day since his release.
It's a staggering amount of content to unleash on the public, and it's still more focused than Gucci Mane has sounded in years. And that it comes as he seems to have found a sense of peace within himself adds to the significance of his second act.
Hip-hop is known for being notoriously fickle. One thing the game doesn't often allow for is redemption. Some of the greatest rappers of all time were unable to sustain their careers after an extended hiatus or after personal missteps sidelined their music. DMX has become more known for mugshots than rocking the mic, and no one can tell if he'll ever get himself on the right track. And he isn't the only example of a rapper being unable to recapture past glory after a downward spiral.
In 1990, Slick Rick was one of hip-hop's best and brightest. Years after making a name for himself as part of Doug E. Fresh's Get Fresh Crew and shining on Fresh's single "Ladi Dadi," Rick had released the critically-acclaimed and platinum-selling debut album, 1988s The Great Adventures of Slick Rick. Hit singles like "Children's Story" and "Teenage Love" announced Rick as Def Jam's newest rap star. But in 1990, he was becoming embroiled in a personal feud that would derail his career entirely.
Rick was known for rocking flashy rings and chains, and his fame had made him confrontational and cocky. His mother was his manager, and she'd hired his cousin Mark Plummer to be his bodyguard. But Plummer tried to extort money out of the rapper--and subsequently began threatening Rick's family after Rick fired him. Rick came home one night and found bullet holes in his door. That July, a friend called and told Rick that Plummer was on his block, allegedly looking for him.
Rick rolled through his neighborhood and saw Plummer. With his pregnant girlfriend in the car, Rick (who had been riding with six weapons in his vehicle) started shooting. He shot Plummer in the foot and wounded a bystander before speeding off. With the police giving chase, Slick Rick eventually crashed into a tree. Def Jam founder Russell Simmons would bail Rick out of jail in time for Rick to rush through finishing his sophomore album The Ruler's Back. 
"I had a lot of stress, I still had the jail sentence, and I wasn't sure what was going to happen in the future as far as imprisonment and how much time I had, how I was going to make it back out, and how I was going to keep myself relevant in changing times," Rick told The Guardian in 2016. "They were desperate, got-to-keep-your-name-relevant and keep-the-bills-paid jobs."
Rick would be sentenced to three to 10 years in prison. He would serve five, and upon his release in 1996, he was welcomed back on tracks by artists like Aaliyah ("Got To Give It Up") and OutKast ("Da Art of Storytellin'") and he would release the well-received comeback album The Art of Storytelling in 1999.
But Slick Rick never regained the stature he'd attained before his prison stint. He's now respected as a hip-hop legend, but most younger fans have no idea of how much potential greatness was missed when he was one of the best rappers in the game. That could have been Gucci Mane's epitaph. He could be a relic from a past era; a woulda-coulda-shoulda who seemed to sabotage his life every time he was on the cusp of superstardom. But he managed to make it through and come out of it stronger. His year has been one for the ages. And in a recent interview with Zane Lowe, Gucci reflected on his great year.
"This has been the best year of my life," Gucci told Zane. "It has been a hell of an experience, you know? And I just feel like the best way for me to celebrate is to celebrate with my fans that supported me all while I was gone. The fans who supported me the whole year I been back."
"You know when you sit down in a prison for three years it gives you time to think and just reflect on your whole life. And I feel like my life had got so out of control because everything that I was doing to lead up to it led to that ultimate collapse. So now I feel like when I got in there, I started kinda like making an effort to say 'hey listen, my life is going in a better direction.' I started doing the things that I make, that you see now come to fruition."
In rehabilitating and reforming his image, it would be a greater step forward if Gucci also addressed issues such as domestic violence and emotional health directly. His path back from the brink makes for powerful testimony for others, and his previous actions won't be atoned for by just posting positive tweets and cranking out releases. He has the power to be an agent for change within a culture that still has a way to go in regards to violence, hyper-masculinity and misogyny. More than ever, Guwop can influence an entire rap generation.
Gucci Mane rewrote the narrative. This year has been great to watch. He's better than he's ever been--and in a culture that has produced more than a few martyrs and casualties, it's good to see a troubled rapper actually grow into a better person.
Watch Gucci Mane's "First Day Out Tha Feds" Video
Watch Gucci Mane's "Waybach" Video
Watch Gucci Mane's "Out Do Ya" Video
20 Rappers Who Fell Off the Face of the Earth