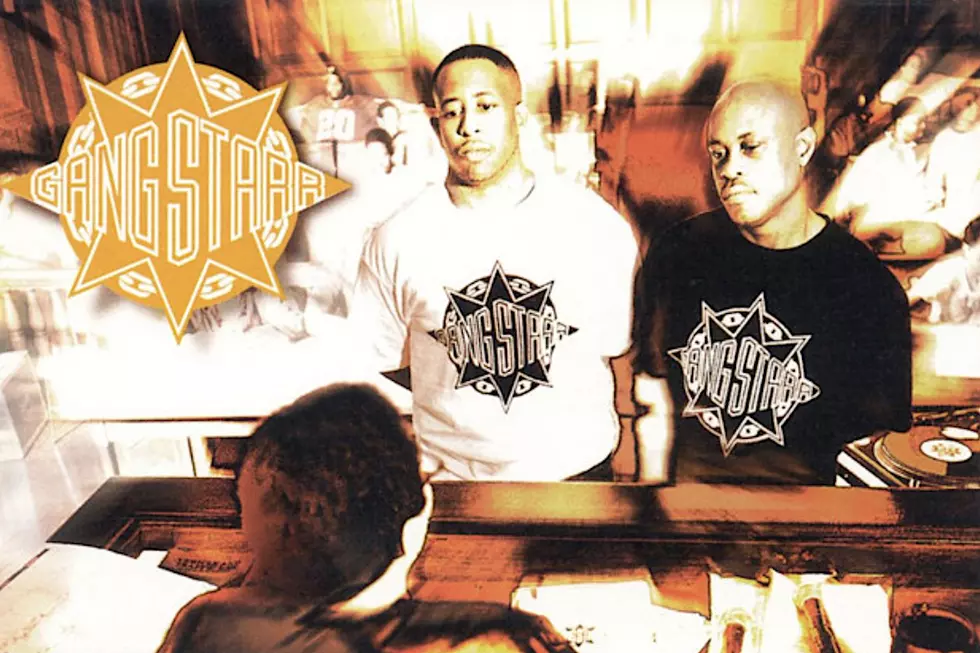 Five Best Songs from Gang Starr's 'Moment of Truth' Album
Noo Trybe / Virgin
When it comes to the boom bap, no group did it better than Gang Starr. The legendary rap duo of DJ Premier and the late wordsmith Guru are the pure embodiment of hip-hop's essence of dope beats and skillful rhymes.
Despite repping Brooklyn to the fullest on their songs, Preemo and Guru are not actually from New York. Premier (real name Christopher Martin) is from Houston, Texas, while Guru (real name Keith Elam) is from Boston. So it's equally amazing how two artists from two separate time zones could come together in NYC and create some of the most classic songs and albums in hip-hop history.
Gang Starr was formed in 1987 after Guru heard Premier's demo tape with another rapper. As Premier tells it, when his rapper friend decided to join the Army, he had no choice but to partner with Guru and be his DJ and producer. Once Preemo and Guru got in the studio, they hit it off immediately.
In 1988, the rap duo released "Manifest," an infectious sample-based rap song with Guru delivering lyrics of black empowerment and Premier scratching James Brown's yelps and jazz samples. Their 1989 debut album, No More Mister Nice Guy, had a few great tracks but the LP didn't quite hit the mark. However, their 1991 sophomore effort, Step in the Arena, was a giant leap forward into the boom-bap sound that we have come to know and love from the iconic group.
Their subsequent albums Daily Operation (1992) and Hard to Earn (1994) are considered classic albums in their illustrious discography. Which brings us to their fifth album, Moment of Truth.
Their 1998 project came four years after the rap tandem took a hiatus to pursue solo endeavors. Guru famously produced the influential Jazzmatazz series, while Preemo became the most sought-after producer in the rap game. So when it came time for recording Moment of Truth, both artists were seasoned veterans in the music industry that have endured plenty of ups and downs.
The album was also an important project for Premier and Guru as it was being created after the tragic deaths of two iconic rap figures -- Tupac Shakur and the Notorious B.I.G. -- and they wanted to speak on it for the culture.
On March 31, 1998, Moment of Truth arrived in stores and garnered rave reviews from rap critics. The 20-song collection featured melodic sounds and concrete-breaking beats from Premier, while Guru remained stoic as ever in his lyrics.
On the LP, Guru explored a myriad of topics including backstabbing friends, the rap industry, wack rappers and his own legal issues. Moment of Truth debut at No. 1 the Billboard 200 chart -- a first for them - and it also landed the rap duo's first gold album of their career.
On the LP's 20th anniversary, The Boombox listened to Gang Starr's triumphant album and selected the five best tracks from the project. All of them are banging, but these songs stand out as the finest from Preemo and Gifted Unlimited Rhymes Universal (R.I.P.).
5

"In Memory Of..." is the last song on Moment of Truth and the most poignant. Over melodic keyboards and Biggie vocal sample, both Preemo and Guru give elegiac shout-outs to their family members and iconic rappers who passed away during their four-year hiatus. The song is even more somber for rap fans as Guru is no longer here with us. The legendary lyricist passed away on April 19, 2010 from cancer. He was only 43. Although Guru may be gone, he's not forgotten. Rest in peace.

4

"What I'm Here 4"

Gang Starr

One of the great aspects of Gang Starr is Guru's gift for delivering words of advice to his rap fans without sounding preachy. "What I'm Here 4" is Guru's testimonial of why he does this thing called hip-hop. Addressing the gun violence in the hood, the veteran rhymer urges young people to put the guns down and start uplifting one another.

"A lot of shit has happened, since I started rappin' / There's been enough beef, and enough gat clappin' / There's been mad signs, for this brother to heed / And while some choose greed, I choose to plant seeds / For your mental, spirit and physical temple / Bob your head to it, there's / The water you've been lead to it," he raps.

3

Guru delivers a cautionary tale on "JFK to LAX." On the song, he goes into great detail about his real-life arrest for gun possession at JFK airport. He was facing five years for the gun charges, which could have impeded the release of Moment of Truth.

Through three verses, Guru focuses on the trials and tribulations of a black man fighting the judicial system plagued by unlawful convictions and corruption. Guru's plight still feels timely even after more than two decades. Just look at Meek Mill's ongoing legal case for reference.

2

"You Know My Steez" (Live)

Gang Starr

Guru may not be considered the most lyrical artist in hip-hop, but when it comes to spitting bars, he could easily hold his own with the best emcees in the rap game. The self-proclaimed Bald Head Slick wasn't afraid to call out wack rappers who he felt weren't authentic in their rhymes. On "You Know My Steez," Guru slams rappers who talked that tough talk in their songs, but couldn't bust a grape in a food fight.

"On the microphone, you know that I'm one of the best yet / Some punks ain't paid all of their debts yet / Trying to be fly, riding high on the jet-set / With juvenile rhymes, making fake-ass death threats / Big deal, like En Vogue, here's something you can feel / Styles more tangible, and image more real," he raps, adding, "Now I'm sick, fed up with the bullshit / Got the lyrical full clip, giving you a verbal ass-whip."

1

"The Militia"

Gang Starr Feat. Big Shug and Freddie Foxxx

When Guru raps, people listen. Even more so when he brings his friends along. The certified street banger "The Militia" is a tough track with Guru, Big Shug and Freddie Foxx eager to beat up wack emcees to a pulp. And as brolic as Shug and Foxx are, you best heed their warning and step out of their way.

Also, if you have a great sound system, turn it up loud and watch DJ Premier's concrete-breaking beat (and eerie "Dark Shadows" sample) violently rattle your speakers. This is arguably one of the best posse tracks in hip-hop and a major standout on the Moment of Truth.

BONUS

"B.I. Vs. Friendship"

Gang Starr Feat. M.O.P.

One thing you can never call Gang Starr is soft. Sure, Guru always rapped socially-conscious rhymes, but he wasn't afraid to get grimy on the mic. "B.I. Vs. Friendship" is chest-thumping banger with twangy guitars and a powerful, thumping beat courtesy of the great DJ Premier. Guru enlisted Brooklyn rap duo M.O.P. to rap about loyalty and backstabbing people that are about greed and not friendship. This is another boisterous track from the album that should be played on a great sound system in order to enjoy its full sonic impact.