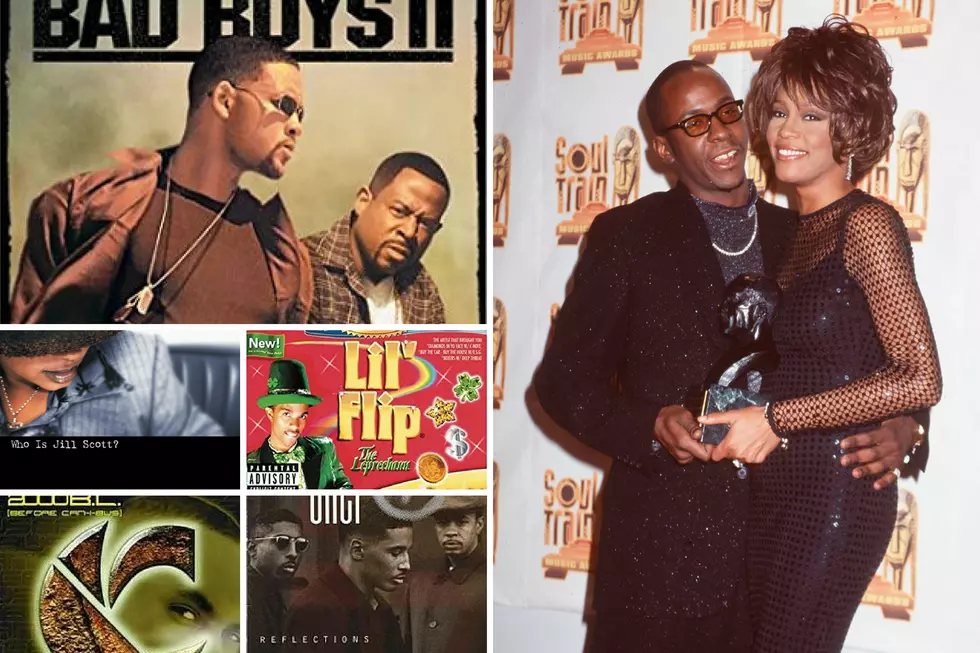 July 18 in Hip-Hop History: Whitney Houston & Bobby Brown Wed + More
iTunes, Brenda Chase / Stringer, Getty Images.
Today in hip-hop history, we're taking a look back on happy occasions, like the grand union of Whitney Houston and Bobby Brown, and thinking back on some major album releases. A lot happened on July 18!
July 18, 1965: Benzino Is Born
Born in Boston, 52-year-old Raymond Scott (aka Benzino) has been a rapper, producer, reality star, magazine publisher and restaurateur. First making waves in music for the 2002 song "Rock the Party," he went on to publish The Source and Hip-Hop Weekly magazines and most recently was seen on television in reality shows The Next 15 and Love & Hip Hop: Atlanta. He also operated Benzino's Crab Shack in Atlanta and Marietta, Georgia before shuttering the restaurants in 2017.
In January 2018, he resurrected a decade-old feud with Eminem when Slim Shady released his album Revival. "These so called 'Rap Gods' got all these features and albums are still Garbo," he said in a now-deleted Tweet.
July 18, 1992: Whitney Houston and Bobby Brown Get Married
"I just never wanted to be married," Whitney Houston told Vanity Fair a few months after 800 people watched her wear a $40,000 French lace dress to tie the knot with Bobby Brown. "I had an independence that didn't include marriage. I always thought men were full of shit. I did. For the most part, they used to talk shit to me all the time. They always had a rap. And I had two brothers, so they all told me what the deal was. They would tell me about the girls they did and they used to say, 'Do you want to be a whore?' 'Do you want to be a slut?' 'Do you want to be treated like shit?' They made me feel guilty for being a girl."
But Bobby was different and charmed her into matrimony, and their marriage lasted for 15 years and produced a child, the late Bobbi Kristina Brown, who tragically passed away in 2015. Bobby revealed in his 2016 memoir Every Little Step that he first witnessed Whitney doing cocaine before their wedding ceremony.
"The drugs wasn't her," he later told Robin Roberts on 20/20. She did drugs but drugs didn't do her. She knew how to handle herself. It only made me love and want to protect her more."
July 18, 1995: Monica Drops Miss Thang
Monica Brown was just 14 when her debut album Miss Thang dropped, the product of a two-year recording contract with Rowdy Records and the mentorship of Dallas Austin, who executive produced the album and some of its most memorable songs, like "Don't Take It Personal (Just One of Dem Days)," "Like This and Like That" and "Let's Straighten It Out," the latter featuring a teenage Usher Raymond.
"I really do have a close relationship with [my fans] because when I really came into the music industry in '95, I had no understanding for what was proper, what was right, what was wrong, what you should and should not say," she told The Boombox of those early days. "That connected me to a real strong core of people that recognize that I'm just like them. And not 'til I was much older did I understand that would be the one thing that helped me continue to have a long-term career because we have a real relationship with one another. I don't know every single one, but there are things about me that most artists would not tell or would not let them know or would not let them see. And I'm just not like that. I think we're all human, I have a different job than yours, so if I make mistakes along the way it's to be expected. Even though nowadays people are very judgmental, I still don't live in a box because of that."
July 18, 1995: After 7 Releases Reflections
The final album from R&B group After 7 before they disbanded in 1997 and reformed in  2006 was produced by the dream team of L.A. Reid and Kenneth "Babyface" Edmonds. Reflections is a family affair because the latter is brother to After 7's founding members Kevon and Melvin Edmonds, who formed the group with friend Keith Mitchell. Babyface grew up in awe of his brothers' singing talents.
"When you have two older siblings who can sing circles around you, it's easy to be humble," he told Rolling Stone in 1994. "My brothers Melvin and Kevon, who are in After 7, have serious chops. I don't. I sing around my limitations. I project feelings. I create certain peaks, but, man, if I had a voice, say like Johnny Gill, I'd tear it up."
The album was certified Gold for sales over 500,000 copies and managed to crack the Billboard 200 charts.
July 18, 1995: Guru Releases Guru's Jazzmatazz Vol. 2: The New Reality
A day after his birthday, the late rapper and Gang Starr member dropped the second installment of his genre-bending Jazzmatazz series of collaborations with major jazz players like Donald Byrd, Freddie Hubbard, Courtney Pine and Branford Marsalis alongside rapper Kool Keith, Chaka Khan and Meshell Ndegeocello. He released four volumes of Jazzmatazz before his untimely passing from cancer in 2010.
"It's an evolution and it just has to keep going, and we just have to be open enough to let it happen and be brave enough, which is what Guru was," Pine told Downbeat on Monday. "It was real camaraderie and an open-minded exploration of what could happen if you mix those kinds of people together."
July 18, 1995: Buju Banton Drops 'Til Shiloh
The fourth album from Jamaican legend Buju Banton, 'Til Shiloh was an eye opener of Rastafarian consciousness that moved him past the more controversial songs that preceded it.
"I knew that I was here for a greater purpose than to sing songs to make people gyrate, drink and enjoy themselves," he told The Guardian of the album's exploration of roots music in addition to the explicit dancehall songs that started his discography. "I was here to sing songs that can uplift, educate and eradicate negativity from those who are into reggae music. This music is Rasta music. So I am here today to do a great work. Rasta is head. Rastafari means head creator."
July 18, 2000: Canibus Releases 2000 B.C.
The sophomore album from the Jamaican-born, Bronx-reared rapper who was feared for his freestyle abilities, 2000 B.C. raged against his former producer Wyclef Jean and featured guest appearances by rap titans Rakim and Pharoahe Monch. It ended up being his last album on Columbia Records, though he's continued to record and battle to mixed results over the years.
"Just comin' with more of that raw vibe people know me from, from those guest shots, mixtapes, just more of that raw shit," he told RapReviews.com of 2000 B.C.'s intentions when it was released.
July 18, 2000: Lil' Flip Releases The Leprechaun
The Leprechaun solidified Lil' Flip as the would-be Irishman of the Houston rap scene, complete with the local hit "I Can Do That" and a cover that parodies the Lucky Charms cereal box, something Atlanta rapper T.I. would later clown mercilessly during their very public beef. Houston Press gave it credit for being the album that "almost single handedly legitimized the baby-crack-rap genre early in the decade" even while making fun of the Pen & Pixel cover.
July 18, 2000: Big Moe Releases City of Syrup
The late rapper born Kenneth Moore paid tribute to Houston's love of Screw music and codeine cough syrup used recreationally. His debut album City of Syrup featured cameos from the late DJ Screw and legendary local rappers like Z-Ro, E.S.G. and the late Big Hawk and he even released a special second "Wreckchopped and Screwed" version of the album.
"He was the gentle guy," rapper and friend Lil' O told Houston Chronicle after Big Moe died of a heart attack in 2007. "He was very approachable. The fans knew they could always come up and ask for a picture and he signed every autograph. Everybody liked him and the ladies loved him as well.''
July 18, 2000: Jill Scott Drops Who Is Jill Scott? Words and Sounds Vol. 1
Jill Scott's debut album Who Is Jill Scott? Words and Sounds Vol. 1 earned the Philadelphia songstress her first Grammy nomination and earned her worldwide fans for timeless songs like "A Long Walk," "Gettin' in the Way" and "He Loves Me (Lyzel in E Flat)" and features fellow beloved Philly artists and producers like DJ Jazzy Jeff, James Poyser and the Roots. It began an artistic question that she's been trying to resolve for her entire career.
I've always been searching for the answer to the initial question which was, 'Who is Jill Scott?'" she told Essence in 2015. "This answer is plain and simple. It's complex, as well."
July 18, 2002: Wyclef Jean Releases Masquerade
The third solo album to be released post-Fugees, Masquerade found Wyclef Jean covering Bob Dylan and Tom Jones (with Jones guest starring) in a top 10 debut. Meeting the late Nelson Mandela inspired him during the creation of Masquerade.
"He looks like a real prophet," Jean told Rolling Stone in 2001, as the album was being finished. "Everything out of his mouth is just jewels. What I took away from everything he said was basically, 'Whatever you're doing in life, make sure that it can affect people one hundred years from now.' It influences everything that I do since I came into this game as a musician. I always go for the art first. And it's different when I'm doing records for people, because when people come to me they're basically trying to get a hit song and when I do records for myself I try to do the most artistic, musical album I can think of doing, as opposed to just trying to get two singles and songs that are just constantly going to play on the radio."
July 18, 2003 Bad Boys II Hits Theaters
Just a few days after the film's soundtrack made waves in the streets, the Michael Bay-directed Bad Boys II was released in theaters on this day in 2003. Starring Martin Lawrence and Will Smith, the second installment of the Bad Boys series finds Detectives Mike Lowery (Smith) and Marcus Burnette investigating the Cuban drug cartel's flow of ecstasy into Miami. The dynamic duo's friendship is tested, but in the end, they prove it's still bad boys for life. Despite being ripped apart by critics, the film went on to make $400 million worldwide, leaving fans wanting more.
"Happy Birthday to the Best Damn partner EVER!!! What you think Marty-Mar? One more time?" Smith teased on Instagram back in April. A few weeks later, it was announced that the third installment to the Bad Boys series (Bad Boys for Life) is expected to be released in January 2020.
July 18, 2006 N.O.R.E. Releases N.O.R.E. y la Familia...Ya Tú Sabe
N.O.R.E.'s fourth solo album found him exploring the emerging sounds of reggaeton with the help of Daddy Yankee, Big Mato, Ivy Queen, Nina Sky and his old pal Pharrell Williams. N.O.R.E. y la Familia...Ya Tú Sabe reached No. 2 on Billboard's Top Latin Albums chart and established him as a leading voice in a new genre.
"I never stepped on nobody's shoes and I always created my own lane," he told Vibe in 2017. "If everybody wants to take the George Washington Bridge, I'm gonna the be the guy taking the Holland Tunnel."