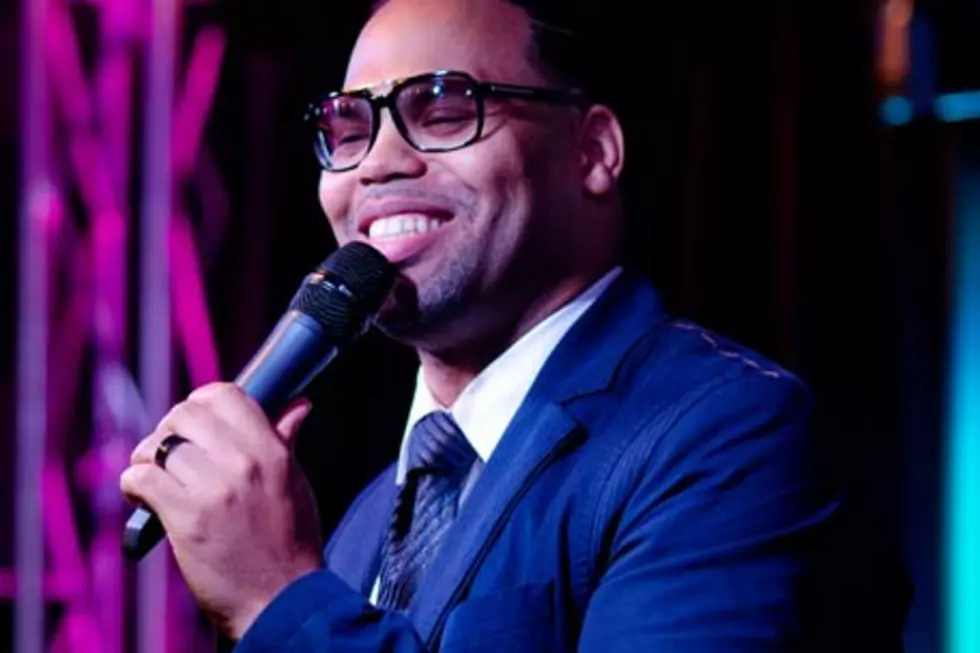 Eric Roberson 'Skypes' With Son, 'Studies' Tech N9ne
Jeff Fusco, Getty Images
Eric Roberson doesn't believe in writer's block. "There's always something to write about," the soul singer tells The BoomBox. "There's always someone in pain, there's always someone in love, there's always someone searching for something."
Throughout the tenure of Roberson's career, he's been the mouthpiece for a deep following of admirers who traveled with him on his musical journey since his beginnings singing backup for Jill Scott and Musiq Soulchild. Once his solo career grew wings, it was his 2001 critically acclaimed LP, 'The Esoteric Movement,' that sealed the deal for Roberson's fate in music.
He left the neo-soul movement with pockets full of memories that still ignite his creativity to date. Now married with a son, Eric Roberson embarks on a brand new chapter in his career with a new album, 'Mister Nice Guy.' The project is full of "humor" and "theater" per Eric, something he always tries to bring to his live shows. With a career in touring, bringing that live element to the effort is essential in extending that experience for fans. Always the nice guy himself, Eric speaks with The BoomBox about his adoring fans, the balancing act of family with music and how taking the cues of hip-hop pioneers helped him build his own movement in soul.
That smiley face on your cover for 'Mister Nice Guy' is really scary.
[Laughs] It scares you? It's not supposed to spark fear! It's funny, there's a guy named Fave, who is a very talented artist. It's crazy, he draws, he produces, he's a photographer. He's actually the one who came up with the face design. So we can give it all to him, the blame, if it sparks fear in the world.
Throughout the duration of your career, it seems like you've had this cult following.
Well you know, it started with my second album. I kinda started putting my own albums out as a hobby. I had no idea if it would work or if anyone would really care. For the most part, it was almost to help me get over a breakup. Then what happened was, I found out from people who had gotten the record... they were the ones who demanded more from me. So it almost kinda started with the second album -- the whole intention of even doing the second album was just for a small group of people who said, "We love what you did. We want more." I was like, "OK, I have some more songs!" From there it was kinda just, it inspired me to take it like a business. From there I attempted to learn more about... being a label and having an opportunity to put out music on a timeline.
There was really no turning back for me. It was earning each fan, one at a time. That was the honest intention from Day One. We would do a show, and before people could even get out of their seats, I would be at the exit selling CDs. It's kind of still the same way. It hasn't changed much.
That's a very hip-hop approach to branding yourself. Keeping it an organic movement.
Definitely. I'm a hip-hop kid. Growing up in Jersey, I had no choice but to fall in love with the things that were going on. As powerful as Run-DMC was or as LL Cool J was at Def Jam, some of the blueprints of what we wanted to do for [neo-]soul music came from hip-hop. Hip-hop artists were doing independent albums far earlier than we were doing with R&B. I remembered studying rock n' roll and hip-hop when I was trying to figure how to put an album out, how to market it and maintain a fan base. All the way to Tech N9ne, I was studying what he was doing. The guy is phenomenal and also maintains a fan base. He's almost taught them to grow with him. That's the best way to word it. How do you get the fans to grow with you? That's something I think people on the majors even have to learn.
Well your fan base seems more loyal than even some of your contemporaries. Some credit you as having kickstarted the whole neo-soul movement.
I think the exaggeration or the illusion has helped out my career tremendously [laughs]. You know, the funny thing is my fan base is kinda like me, they're credit readers. When they get a record they like, they see who sang background on it or who wrote it. And before I put albums out, I was a songwriter and producer. I was fortunate enough to work with Jill [Scott] and work with Musiq. That helped out a lot. When people heard me singing background for Jill or doing a duet with Jill or sing background with Musiq, they'd instantly search it. I had people searching for me before I even put 'The Esoteric Movement' out because they loved 'Mary Go Round' or this song 'One Time.' I mean I definitely didn't start the neo-soul movement in any form or fashion. I was happy to have some success from it and also participate and witness it with my peers. All of those artists, those really are my friends. When I worked with Jill, Musiq, even Dwele, we barely had deals. We were just hungry artists making music.
Listen to Eric Roberson on Musiq Soulchild's 'Mary Go Round'

You were instrumental in Philly's soul movement. Did you live within a close proximity to Philly back then?
I didn't live that close at the time. I was probably about two hours from Philadelphia. There was a period after I graduated from college where I would drive to Atlanta, drive to D.C., drive to New York. I had a little Toyota 4Runner, and I just destroyed that truck driving to whatever studio would have me. I met someone in DJ Jazzy Jeff's camp while I was in New York and they invited me to the studio [in Philly]. The very next day I drove down there and almost never left. I worked at A Touch of Jazz for five years straight non-stop. I was living in Atlanta when I met them, and I think I didn't go back to Atlanta for like six months. Then when I went back, I moved all of the stuff out of my apartment and moved up to Jersey and kept recording.
I remember when Jill walked in the studio for the first time, when Musiq walked into the studio for the first time, when Floetry came over and we were like, "Who are these girls from London? They're dope!" I was actually in New Jersey when they got here, and one of the producers called me and said, "Get here as fast as you can. There's these two girls from London, and they are destroying Philly right now. You gotta check them out!" I remember jumping in my truck and heading over there wanting to hear them. It was just a good time.
Many years later now with a new album, how do you find the inspiration with that whole movement being gone?
I think with everything you have challenges. For me, the biggest challenge now is scheduling. From a business standpoint, tours take up so much time. I'm also a family man now, all of that stuff it takes up time. I've had so many record deals -- been signed and dropped and thought that my dreams of being in the music business were lost. I remember having money then losing money. I had tremendous ups and downs. So my dream was to create the music that I heard in my head. I still wake up with sounds in my head to this day. For me, you give me a window and you give me an opportunity, and I'll create a song every chance that I get.
You're an artist people want to experience live. Being a family man now, how are you balancing all of that touring?
I'm doing the best that I can, day by day [laughs]. I just got back into the country on Monday, I leave the country again on Sunday. My little man has been in my arms from the time I got off my plane to the time I get on my next plane. Skype helps out. It's funny, my son in his first year, he's already been to London with me, he's been to Atlanta with me a couple of times, he's been to L.A. with me. So his passport's been stamped. I'm going to try to bring him as much as I can. When I can't bring him, we're Skyping.
Even with this Europe tour, I would walk on stage and take his picture out of my wallet and put it on the stage just to have him with me. It's just one of the ways for me to get through it. He's been an incredible joy. A lot of this album was created when he was an infant. He was in the studio with me, in the vocal booth with me sometimes. I just want him to be with me in that environment. This career takes up so much of your time that for me, I'd like to share that time with him.
Do you find that female fans are happier knowing you embrace commitment or are they disappointed that you aren't an option for them?
If I mention my wife sometimes I'll get an "aww" [in disappointment]... My first album was after a breakup, but almost a year after that I met my wife. She has been my girlfriend then fiancée almost the majority of the time during my independent career. Most fans who know me well, know I don't hide it. I wear my wedding ring in my videos or on stage. My wife is with me a lot. I know that I'm in the art of selling fairy tales. We are selling a perception. I don't think when you get on the stage though that you have to lie about your marital status or whatever. I'm a person that tries to write songs people can relate to. I can't imagine what your intentions are if you came to my show and left pissed that I was married [laughs].
Watch Eric Roberson's 'Picture Perfect' Feat. Phonte
What would you say was your main goal this time around with your new album?
I think a lot of the humor that we show on stage with the live shows, this was a strong intent to show that on this album. With each album, we try to dig deeper into storytelling. We've accomplished a lot with storytelling through the years. With this album, it's an extension even more. I majored in Musical Theater at Howard, so I think people may have felt a bit of Musical Theater or Theater Arts of character development in my music. There's a song on [the album] called 'The Magician' about a magician. There's a song on there about how I feel when I'm sneaking and looking through my girl's journal. I'm riddled with guilt through the whole things. That one is almost a musical monologue than it is a song. I think that's the part; I think humor and theater have reared their heads with this album.
You have MCs like Phonte on your project, but having a rapper on a track was never something you had to lean on for people to listen to you.
I think some people might look at me as if I am rapping [laughs]. Truth be told, I really feel like especially with the neo-soul movement -- whether we celebrate that title or not -- I think the main part of that whole movement were the hip-hop kids who sang. If you listen to D'Angelo's 'Brown Sugar,' he almost could rap that song as much as he would sing that song. Musiq Soulchild's 'Just Friends,' Jill Scott's 'A Long Walk,' all of those songs they were singing over Al Green tracks with almost a hip-hop melody. I never thought I never was going to rap on a song. Now I've actually rhymed on two songs.
You have such a consistent track record with releasing music. You never go more than two years without a release. Given how much you tour, that's insane.
[Laughs] It is insane, isn't it? I haven't thought about how insane it was until this album. I think it's a testament to, No. 1, I've been fortunate enough to be very healthy and, No. 2, I've had a very supportive cast around me. Also, it's a strong desire to be creative. I'm truly in love with the art of combining words. I just love to do it. I feel like I'm very, very fortunate to have the career I have because it helps me balance family life and stuff like that. This is a very precious time, I don't wanna miss too much like my son's first steps. As much as I want to put out music and provide for the betterment of his life, I want to be able to witness it too. I want to be that kind of dad. I want to be able to coach his soccer team or football team. At the same time, I have to also feed the monster of the business. It's a balancing act.