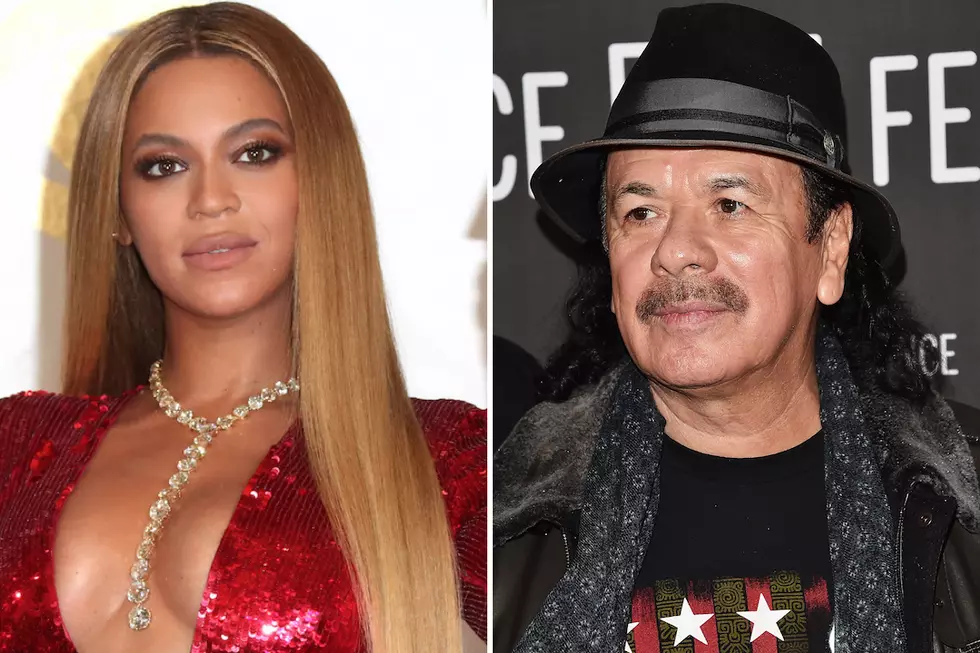 Carlos Santana Backpedals After Saying Beyonce Isn't a 'Singer-Singer'
Frederick M. Brown / Alberto E. Rodriguez, Getty Images
Legendary guitarist Carlos Santana might have felt the sting of the Beyhive after his negative comments about Beyonce's Grammy snub surfaced.
In a recent interview with Australian Associated Press, Santana was quoted as saying that Adele deserved to win the Album of the Year trophy at the 2017 Grammy Awards "because she can sing, sing," adding, "With all respect to our sister Beyoncé, Beyoncé is very beautiful to look at and it's more like modeling kind of music - music to model a dress - she's not a singer, singer, with all respect to her."
Hours after the interview was posted online, Santana went on his Facebook page to clarify his remarks. He wrote, "My intent was to congratulate Adele on her amazing night at the Grammies (sic). My comment about Beyonce was regretfully taken out of context. I have the utmost respect for her as an artist and a person. She deserves all the accolades that come her way. I wish Beyoncé and her family all the best."
At the Grammy Awards, Adele tearfully couldn't accept the Album of the Year award and praised Beyonce for inspiring her and creating a powerful body of work. "I can't possibly accept this award, and I'm very humbled and very grateful and gracious, but my life is Beyoncé, and the album to me - the Lemonade album, Beyoncé - was so monumental, and so well thought out, and so beautiful and soul-bearing," she said.
What do you think of Carlos Santana's comments? Was he right or off base?
2017 Grammy Awards: he Hottest Looks From the Red Carpet