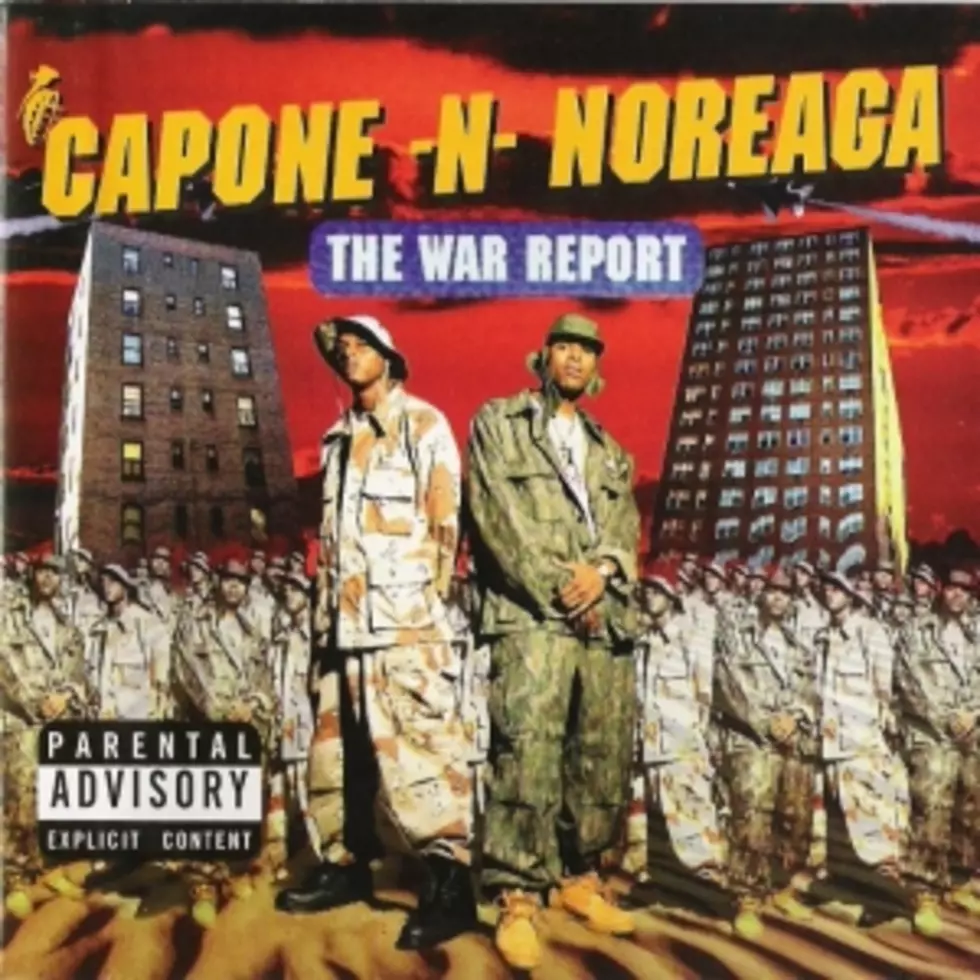 Capone-N-Noreaga's 'The War Report' Brought Listeners to the Frontlines of the Streets – 20 Years Later
Penalty / Tommy Boy
Twenty years ago, partners-in-rhyme Capone-N-Noreaga unveiled their debut album, The War Report, a body of work that would speak to the streets like few have and cement the pair as legends. Released on June 17, 1997, The War Report served as a counter to the more glossy style of rap dominating the Billboard charts at the time while carrying on the tradition of delivering murderous verses over menacing beats, established by Queens legends like Kool G. Rap, Mobb Deep, Tragedy Khadafi and other that preceded their arrival on the scene. Hailing from the Queensbridge and Lefrak sections of Queens, N.Y., Capone-N-Noreaga contributed to the borough's track record for excellence with The War Report, turning in an LP that would shake the concrete and resonate with the streets like no other album at that time.
The War Report would turn Capone-N-Noreaga into lords of the underground and serve as the foundation of their career as a group, as well as individuals, but the genesis of their story begins five years earlier, in 1992, when the two were incarcerated on unrelated attempted murder charges at Collins Correctional Facility.
Meeting during their respective prison bids, the two teens found common ground through their love of basketball, as well as their street affiliations, a relationship that would quickly blossom into a brotherhood. "We met up in Green Haven Correctional Facility, Capone recalled in a 1997 interview with VIBE Magazine. "The only way we could see each other was in church. We would sneak in the back and kick our own ministry."
While the duo wouldn't officially become a rap group until 1995, it was around this time that Noreaga, born Victor Santiago, earned his rap moniker, which he credits to his fellow inmates during his incarceration. "At that present moment, I was f---ing reading about Noreaga and s--- and everybody in the jail was like "you not gonna read that s---, man, that shit is too big," Noreaga explained in a 1997 interview. "And when I read it, everybody was like 'ah, you Noreaga.' It wasn't like I asked for that name, people just gave me that name 'cause I read that book and that's how I got that name."
After both were released from prison, Capone-N-Noreaga would begin pursuing a rap career, finding a mentor in Juice Crew member and fellow Queensbridge native Tragedy Khadafi, who would play an instrumental role in the group's development. Noreaga recalled their creative motivations and desire to differentiate themselves from other rap groups during an interview in 1997. "When CNN originated, we wanted to come different," Noreaga stated. "Capone-N-Noreaga was different. At that time, nobody was coming with like Gambino, nobody was no Escobar, nobody was using no gangsta shit, we came it first. Not dissing nobody, but we came with it first. Once people jumped in that world, we had to jump out of that world and we changed it to CNN, 'cause CNN covers every aspect of life. You can see watch CNN and see basketball, you can see global history, you can see anything on CNN. CNN has everything, so that's how we just try to come straight different."
Watch Capone-N-Noreaga's "L.A., L.A." Video
In 1995, Faith Newman, an industry veteran who had inked Nas to a record deal with Columbia Records a few years prior, offered Capone a record deal, however, the label was uninterested in signing the duo as a package deal and in a show of loyalty, Capone would decline the offer. Trudging forward, Capone-N-Noreaga caught a big break when the pair was profiled in The Source magazine's Unsigned Hype column, as well as a mention in a 1995 profile on Queensbridge's rap legacy, looks that would put the group's name on the map before them even releasing their debut single.
The following year, in 1996, Capone-N-Noreaga hit the ground running, releasing "Illegal Life," a collaboration with Havoc of Mobb Deep, but the duo's highlight of the year would be their appearance on the song "L.A. L.A.," a response to Tha Dogg Pound's "New York, New York," which was seen as a show of disrespect towards the five boroughs. Originally intended to appear on a promotional mixtape by Bad Boy Records, Puff Daddy would decide against releasing "L.A. L.A.," as it arrived during the height of the east coast/west coast rap beef and was the most powerful clapback out of the east, making the duo hometown heroes. Teaming up with Tragedy Khadafi and Mobb Deep, Capone-N-Noreaga would deliver highlight performances on "L.A. L.A.," further shining the spotlight on the promising newcomers and setting the stage for their debut album, The War Report.
Recorded between December 1995 and April 1997, The War Report arrived on the heels of Kool G. Rap's 4,5,6, Mobb Deep's Hell on Earth, Nas' It Was Written, The Lost Boyz's Legal Drug Money and Onyx's All We Got Iz Us, all seminal rap albums by artists from Queens, N.Y., resulting in high expectations for Capone-N-Noreaga's own debut.
However, during the middle of recording The War Report, Capone-N-Noreaga suffered a major setback when Capone was arrested in 1996 after violating his probation, leaving Noreaga to complete the album on his own with the assistance of Tragedy Khadafi, who appeared on more than half of the album's songs. Producer Havoc also contributed multiple verses on the album, making it a collective group effort and compensating for Capone's absence.
In summer of 1997, The War Report would be released on Penalty Records and was well-received from critics and the streets alike. Boasting a production lineup that included EZ Elpee, Nashiem Myrick, Carlos "6 July" Broady, DJ Clark Kent, Tragedy Khadafi, Buckwild, Lord Finesse, Marley Marl and others, The War Report featured an array of gritty, sample-based productions. The album arrived at a time when New York was reeling from the city becoming a warzone, with both Capone and Noreaga had lived through and experienced firsthand.
Rocking camouflage fatigues and other army gear, Capone-N-Noreaga took their militant stance to another level, dropping mentions of Kuwait and likening his Lefrak stomping grounds to Iraq due to the war going on inside its confines. "Iraq... Iraq is like Lefrak, Lefrak is Iraq," Noreaga once shared during an interview with BET's Rap City. "And I figured Lefrak needed a different name, it needed a name where people could look at us for what we are. And a lot of people from Lefrak, if you do the knowledge, they're, like, rebellious, and that's what people from Iraq are, they're rebellious towards the American government, so I just picked that name."
Watch Capone-N-Noreaga's "Bloody Money" Video
Using their time in the streets and in the penal system as inspiration and source material, Capone-N-Noreaga's The War Report is a near flawless listen from start to finish. From the moment "Blood Money" hits your ear-holes, you're aware that The War Report is not your average album, and one crafted with dedication, care, while utilizing the breadth of the creator's skills.
Produced by EZ Elpee, "Blood Money" includes samples of "Impeach the President" by the Honey Drippers and Bill Conti's "Philadelphia Morning" and features Noreaga opening the album with a solo selection that showcases his complex flow and off-kilter lyricism, with lines like "Like Amina and Gina, kid they from Medina Emanuel, keep fish scale to sell / General - clique deep with cartel," serving as a slice of his vebal gymnastics. Tragedy Khadafi makes an appearance on "Stick You," a track capturing Capone, Noreaga, and Trag seeking revenge against a conniving drug merchant, while Noreaga calls in reinforcements for the posse cut "Iraq (See the World)," which includes appearances from Castro, Musaliny (from Musaliny-N-Maze), Mendosa & Troy Outlaw and is a anthem for Nore's stomping grounds of Lefrak.
Capone's incarceration may have limited his airtime on The War Report in contrast to Noreaga, but the gun-toting felon made good use of his appearances, with dominant performances on "Never Die Alone," the Lord Finesse-produced "Channel 10" and "Black Gangstas," serving as the steely, reserved yin to Noreaga's animated yang. One of the more personal songs on the album is "Live On Live Long," a tribute by Noreaga to Capone, which was recorded after his incarceration, and finds N.O.R.E. baring his emotion as he raps "So what up Pone, n---- I can't zone without you / Think about you, up at night without my a-alike / Shine like broad day light to pay price" in show of solidarity with his comrade.
The War Report may be stacked with heaters, but one of the premier selections on the album is "T.O.N.Y. (Top of New York)," a Carlos "6 July" Broady and Nashiem Myrick-produced banger that was the album's biggest hit. "Lip sealed, no n---- snitch / Do or die, I smoke bogey, sword like shinobi / Shoot up your block and make you know me," Noreaga raps, while Capone gets off with a stellar verse of his own, dropping the quotable "I did it for the love of cash your honor / Traffickin' across the Verrazano, coke and the marijuana/And my persona, glitters in gold / Unlike them other money getters who stack, turn quitters and fold" before Tragedy Khadafi anchors the track with an additional stanza. In addition to the songs, skits with Capone calling in from prison are an added wrinkle that breaks the monotony and gives the album an increased air of authenticity.
Listen to Capone-N-Noreaga's Song "Channel 10" Feat. Tragedy Khadafi
Another aspect of The War Report was that it helped turn Noreaga into a rising star due to his star turn throughout the album, with Capone's absence resulting in him being the defacto frontman of the duo. Solo selections like "U Say" showcased Noreaga's potential and charisma as an emcee and would lead to him releasing his solo album, N.O.R.E., in 1998, which featured the Neptunes-produced hit "Superthug," which topped the rap singles chart and became the signatue song of his career. Capone, who would be released from prison in 1999, would continue to face legal troubles and be incarcerated once again in 2000, before the release of the duo's 2000 release, The Reunion, stunting the group's momentum and putting a damper on their return.
Despite never being able to replicate the excellence of their debut effort, Capone-N-Noreaga is considered one of the most legendary rap groups in hip-hop. The War Report is among the most pivotal albums of the 1990s and in the pantheon of the greatest works the genre has produced.
Watch Capone-N-Noreaga's "T.O.N.Y. (Top Of New York)" Video