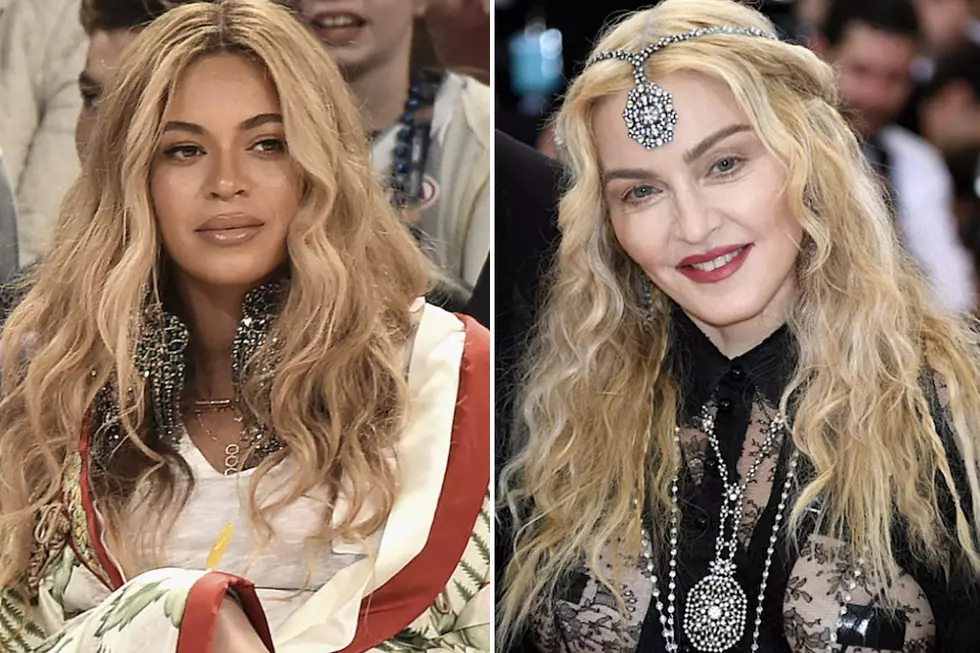 Beyonce Fans Drag Madonna for Photoshopped 'Everything Is Love' Photo
Theo Wargo / Larry Busacca, Getty Images
The Beyhive strikes again! Their latest victim - pop icon Madonna.
On Friday (June 22), Madge unwisely posted a photoshopped image from Beyoncé and JAY-Z's "Apeshit" video showing them looking at art in the Louvre. However, in Madonna's altered picture, the Carters are looking at her iconic album covers.
While the photo may look innocent enough, it's the now-since deleted captions that got the Beyhive buzzing with anger.
The original caption read, "Learning from the Master . . . Lol." After the Beyhive stung her IG page, Madonna changed the caption to "Learning from the Teacher . . . Lol."
But the Beyhive wasn't satisfied and they kept on flooding her IG page with bee emojis. Finally, the "Material Girl" changed it to, "Learning ..............lol," with the hashtags #art, #equals and #freedom.
Oh, and she turned off the comment section. Good call.
Meanwhile, hundreds of fans went on Twitter to slammed the 59-year-old singer for even suggesting that Beyoncé is a student and she is "the master." Some believe that Beyoncé has surpassed Madonna as the current reigning pop queen.
However, we must mention that back in 2013, Beyoncé did say that she wanted to follow in Madonna's footsteps and have her own empire. It's safe to say that Queen Bey has achieved that and so much more.
Nevertheless, folks dragged Madge for calling herself "the Master," which gives off a "slavery" vibe given the juxtaposition of herself and the Carters in the failed photoshopped image.
"Did you really just post a pic of 2 black people looking at you and refer to yourself as "the master"? Bitch you done lost your goddamn mind," tweeted one person.
Another fan wrote, "Madonna smokin dope.... if anything beyonce looked after Janet Jackson."
Some people came to Madonna's defense stating that the singer was only joking. However, they added that Madge is a major pop icon who has influenced countless of artists –– including Beyoncé.
"Madonna was obviously joking but Beyonce fans really gonna stand there and act like she isn't influenced by Madonna," wrote one fan.
Check out more reactions to Madonna's post below.
Watch The Carters' "Apeshit" Video