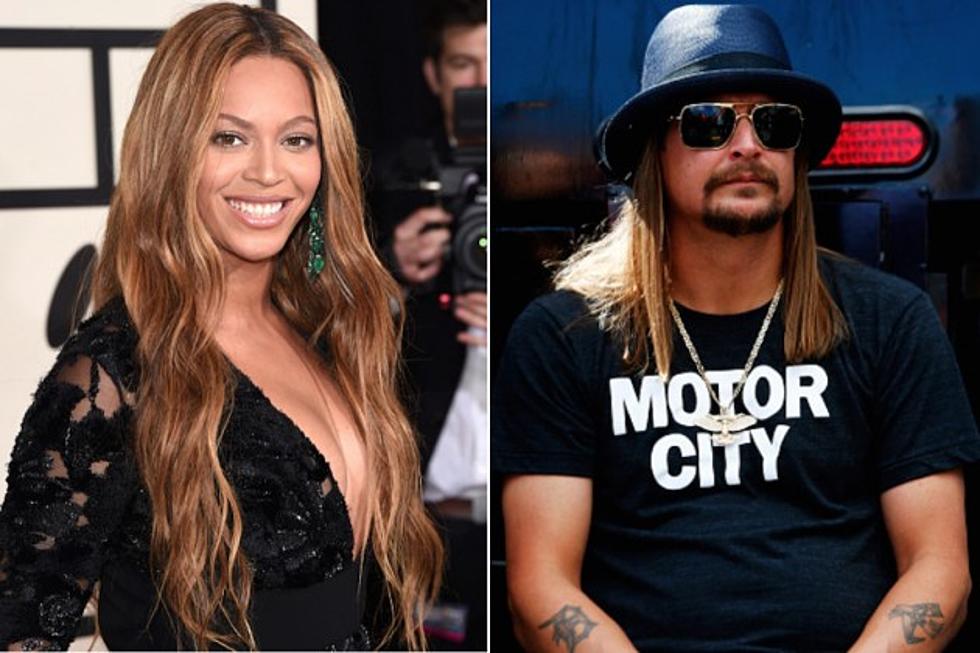 The Beyhive Swarm Kid Rock's Instagram After His Beyonce Slander
Jason Merritt / Jerry Markland, Getty Images
Beyonce's fans don't play around when it comes to her queen. Kid Rock is getting severely stung right now by the Beyhive. The Detroit rocker slandered the Queen Bey in a Rolling Stone interview, which infuriated the colony of her dedicated fans.
In the RS interview, Rock says that he was "flabbergasted" by Beyonce's popularity and wasn't impressed with her singing abilities.
"Beyonce, to me, doesn't have a f---ing 'Purple Rain,' but she's the biggest thing on Earth," says Rock, referring to Prince's classic song as the barometer of being an iconic singer. "How can you be that big without at least one 'Sweet Home Alabama' or 'Old Time Rock & Roll'?"
Rock also frowned on Beyonce's body image, stating, "People are like, 'Beyonce's hot. Got a nice f---ing ass.' I'm like, 'Cool, I like skinny white chicks with big tits.' Doesn't really f---ing do much for me."
The Beyhive wasted no time in flooding Rock's Instagram with thousands of bumblebee emojis on every photo on his account. And they are relentless with it. Beyonce's fans have also been slandering him in the comments as well.
Kid Rock responded with a funny Instagram photo of a can of Raid that kills bugs and mosquitos. Unfortunately, it's bees that are currently swarming his Instagram page.
It was a nice comeback, but just like their previous assault on Karrueche Tran and Chilli, the Beyhive don't go away quietly. It looks like Kid Rock's Instagram account might not recover from this infestation.
What's Beef? 10 Hip-Hop Twitter Feuds