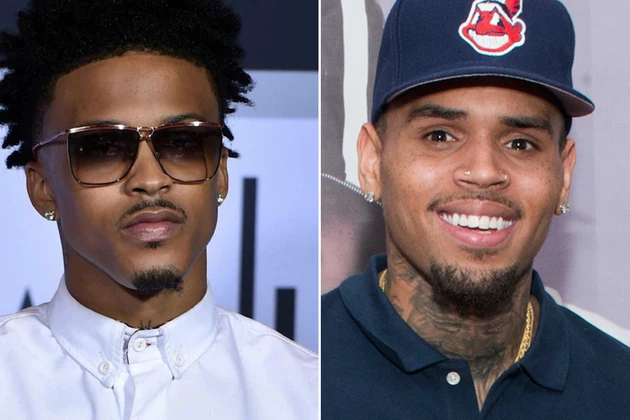 August Alsina Teams Up With Chris Brown on 'Been Around the World'
Alberto E. Rodriguez / Noam Galai, Getty Images
August Alsina is giving fans a taste of his sophomore album, This Thing Called Life, before it hits stores. The R&B crooner released a new single called "Been Around the World" featuring fellow singer Chris Brown.
"It's the dopest record for Chris and I," said Alsina in an interview with Rap-Up. "It's a very, very fun record. Like I said, I been around the world and experienced a lot of whatever—a lot of girls, a lot of situations, so to sum it up, that's the song."
The song draws inspiration from Lisa Stansfield's '90s hit "All Around The World", which was also used in Puff Daddy's song, "Been Around the World."
"Been around the world and I, I, I, man this s-- been crazy/ and I don't how I don't know why, I should choose one lady," sings Alsina.
As for the album, the New Orleans native enlisted Anthony Hamilton, Jadakiss and Lil Wayne to make guest appearances. But as fans wait for new sounds from Alsina, the crooner revealed that he's not opposed to crafting a full collaboration project with Breezy too.
"You never know. It depends on where we at in life," he said. "I'm so much of a lifestyle artist, it just depends on where we at. But I definitely think it would be a dope situation."
Alsina's second album, This Thing Called Life, is set to drop next Friday (Dec. 11). Check out the LP's track list below.
This Thing Called Life Track List:
1. "This Thing Called Life"
2. "Job" Feat. Anthony Hamilton & Jadakiss
3. "Why I Do It" Feat. Lil Wayne
4. "Hollywood"
5. "Hip-Hop"
6. "Change"
7. "Dreamer"
8. "Been Around the World" Feat. Chris Brown
9. "First Time"
10. "Would You Know?"
11. "Song Cry"
12. "Other Side"
13. "American Dream"
14. "Look at How Far I've Come"
15. "The Encore"
Listen to August Alsina's "Been Around The World" featuring Chris Brown
Check out the 20 Best R&B Albums of 2015