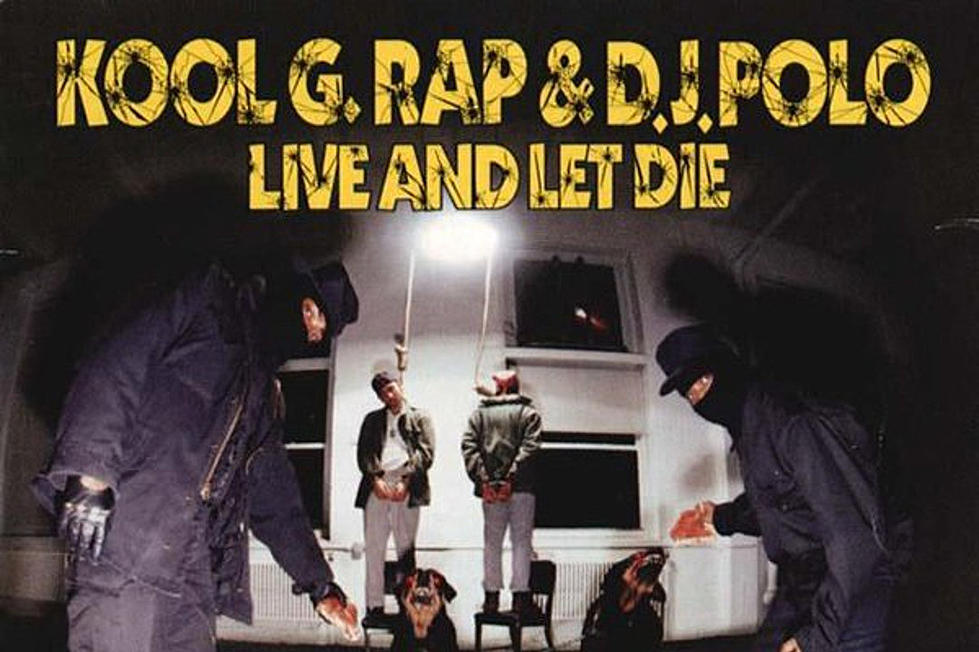 5 Best Songs from Kool G Rap & DJ Polo's 'Live And Let Die'
Cold Chillin' Records
During the late 1980s/early 1990s, New York City was a hotbed for crime, particularly drug dealing, robbery, and murder—making the five boroughs one of the more dangerous and notorious destinations in the country, particularly within the realm of hip-hop. One of the first rap artists to fully give an authentic and nuanced glimpse into what it is to live life on the streets was Kool G. Rap, a rhymer out of Corona, Queens that first came to prominence alongside his partner DJ Polo as members of the Juice Crew.
After Kool G. Rap's standout showing on his debut single "It's A Demo," as well as the high-profile Juice Crew posse cut "The Symphony," he and DJ Polo would release their debut album, Road to the Riches, in 1989, following that up with their sophomore effort, Wanted: Dead or Alive, in 1990. Having established themselves as one of the premiere duos in the East Coast rap scene, Kool G. Rap and DJ Polo set out to score a trifecta of classics, a feat which they achieved with the release of their third studio album, Live and Let Die, their most hard-boiled effort to date.
Following a falling-out with Eric B. (who had brought in Large Professor to help craft the production on Wanted: Dead or Alive) of Eric B. and Rakim fame, Kool G. Rap would link with West Coast producer Sir Jinx on Live and Let Die, with Jinx co-producing a majority of material alongside G. Rap himself. Comprised of a few classic singles and a slew of definitive deep cuts, Live and Let Die is a quintessential rap album.
Here are five of the best songs from Kool G. Rap & DJ Polo's Live and Let Die album that every rap fan should be privy to.
5

"Train Robbery"

Kool G Rap & DJ Polo

Kool G Rap details a brazen crime spree on the Live And Let Die standout "Train Robbery," on which the Corona, Queens rep teams up with a few of his cronies and brings his reign of terror to a New York City subway car. "Down the subway stairs, straight through the turnstile/No smile, but I'm waiting in the station for the 7 to turn it wild," Kool G. Rap sneers over production by Sir Jinx, who hooks up a murky soundscape perfect for the Juice Crew alum to craft a song that influenced the likes of The Notorious B.I.G.'s "Gimme The Loot" and other rap classics that arrived in its wake.

4

"Live and Let Die"

Kool G Rap & DJ Polo

Kool G. Rap follows the journey of a young man groomed to become a drug kingpin on the title track of his third and final studio album with partner DJ Polo. Following an intro that depicts the murder of an undercover cop in an apartment in Fort Greene, Brooklyn, The Kool Genius of Rap delves into his rhyme spill, rapping "I got a chance to get some money so I'm takin it/
No joke, because this bein broke shit just ain't makin it" and vowing to life a life of a murderous drug lord. DJ Sir Jinx, who utilizes a sample of The Blackbyrds 1977 cut "Dreaming About You" for this funky backdrop, steps up to the plate with what is one of the more impressive productions on the album, a reminder of his value as one of the album's architects.

3

"Two to the Head"

Kool G Rap featuring Scarface, Bushwick Bill, Ice Cube

Kool G. Rap keeps the list of features on Live and Let Die sparse, with only one song on the album including guest appearances. "Two to the Head," which pairs the Queens rhyme animal with west coast legend Ice Cube and southern stalwarts Scarface and Bushwick Bill," serves a high-powered posse cut that throws some of the more potent lyricists in rap in a free-for-all for the ages. Produced by Sir Jinx and Kool G Rap himself, "Two to the Head" is a tri-coastal anthem that's a classic display of brute gangster rap and among the many gem's on Kool G. Rap's third studio album.

2

"On The Run"

Kool G Rap & DJ Polo

A sample of Joe Farrell's 1975 jam "Canned Funk" serves as the foundation of "On The Run," one of the singles from Live and Let Die. Spinning a tale of an underling in a drug organization deciding to double cross his superiors and run off with their drug proceeds, Kool G. Rap reaffirms his status as one of rap's greatest storytellers of all-time with "On The Run."

1

"Ill Street Blues"

Kool G Rap & DJ Polo

The Trackmasters deliver an infectious ditty with the backing track to "Ill Street Blues," which features a sample of " Get Out of My Life by Joe Williams and The Jazz Orchestra" with Kool G. Rap's visceral lyricism. Inspired by the popular 1980s NBC television series Hill Street Blues, "Ill Street Blues" was one of the singles released from Live And Let Die and would become one of the album's more popular offerings, accompanied by a classic music video that played up to Kool G. Rap's street-wise aesthetic.