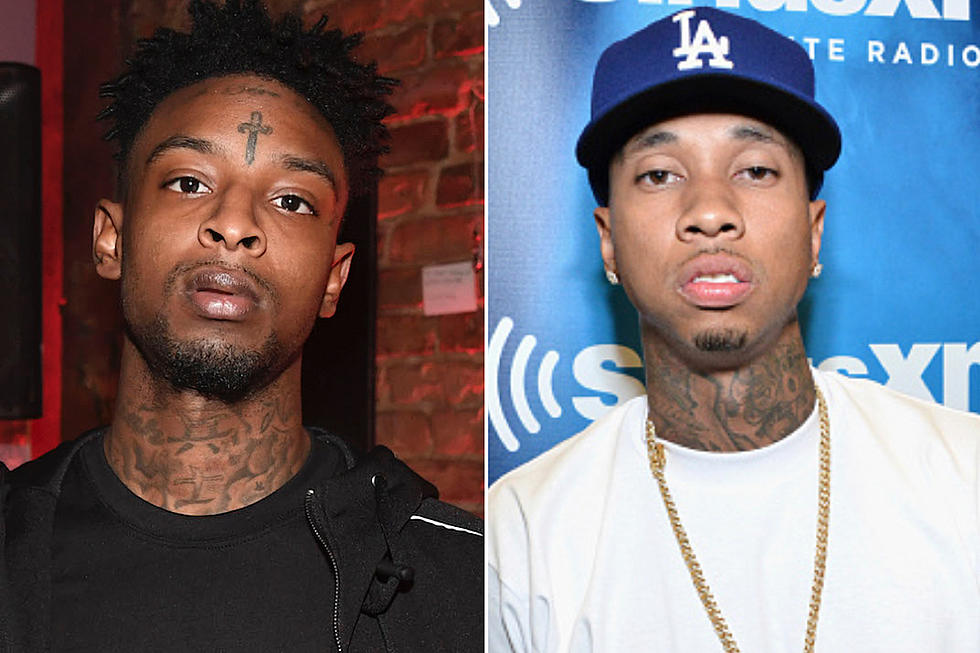 21 Savage Threatens Tyga After Diss Song Surfaces; Rappers Fighting Over Kylie Jenner
Paras Griffin / Araya Diaz, Getty Images
Another day, another rap beef. This time, it's 21 Savage and Tyga. The two rappers are throwing shots at each other over Kylie Jenner.
If you don't know, 21 Savage has been very vocal about wanting to have sexual relations with Tyga's girlfriend Kylie Jenner. Tyga wasn't feeling that and jumped on his Instagram account letting Savage and the world know that nobody is going to be smashing his girl. In one photo, Tyga is in a fancy car with Jenner and the caption reads, "Selling records being you, but still you want to be me."
21 Savage caught wind of the post and posted on his Instagram account a photo of Jenner with the caption, "Shoutout to my boss b------ wifing n-----," which is the famous line from Drake's "Back To Back" diss song aimed at Meek Mill.
Then a diss track surfaced online where Tyga is spitting darts over Savage's "No Heart" instrumental. The only thing we can hear from the snippet is "Suckin' d--- for a Ferrari," which is in reference to 21 Savage's expensive birthday gift from Drake.
Then 21 Savage went on Snapchat and threatened Tyga with bodily harm. "You're playin' with the wrong one, f--- boy," he said.
Hopefully, this beef doesn't escalate to violence because at its surface, these two rappers are fighting over Kylie Jenner. Let's keep it civil fellas.
You can check out the videos and photos above and below.
What's Beef? 10 Hip-Hop Twitter Feuds