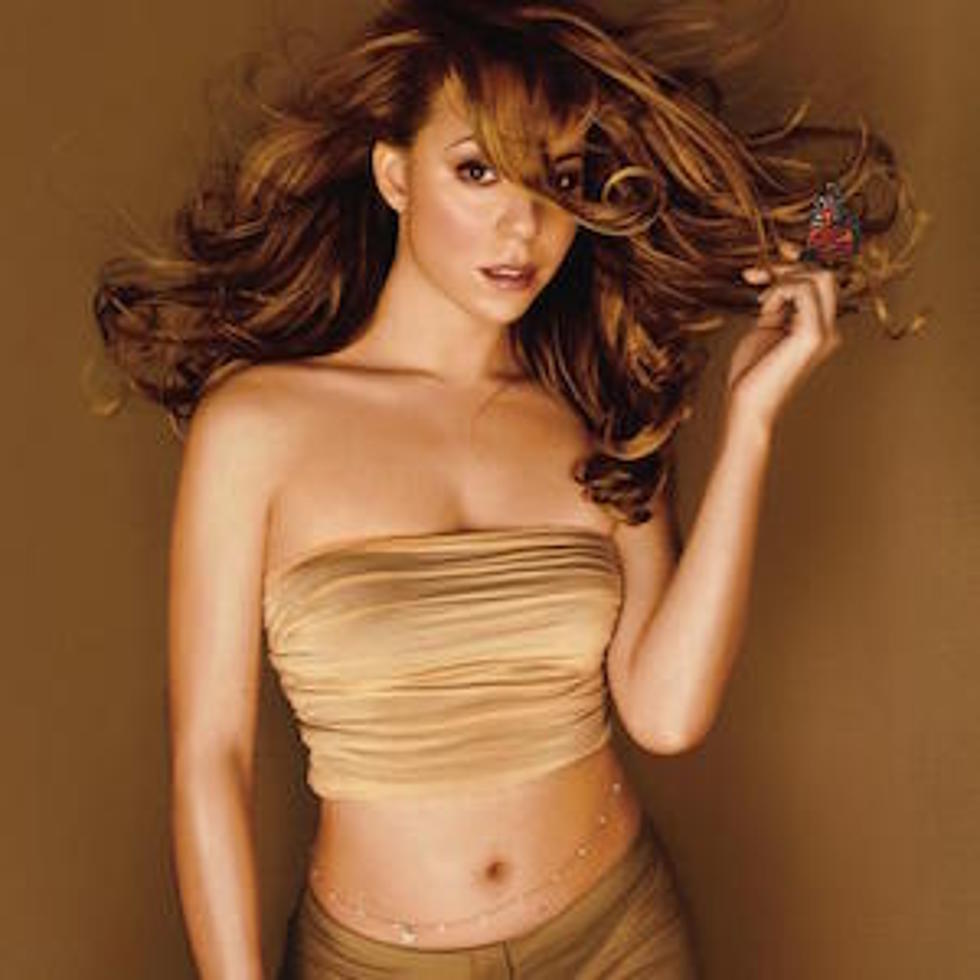 20 Years Ago: Mariah Carey Reinvents Herself With 'Butterfly'
Sony/Columbia
Mariah Carey was the biggest pop star in music by the mid-1990s. As the titans of the 80s had seen their omnipresence diminished by either fading chart success, personal scandal or inactivity, Mariah had delivered a string of smash albums that made her an inescapable force in music. In the wake of four multiplatinum studio albums, as well as a live EP and a Christmas album that were both runaway hits--along with a litany of hit singles like "Vision of Love" and "Emotions," she was a commercial juggernaut.
In 1993, Mariah had married industry exec Tommy Mottola. The head of Sony Music, Mottola had discovered Carey via a mixtape when she was still a teen singing backup for Brenda K. Starr. Shepherding her career with the intent of molding her into a superstar that was "bigger than Madonna," the married Mottola also initiated a romantic relationship with the singer, who was fresh out of high school. Mottola made her breakup with her boyfriend at the time that they began working together, and he was controlling throughout her early career. Carey's first years as a pop star were extraordinarily fruitful--but restrictive. Her image was that of a sweater-wearing girl-next-door, her curly hair billowing in virtually every video as she coyly sang about heartbreak and new love. Mottola and her label Columbia designed it that way.
They married in 1993, but Carey would eventually describe Mottola as domineering and emotionally abusive. "I was with someone at the time that had a lot of control over my life," recalled Carey during a segment on Mariah's World, her 2016 E! reality series. "He was older than me by a lot and had a lot of power and he wanted me to remain away from most people, like sequestered."
But by 1995, there were signs of change. Working on her fifth album Daydream, Carey was becoming much more confident in her own musical ideas. She'd tapped rapper Ol' Dirty Bastard for the remix for her hit single, the Tom Tom Club-sampling "Fantasy," and Mottola and her label Columbia resisted the idea. Nonetheless, "Fantasy" became a monster hit song and video for Carey, and it set the stage for where she would go on her next album. Midway through the recording of what would become Butterfly, Carey and Mottola separated. They wouldn't legally divorce until 1998, but it was clear that the singer felt a new sense of creative and personal liberation. That spirit was only amplified after a heating exchange led to the departure of her longtime producer Walter Afanasieff. He'd co-written megahits like "One Sweet Day" and "Hero" for Carey, and now she was without her most accomplished collaborator.
Carey took the opportunity to refurbish the album's approach. She brought in hip-hop and R&B producers like Sean "Puffy" Combs, Missy Elliott and Trackmasters. Carey and Combs immediately got to work on a new song called "Honey." Built around a sample of the World Famous Supreme Team's "Hey DJ" and "The Body Rock" by the Treacherous Three, the track was produced by Stevie J. with an assist from Q-Tip and redefined where the album would go, musically. This was Mariah Carey fully immersed in hip-hop--and feeling right at home.
Trackmasters worked with Carey on "The Roof," which featured another prominent hip-hop sample (Mobb Deep's "Shook Ones, Pt. II") A remix included the legendary Queens duo and was another sign that Mariah wasn't merely flirting with rap edginess as she had on "Fantasy." And Mariah teamed with Missy Elliott on "Babydoll."
But the spirit of her previous work was still apparent throughout Butterfly. The title track, originally conceived as a house record, was a personal look at the turmoil of her dissolving marriage. She'd wanted Mottola to see her as an evolved woman and artist, not the young girl he'd discovered in 1988. When it became apparent that he was never going to see who she truly had become, Mariah wrote "Butterfly" as a pronouncement--she would fly on her own.
Sisqo of Dru Hill joins Carey for a cover of Prince's classic ballad "The Beautiful Ones" and both singers give the material the appropriate gusto. "Breakdown" featured Krayzie Bone and Wish Bone of Bone Thugs-N-Harmony, and remains one of the best pop-R&B-hip-hop combinations on record.
The sultry "My All" was arguably the most purely seductive song Mariah Carey had recorded up to that point. With a smooth and atmospheric background, she sings of "one more night" and "your body next to mine," and showcases one of the great strengths of Butterfly as an album: even in its quieter moments, Mariah sounds her strongest when she isn't draped in overproduction. "Fourth of July" also gave Carey a softer, jazzier feel that contrasted well with some of the more hip-hop-flavored songs on the album.
Her failing marriage is once again reflected in "Close My Eyes." Co-written with Afanasieff, the song casts its narrator as a child who was afraid to step into the unknown. "But I closed my eyes/Steadied my feet on the ground/Raised my head to the sky/And though time's rolled by/Still feel like that child/As I look at the moon/Maybe I grew up/A little too soon."
"Outside" is another uber-personal moment on the album, on which Carey's lyrics reflect her experiences as a biracial woman. "Early on, you face/The realization you don't/Have a space/Where you fit in/And recognize you/Were born to exist..." Her lyrics had always been introspective and connected to her own experiences ("One Sweet Day" was inspired by her ailing sister), but on Butterfly, Carey laid herself lyrically bare.
But it's most remembered for revamping Mariah Carey's image as a pop star.
When the "Honey" video premiered in August 1997, fans were stunned to see this new Mariah. Cast as a sexy spy, clad in form-fitting skirts and skimpy bathing suits, the singer was suddenly bolder and flaunting her sex appeal. The coy, sweater-clad innocence of her early years immediately became a distant memory and with hip-hop stars Puffy and Ma$e prominently featured on the remix, there was incessant, sexist chatter that Mariah had run wild following her split from Mottola and was getting cozy with rappers, rumors she categorically denied. The video also opened with a bound Carey being interrogated by a slick-suited gangster--which many interpreted as a not-so-subtle dig at Mottola.
Regardless of the gossip and the critics, Butterfly was a triumph. Upon it's release on Sept. 13, 1997, the album debuted at No. 1 on Billboard and eventually sell 5 million copies in the U.S. It kick-started the second act of Mariah Carey's career; she would henceforth remain a fixture on the charts with a combination of adult contemporary balladry and hip-hop-tinged pop hits that featured luminaries from Da Brat to Jay-Z and would close the 1990s as the best-selling artist of the decade.
Mariah's shift in image wasn't altogether unprecedented:  Whitney Houston spent the 1980s being criticized by many R&B fans for recording what they considered soulless pop songs for the sake of middle-of-the-road success. She responded with the new jack swing-influenced I'm Your Baby Tonight in 1990, which featured production by L.A. and Babyface as well as a collab with rapper Monie Love on the remix single for "My Name is Not Susan."
But Mariah on Butterfly was a much more full-bodied embrace of hip-hop and R&B styles at a time when hip-hop was becoming a dominant force in popular music and culture. For the biggest pop star in the world to suddenly be unapologetically embracing of rappers and hip-hop production confirmed that this sound was now the definitive sound of the times. Puffy, Q-Tip, Missy Elliott, etc. had already established themselves as hitmakers, but Butterfly proved that they were the standard-bearers for what was hot in music--all music. In reinventing herself via hip-hop, Mariah affirmed hip-hop as the guiding force for pop; and that would only become more of a truism as the 2000s dawned.
And for Carey as an artist and as a woman, Butterfly is where she fully came into her own. In a 1998 interview with Rolling Stone, the singer said that she resented aspects of her marriage to Mottola, but she had no interest in smearing him.
"Even if I'm angry about certain things, they have to remain personal and private," she said at the time. "Regardless of what happened, I care about Tommy and still love him as a person. Tommy represents a huge portion of my life, and he's helped shape the person that I am. Although he obviously was at a very big level when our relationship started, I think we both shaped each other's careers."
Mariah Carey's career would take more (very well-documented) twists and turns in the years after Butterfly, but the album stands as one of the more transcendent releases from its era. And a defining project for one of pop's most successful and influential artists. Proof positive of how a creative spirit can flourish when given the latitude to follow their own muse.
Watch Mariah Carey's Video for "My All":
Watch Mariah Carey's Video for "The Roof":
Watch Mariah Carey's Video for "Breakdown":
Watch Mariah Carey's Video for "Honey":
Watch Mariah Carey's Video for "Butterfly":
The 50 Greatest Female R&B Artists of the '90s