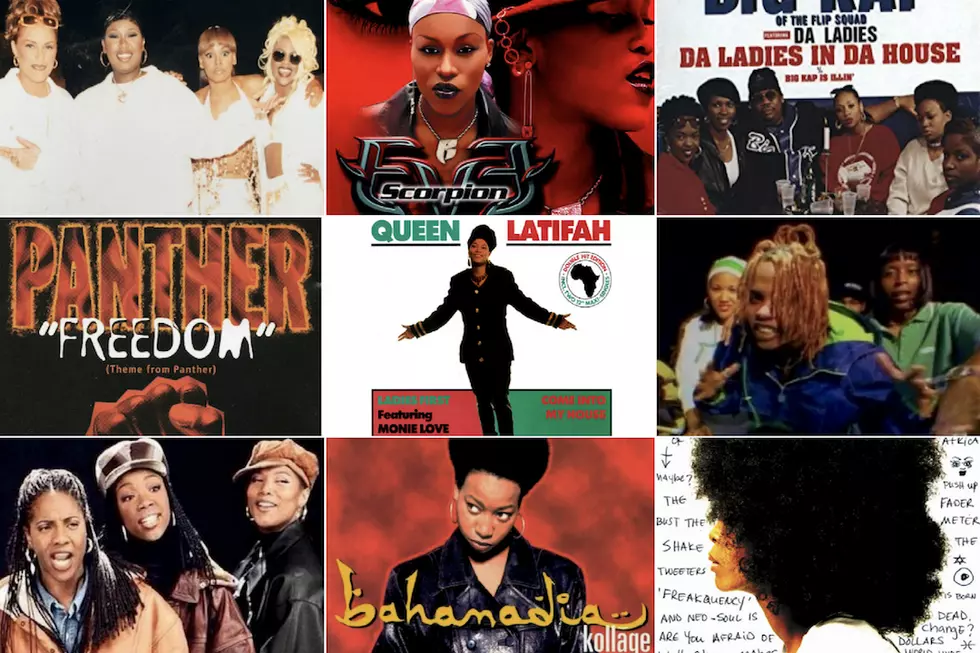 20 Best Female Rap Posse Songs
The Boombox
In 1989, Queen Latifah released the girl-power anthem "Ladies First," which ushered in a movement of female empowerment and sisterhood in rap. Latifah's explicit feminism open the door for other female rhymers to team up and build their own posse tracks.
Artists like Lil' Kim, Brandy, Missy Elliott, Erykah Badu, Eve, Foxy Brown, Bahamadia and others have have joined other female rappers on collaborative songs as a way to build solidarity among each other and challenge the status quo in rap.
In celebration of women in hip-hop, here are the 20 best female rap posse tracks. And it will always be ladies first.
Queen Latifah, "Ladies First" Feat. Monie Love

All Hail the Queen (1989)

We couldn't start this list without saluting Queen Latifah's "Ladies First," featuring Monie Love. Arguably, it's one of the best all-female posse tracks in hip-hop history. Produced by DJ Mark the 45 King, the song is a celebration of womanhood and black pride
Standout verse: "Who said the ladies couldn't make it, you must be blind / If you don't believe, well here, listen to this rhyme / Ladies first, there's no time to rehearse / I'm divine and my mind expands throughout the universe / A female rapper with the message to send / The Queen Latifah is a perfect specimen." - Queen Latifah

Eve, "Gangsta Bitches" Feat. Da Brat & Trina

Scorpion (2001)

Eve tapped two of the hardest rappers in the game for this Swizz Beatz-produced banger. Chicago's own Da Brat and Miami's Trina served up some tough bars next to the self-proclaimed pitbull in a skirt.
Standout verse: "When three raw bitches get together it's off the chain / Thought you found a spot to fill, you lost the game / Boss bitches stallion, scream they name / Hate us cause our life right, eating from the game / Only f--- with the realest, don't associate with lames..." - Eve

Yo-Yo, "Pass It on" Feat. Nick Nack, Lady T, Chann, Sukii, Shorty & Dawn

You Better Ask Somebody (1993)

While most female posse tracks deliver a message of sisterhood, Yo-Yo kept it 'hood for her collaborative song "Pass It on." Produced by Pockets and Ice Cube, the track is a lesson on stoner etiquette. Along with rap newbies Nick Nack, Lady T, Chann, Sukii, Shorty and Dawn, Yo-Yo explains the proper rules of smoking weed with your homies.
Standout Verse" "It's the Yo and I'm buzzin' / It's the chronic that I'm lovin' / Smokin' on the indo, rolling up the f---in' windows / Make you hate it, I'm so faded but steady blazing it / I can't think without my muthaf---in' drank..." - Yo-Yo

Foxy Brown, "BWA" Feat. Mia X & Gangsta Boo

Chyna Doll (1999)

Foxy Brown went down south for her collaborative song "BWA," which is an acronym for Bitches With Attitudes. Fox Boogie enlisted No Limit soldier Mia X and Three 6 Mafia alumni Gangsta Boo for the track, which was produced by Lil Rob, Chris Lighty and Irv Gotti. Flipping N.W.A.'s classic song "Real N----z Don't Die" (from their Efil4zaggin album), the trio spit hardcore lyrics about serving major attitudes to their haters.
Standout Verse: "A certified head bussa / Known on the streets for drama / When my bitches meet some heat they call Mama / And I'm comin', gunnin' everything up in my way / But it ain't always gotta be about the gunplay..." - Mia X

Lil' Kim, "Not Tonight" Feat. Angie Martinez, Da Brat, Lisa 'Left Eye' Lopes & Missy Elliott

Hard Core (1996)

Next to Queen Latifah's "Ladies First," this is probably the most well-known female posse song in rap. The song and video is epic as it featured five well-versed MCs rapping about solidarity and womanhood.
Standout Verse: "Bump Biggie in the trunk and the buck to my thorough bitches / Let me see ya do the Bankhead if you the richest / It's the rap Mae West to Q-B / And I got all my sisters with me..." - Lil' Kim

Erykah Badu, "Love of My Life Worldwide" Remix Feat. Queen Latifah, Angie Stone & Bahamadia

Worldwide Underground (2003)

Erykah Badu gives fans a rap history lesson with this funky, hip-hop inspired jam. All three women spit some groovalicious bars on the track, which samples the classic '80s song "Funk You Up" by The Sequence. We must mentioned that before Angie Stone became a powerful soul singer she was a member of the rap group Sequence.
Standout Verse" "I got the hazel eyes that make you nitrified / Step in the back and step to the front / Come alive y'all I'll give you what you want / The rhymes I got plenty; degrees 120 / And if you want some then jump the f--- in it."

Bahamadia, "Three the Hard Way" Feat. K-Swift and Mecca Starr

Kollage (1996)

Back in the '90s, Bahamadia was one of the fiercest lyricist coming out of Philly. Under the tutelage of the late rap legend Guru, the illadelph rhymer dropped her debut album Kollage in 1996. One of the standout tracks on the project is the posse track "3 Tha Hard Way." Over a sinister DJ Premier beat, Bahamadia along with fellow Philly rapper Mecca Star and K-Swift deliver braggadocios lyrics that would silence most male rappers.

Standout Verse: "I am the Chosen, Earth, Sun, Moon and stars / Hard for me to find a top contender just to spar / Some peep the exterior and think inferior / Next ya know they callin' for a Sound Bwoy Burial..." - Mecca Star

Missy Elliott, "4 My People" Feat. Eve

Miss E... So Addictive (2001)

Missy Elliott has participated in several popular posse songs and have created a few herself during her illustrious career. This one is strictly for the clubs as both Misdemeanor and Eve are trying to turn it up on the dancefloor.
Standout Verse: "Can't stand when a DJ f---in' up the song / Know I'm tryin' to shake my ass all night long / Cuttin' up the same s--- all night long / High before I got there, now my s--- is blown..." -Eve

Big Kap, "Da Ladies in Da House" Feat. Bahamadia, Precise, Treep, Uneek & Lauryn Hill

12-inch Single Release (1995)

The late DJ Big Kap corralled several female lyricists for the posse track "Da Ladies In Da House" –– two of which went on to leave major footprints in the rap game: Bahamadia and L-Boogie.
Standout Verse: "You other rappers know my forté / And that my mind spray / Soothes the physical like Alizé..." -Bahamadia

Brandy, "I Wanna Be Down" Feat. Queen Latifah, MC Lyte & Yo-Yo

Brandy (1994)

Released in 1994, Brandy' remix for "I Wanna Be Down" is another stellar posse track that highlights the lyrical talents of rap legends MC Lyte, Yo-Yo and Queen Latifah. In 2014, the foursome reunited to perform the classic song at the BET Hip-Hop Awards.
Standout Verse: "A ghetto star is who you are / And I'll be your sexual chocolate bar / And I got to keep it strong for the cause / And you got to keep me strong for the tours..." - Queen Latifah

Total, "No One Else" Feat. Foxy Brown, Lil' Kim & Da Brat

Total (1996)

Producers Puffy and Rodney Jerkins added some much-needed flavor to Total's "No One Else" remix. Interestingly, this is the only time Foxy and Kim ever appeared on a song together. Nevertheless, this is fantastic all-female posse track.
Standout Verse: "Many people tell me my style is terrific / Stupendous, tremendous, I bend this / Just a little bit more than the average whore / 'Cause I'm focused / I rock Versace lamps and sofas..." - Lil' Kim

Deadly Venoms, "Bomb Threat"

The Antidote (1998)

The Wu-Tang Clan-affiliated Deadly Venoms was an all-female rap group featuring N-Tyce, J-Boo, Champ MC and Finesse. On the song, the rap quartet deliver bombastic rhymes over haunting productions courtesy of producer Ruzz Prez.
Standout Verse: "Flex like Funkmaster / Quick to cause disaster / The mad laughter... / Recognize the master / Sho-Nuf like Leroy / Trouble like T-Roy / Bringing the drama like a D-Boy..." - N-Tyce

Mia X, "Ghetto Sarah Lee" Feat. The Conscious Daughters

Good Girl Gone Bad (1995)

Mia X was the only female artist that could stand toe to toe - lyrically - with the male rappers on No Limit Records. And she also made better rap albums (we are just saying). Over a sample of Diana Ross' "Love Hangover," Mia and the Conscious Daughters detailing the struggles women face living the street life.
Standout Verse: "I'm trying to keep my sanity / And keep this stash up / Taking care of my kids / And keeping these bills up..." - Mia X

Queen Latifah, "Brownsville" Feat. Le Fem Markita, Scarlet & Nikki D

Order In the Tour (1998)

Nine years after releasing "Ladies First," Queen Latifah gathered some top female MCs for the rollicking posse track "Brownsville." On the song, the rap quartet spit tough bars over samples of "Hobo Scratch" by Malcolm McLaren and "Party Time" by Tracey Lee.
Standout Verse: "170 pounds of brown / Put it down / Don't clown, be around / Like that weak style you found / You get it? / Trying to live until they make me get rid of it / I was born with this gift / And you don't want me to spit it..." - Queen Latifah

Eternia, "The BBQ (Remix)" Feat. Rah Digga, Tiye Phoenix & Jean Grae

At Last EP (2010)

Clearly inspired by Main Source's classic 1991 posse track "Live at the BBQ," Canadian rhymer Eternia tapped three phenomenal rappers for her own version and it's lyrically hot like a barbecue.
Standout Verse: "Still the best-kept secret on the bill / The thrill is real / The hype's right, the prophecy fulfilled / The weaker knife fight until ya pipes leak / You just a pipsqueak, a s--- stain..." - Jean Grae

Missy Elliott, "Slap! Slap! Slap!" Feat. Da Brat & Ms. Jade

Miss E ...So Addictive (2001)

Now here is a posse track that you might be unfamiliar with –– and yes, it slaps! Produced by Timbaland, Missy, Da Brat and Ms. Jade deliver smooth yet lethal lyrical jabs at wack rappers over a downing piano groove.

Standout Verse: "I'm the M-S-J-A-D-E / Toes and lows / Bling like I'm B.G. / I don't need no n----'s help / S---, I write my own / Just gimme a beat and a muthaf---ing microphone..." - Ms. Jade

Mercedes, "Hit Em" Feat. Mia X and A-Lexxus

Rear End (1999)

Rapper-singer Mercedes grab fellow No Limit artists Mia X and A-Lexxus for the anthemic "Hit Em." On the song, the trio spit flossy rhymes and some tough talk. Mia X steals the show on this bouncy song.
Standout Verse: "Mia X major general in this No Limit Army / Boss bitch on your block / I push the whips you ain't got / And rock the s--- on my fingers that sank the Titanic / I'm leaving em frantic / 'Cause if I spit it, I did it, that's why y'all panic..." - Mia X

"Freedom (Rap Version)" Feat. Salt-N-Pepa, Queen Latifah, Yo-Yo, Left Eye, MC Lyte, Nefertiti, Patra & Me'Shell Ndegéocello

Panther (Soundtrack) [1995]

This is one helluva posse track. Featured on the Panther soundtrack, you have rap and dancehall artists coming together in solidarity and black pride. We need more of these collaborative songs in today's rap movement.
Standout Verse: "When your self-esteem is low / And they call you a ho / Then you think you's a ho / But that ain't what the Lord God made you to be / I need you to see that you are black and free..." - Salt-N-Pepa

The Conscious Daughters, "It Don't Stop" Feat. Mystic, Suga T & Shuga Babydoll

Gamers (1996)

Bay Area rap duo The Conscious Daughters grabbed fellow rhymers Mystic, Suga T and Shuga Babydoll for this hometown banger as they celebrate their independence and womanhood.
Standout Verse: "Suga T / It's me! / And can't no busta stop a young and so classy lady / It's ain't where you're from / It's do you be / My bank roll keeps getting fatter by the keys..." - Suga T

Salt-N-Pepa, "Friends" Feat. Queen Latifah

Brand New (1997)

Produced by Salt-N-Pepa, "Friends" features the rap duo and Queen Latifah delivering cautionary tales about backstabbing people in their lives.
Standout Verse: "You smile in my face but all the while you wanna take my place / Put it on a paper chase and you can't keep my pace / You're jealous cuz I'm this s--- and you ain't / Far as I'm concerned, I don't know you from a can of paint..." - Queen Latifah