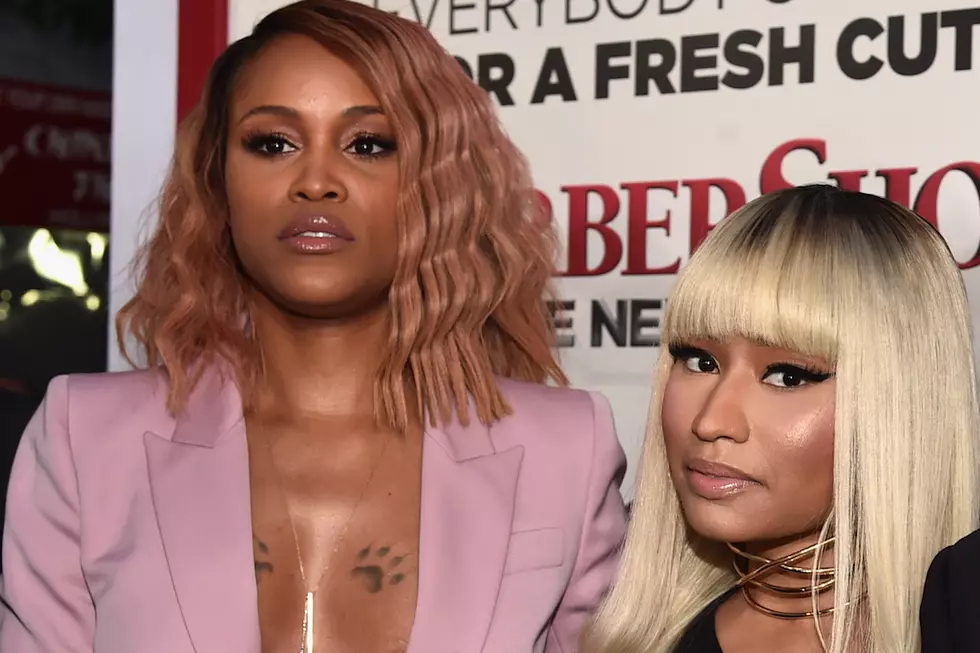 Was Her Criticism of Nicki Minaj's Photos Really All About Eve?
Alberto E. Rodriguez, Getty Images
That's a now-popular declarative made notorious three years ago by PAPER Magazine's Jean Paul Goude-shot cover, featuring a glazed and bare-bottomed Kim Kardashian. The term was once again revisited this week for the magazine's November 2017 edition; this time featuring rapper Nicki Minaj.
When the photos hit the web, surprisingly, nothing was broken.
The shamelessly ham-fisted "Minaj-a-trois" theme features a thrice-cloned Nicki engaging in risqué and sexually suggestive posturing with herself. A raven-haired Minaj is seen sitting spread eagle—wearing nothing but glittery boots, matching pasties, and high-waisted pink briefs; while another pink-haired Nicki in a latex cutout dress appears to grope 1st Nicki's breast, and another platinum blonde Nicki clad in a black latex leotard, crouches on her knees between 1st Nicki's legs and juts out her tongue. It's over-the-top—borderline cartoonish—but not anymore scantily-clad than the kinds of pictures Nicki herself has shared on her IG.
The released images of Minaj were met with delight by her fans and moderate discussion from the larger aggregate of social media. But with the unrelenting onslaught of harrowing breaking news in the current media cycle, it's increasingly difficult to "break the internet." And in pop culture, nudity and sex are so standard that, even in upping the raunch ante, PAPER's "Minaj-a-trois" hardly delivered a fracture. Nonetheless, a day later the cover made its predictable rounds on the morning talk show circuit. The Talk—one of the less popular derivatives of The View featuring pop culture and current events commentary from hosts Julie Chen, Sarah Gilbert, Sheryl Underwood, Sharon Osbourne and newest co-host, rapper/actress Eve—decided to address the cover.
Eve, offering the strongest tightrope-like condemnation of the imagery, dutifully tried to preempt her commentary with gracious compliments about Nicki as an artist and lyricist. "I respect Nicki as a lyricist. But as a woman from my point-of-view, personally, I would not be able to do that. I think in this current climate... it is not good." She then went on to ramble about her own growth and couched her critique in an old trope:  celebs being role models; with women needing to be conscious of the young girls who are looking up to them. Met with approving hums, head nods and audience applause, Eve ended her hot take with, "I just don't think it's right—personally."
The video clip of Eve's judgmental commentary was immediately met with wrath from Nicki's more rabid online stan-base of "Barbz" on Twitter—and the proverbial "dragging" ensued. Eve's mentions were bombarded with old images of the rapper baring her breasts in photoshoots, engaging in sex acts with two other women on stage while having worked as a stripper, and still shots of a leaked late 1990s sex tape with her then-boyfriend, producer Stevie J. In an attempt to highlight what they feel was her blatant hypocrisy, Nicki's stan-base decided to combat Eve's slut-shaming with...slut-shaming. And Eve took to her Twitter page to defend herself, asserting that her views today are a reflection of the woman she is now, while her past is not something she seems to view fondly.
Eve's  sentiments should come as no surprise to anyone who's followed her career. In her 2010 appearance on VH1's docu-series Behind The Music, Eve explained that her stint working as a stripper when she was 17 and in need of money was mired in depression and alcohol abuse. The song "Heaven Only Knows," which appeared on her 1999 debut album Let There Be Eve...Ruff Ryder's First Lady, details her relationship with her past sex work and experiences at a young age:
Went from dancing on tabletops to making labels pop/For the love of the money so I could cock everything from icy rings to drop/Tops and now I'm on top/But to look back on my reality happy I stopped.
Her more recent comments regarding sexism in hip-hop have toed similar lines. "You teach people how to treat you, right?" Eve told Newsweek in October. "And I think that there are a lot of women at the moment—because of social media, because of what is deemed as how to be famous or popular, whatever—there is an over-saturation of kinds of just putting yourself out there—and I mean out there —and all of that is fine if that's who you want to be, but you have to have substance."
It's clear that Eve is from the school of women who struggle to understand the embrace of a more sex-positive, feminist-tinged exhibitionism seen today. Perhaps that's because some of her own experiences with overt sexual expression were borne of unfortunate circumstances as opposed to agency or self-empowerment. Quite frankly, that disconnect is common and articulating it would have been a much more constructive contribution to the conversation than the clumsy respectability politics-laden repudiation she issued on The Talk.
Ultimately, Eve's reaction to the PAPER mag cover (which bears some similarity to images of the rapper's stage acts from what she characterizes as darker times) didn't seem to be so much personal vitriol towards Nicki, as it did a rejection of her past self.
Watch Eve Discuss Nicki Minaj's PAPER Magazine Photos on The Talk:
10 Hip-Hop Artists Who Successfully Reinvented Themselves