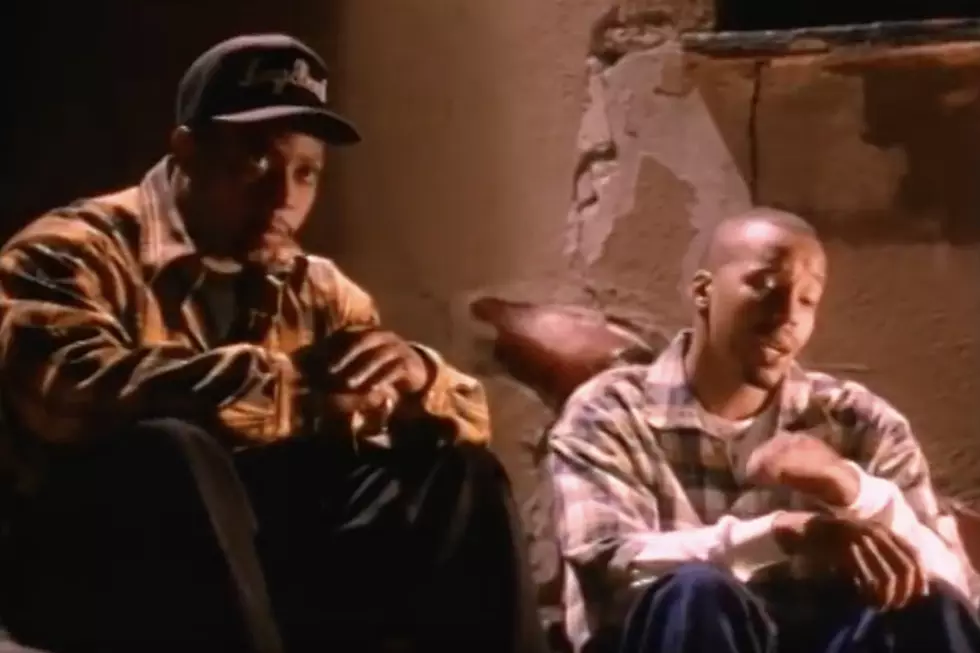 Warren G – 'Regulate' Feat. Nate Dogg: Throwback Video of the Day
YouTube
Warren G's "Regulate," featuring the late Nathaniel "Nate Dogg" Hale, is one of the greatest songs to come out of the G-Funk era. The Grammy-nominated, Michael McDonald-sampling song first appeared on the Above the Rim soundtrack in 1994. By the time Warren, whose real name is Warren Griffin III, dropped his debut studio album, Regulate... G-Funk Era, the song was a radio smash from the West to the East Coast.
The laid-back song features Warren and Nate's back-and-forth narration of a carjacking that goes down in Long Beach, Calif., their native hometown. Nate Dogg's syrupy vocals on the hook heightens the drama that unfolds on the track.
"Doing the song together, we wanted to go back and forth like how Snoop and Dre did it with 'Nuthin' But a G Thang.' Like Run-DMC, the way they went back and forth," Warren recalls in a 2014 interview with Rolling Stone. "What I did, I wrote the first four bars, and I was like, 'Okay, Nate, you write four bars.' And I was like, 'Okay, I'm a write four more bars.' And I'm like, 'Okay, Nate, go on, you do four more bars.' So we did it until we got to sixteen. Then, we didn't have a hook, but the record sample was banging so hard, well, we didn't need a god-darn hook. Let's just go."
Warren G - 'Regulate' Feat. Nate Dogg: Throwback Video of the Day
In the video, directed by Cameron Casey, Warren G is rolling in his car when he gets car jacked by some suspected busters. Luckily for him, Nate Dogg was driving in his own vehicle and sees what's going down.
"Sixteen in the clip and one in the hole / Nate Dogg is about to make some bodies turn cold / Now they droppin' and yellin', it's a tad bit late / Nate Dogg and Warren G had to regulate," he sings.
The visual also features scenes from the basketball flick Above the Rim, which also includes images of the late rap icon Tupac Shakur.
According to Casey, the video shoot hit a few snags with one being Warren G showing up real late to the set.
"I had all these L.A. rappers hanging out with me on the shoot, and it was awesome. When we got to the set, Warren G wasn't there," he told Rolling Stone in 2014. "He didn't show up. That's why, when you see that opening shot, you see the old school gangsters walking through the old brick building. That was going to be a whole storyline of the old school gangsters, and we were going to tell the story of old school and new school throughout the whole video."
"What happened was, Warren G, he was at the gas station, and he gassed up his car and he drove off with the gas pump in the tank," he continued. "So he pulled the hose off and didn't realize it, and he was driving along and the cops pulled him over. They put him in jail."
"Finally, when he got to the set, we got through all the scenes, and we got together as much stuff as we could in the time we had. The lighting, the locations and all the stuff were great. His performance was awesome."
Twenty-four years later, "Regulate" is still an awesome song. It's also somber because Nate Dogg is no longer here with us. After Nate died from complications related to his two strokes, Warren released a tribute song called "To: Nate Dogg," featuring Wanz (of "Thrift Shop" fame), Grynch and Crytical. Proceeds from the single went to Nate's family.
50 Greatest West Coast Hip-Hop Artists of All Time