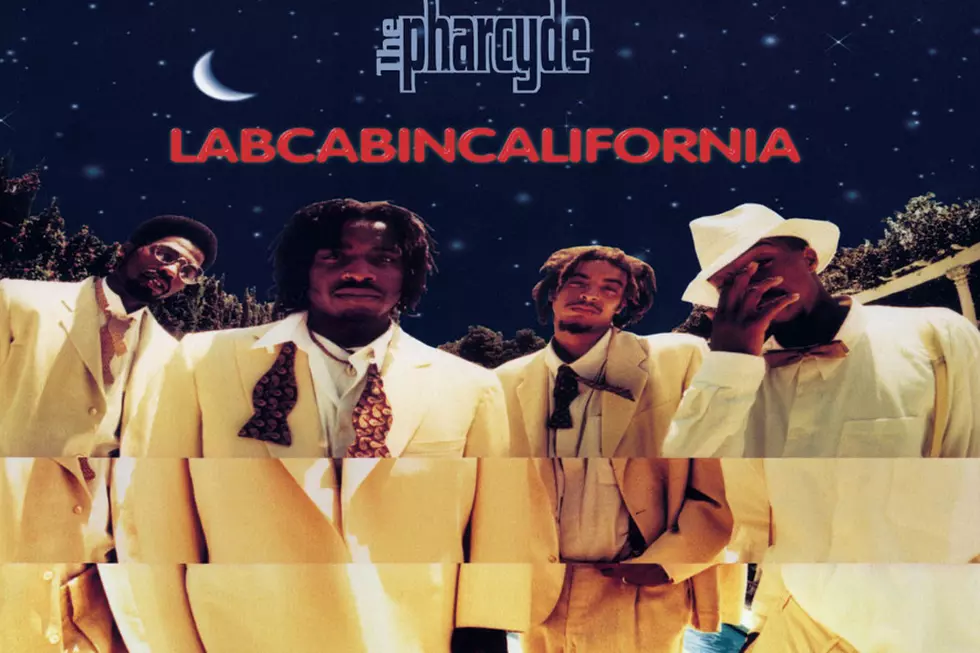 10 Underrated Sophomore Rap Albums From the '90s
Delicious Vinyl
Often in life, things can look completely different to a person after some time has passed, and that could be for many reasons.
Maybe that person just lived a little more, and the added experience has changed the way he or she thinks. Or possibly, time has allowed that individual to step back, get a clearer mind and not overthink as much.
Having a lot of time pass can also affect how you judge music, because in one year an album can fail to meet your expectations, and later on you can begin to appreciate it.
Throughout the years, there's been a bevy of hip-hop albums — especially from the '90s — that fall into that category, like Snoop Dogg's 1996 Tha Doggfather LP.
At the time, many critics blew the release off and said it didn't compare with the rapper's classic debut Doggystyle, which might be true. But that doesn't mean it didn't have some stellar moments and shouldn't be re-visited.
Below we've listed 10 sophomore LPs that were seemingly underrated when they came out, mainly because the artist's debut was so solid or considered a straight up classic.
If there's one album that a lot of people initially complained about, only to celebrate it years later, it's Nas' sophomore effort, which of course, dropped after his genre-changing 1994 debut, Illmatic.

In 1996, when the second album came out, the general chatter was that it was too R&B sounding, and much of the grit that was created by producers like DJ Premier, Pete Rock and Large Professor on Illmatic were replaced by a more commercial sound.

But that didn't mean lyrics or solid beats were sacrificed on  It Was Written. Songs like "The Message," "Street Dreams," "I Gave You Power" stand as proof.

Plus, fans were treated to the first Dr. Dre/Nas collaboration on "Nas Is Coming," which brought two dominant and often copied styles together under one creative umbrella.

In 1992 X Clan dropped Xodus, the follow-up to their brilliant first LP To the East, Blackwards, released two years prior.

It's safe to assume that when many envision the Brooklyn group, they think of cuts from the first album, including "Funkin Lesson" or the nearly flawless "Grand Verbalizer, What Time is It?"

But it's important not to forget about their sophomore LP, because many of the songs pack incredible punch, and you still get treated to the lyrical wizardry of Brother J.

"Now my activity is cosmitivity / Immortal is my soul, my God, my reality / I'm not measured by tradition or any type of religion / Not even cosmic dimensions and such / But many fools, they try to post a duel / Try to post a front but they know it ain't cool / Boy, my mind goes back to things, just like the cosmic battle / When sword was my rattle / Shield was my bib, and sarcophagi my crib," he rhymes over Grover Washington Jr.'s "Mister Magic," illustrating the potent lyricism on the album.

Straight Up Sewaside

Das EFX

The risk of a rapper creating a new style that takes off, is that he or she can paint themselves into a musical corner. Meaning, there's a good chance fans won't let that artist move on to something else and explore new territory.

That certainly could be said about Das EFX's second album Straight Up Sewaside, because gone were the "iggitys" that shot them to fame on their debut, Dead Serious, and some people complained about it. But 1993's Sewaside could easily be considered even better than the first LP, and members Skoob and Crazy Drayz seemed lyrically sharper.

If you don't agree, just check out the group's flow on "Check it Out," or their hard-hitting delivery on the song "Rappaz," and you'll be reminded of just how solid this album really is.

No Man's Land

Souls of Mischief

Similar to Pharcyde's Labcabincalifornia, it seemed a lot of folks resented that Souls took on a more mature sound for their second LP.

On it, they spoke like rappers who've been through the music industry grind and developed some battle scars along the way. Their breakout album ,93 'til Infinity was far different, however, and it covered much of their younger years of chasing women and smoking weed.

But even if you're stuck on 93 'til Infinity, 1995's No Man's Land shouldn't be overlooked, considering the group brought along the same lyrical talent that blew them up in the first place.

"I can't escape my thoughts, my mind spirals until the vinyl stops / You can't survive the rock / I lock on to the mic / Inspired by the biters who try us on for size disguised as rappers / But the lyrics are too massive / My style has elasticity / I bounce back and take a new shape, you can't get with me," spits Opio on "Fa Sho Fo Real," offering just a glimpse of the lyricism and perspective offered throughout the project.

Blowout Comb

Digable Planets

Once Digable's frontman Butterfly uttered the words, "We jazz like that, we freak like that, we zoom like that, we out" on "Rebirth of Slick (Cool Like Dat)," it would be hard for the group to deviate from their jazz inspired style and be accepted for it.

That could be why their sophomore release, 1994's Blowout Comb, didn't do the same numbers as their first album, 1993's Reachin' (A New Refutation of Time and Space). The LP also didn't have a huge breakout single like "Cool Like That."

Regardless, the trio's sophomore LP showed growth— especially in terms of the production.

From the attention-grabbing horns of "The May 4th Movement Starring Doodlebug," to the summery sounding closer "For Corners," the whole project is a beautiful piece of art that has aged well throughout the years.

To say that Goodie Mob's second album was overlooked because of their classic debut, 1995's Soul Food, would be inaccurate, because songs like "Black Ice" and "Beautiful Skin" could be considered Goodie staples.

But usually when the legendary group is mentioned in the press, songs from Soul Food are referenced, and it doesn't seem like 1998's Still Standing gets the same kind of love and attention. Although the debate between which of the the two albums was the best is alive in well in hip-hop circles—Soul Food is still the album most people firmly associate with Goodie Mob.

However, Still Standing captures some of producers Organized Noize's dopest work, including "Fly Away," "Distant Wilderness" and "Gutta Butta."

Magnum Force

Heltah Skeltah

At the time, some of the criticism regarding the Brooklyn duo's 1998 sophomore release was that it had too many of their crew members on it. But that didn't take away from the sheer mic chemistry displayed between Rockness Monsta and Ruck, a.k.a, the late, great Sean Price.

On songs like "Call of the Wild," the Grand Daddy I.U.-produced "Forget Me Knotz" and the extremely fresh "Brownsville II Long Beach," featuring Tha Dogg Pound, it proves that Heltah Skeltah didn't miss a lyrical step between their first and second LPs.

MTV Unplugged No. 2.0 

Lauryn Hill

Sure, Lauryn's second LP wasn't a sophomore release in the traditional sense, because the songs were pulled from her 2002 performance on MTV Unplugged.

It's also true that the songs on Unplugged were far from the romantic, R&B-tinged cuts that were on The Miseducation of Lauryn Hill, but many of them are still completely amazing.

At the time of the MTV special, it was clear the Fugee member was in self-discovery mode, and it made for some wonderful songwriting. Some might even say cuts like "Adam Lives in Theory", "Just Like Water" and "Mystery of Iniquity" reached Bob Marley levels in terms of their sentiment.

And if you were still looking for lyrics about romantic love and breakups like on Miseducation, Lauryn gave you "Mr. Intentional" on the second album, which is nothing short of beautiful.

Labcabincalifornia

The Pharcyde

When the four L.A.natives were working on their 1992 debut, Bizarre Ride II Pharcyde, they all shared a house together that was also a regular hangout for their friends. The constant party atmosphere was somehow captured on record, and as a result, listeners were treated to a fun, youthful, free-flowing album that's now considered a classic.

But the group's 1995 sophomore release Labcabincalifornia was far different. Gone were the comedic songs like "Ya Mama" and the playful skits like "Quinton's on the Way."

Instead, fans were given more introspection and lyrical dexterity. Many of the songs, like "Devil Music," took on adult themes. Even the legendary J Dilla working on the album couldn't satisfy many fans and critics at first, which group member Imani talked about.

"People were saying what we could be, what we should be, what we ain't, all that sh--," he told Billboard in late 2017. "Then after the second album came out, everyone told us how great the first one was. It was hard to digest ... Y'all said we wasn't hip-hop, the album was wack. Now the new album comes out, and it's 'Oh man, where's the old sh--?'"

Wu-Tang Forever

Wu-Tang Clan

If there's any group that had all eyes on them after their classic, beloved debut, it was Wu-Tang Clan. There were a lot of complaints about the Wu's second album, released in 1997, which in retrospect, sound silly. Fans said it wasn't as "gritty" as their classic Enter the Wu-Tang (36 Chambers). There were also complaints that there were too many songs on it, and that if they would've cut it down to one CD, the album would've been a lot better.

But after 20 years, Wu-Tang Forever and its songs have become a big part of the group's legacy. And cuts like "It's Yourz," "Bells of War," "The MGM," and of course "Triumph" have become as important as anything they've done before.