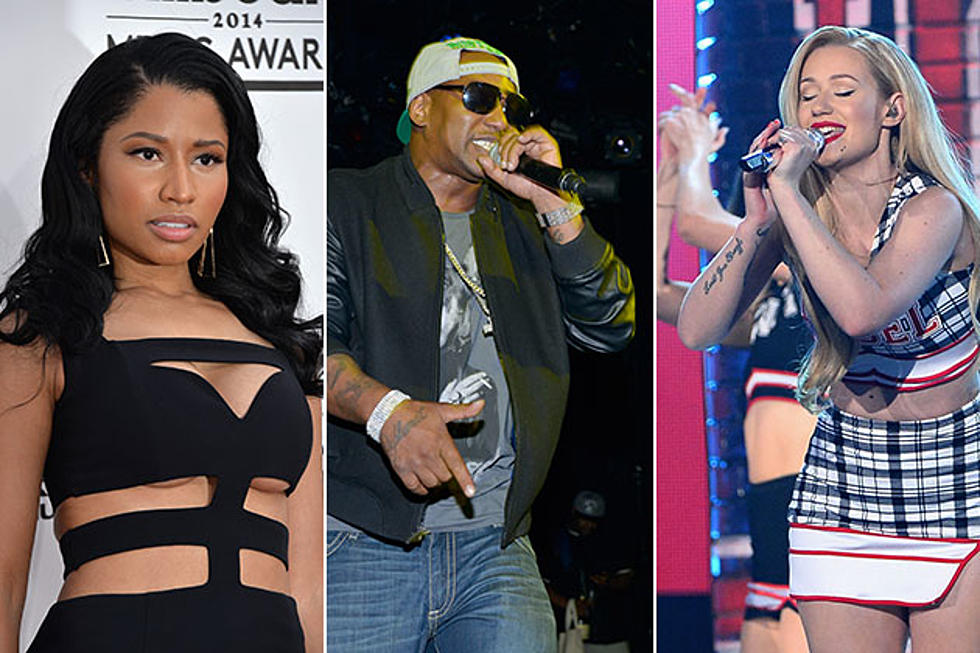 Best Hip-Hop Songs of 2014 (So Far)
Frazer Harrison / Eugene Gologursky / Ethan Miller, Getty Images
The hype train isn't rolling at the same speed as it was last year. By last June, we got an instant hit from Drake with 'Started From The Bottom,' turn-up anthems with 'Bugatti' and 'U.O.E.N.O,' and the biggest day in rap to look forward to with J. Cole, Kanye West and Mac Miller releasing albums on the same day.
Such star power hasn't been seen at this point in 2014, but that hasn't made hip-hop any less interesting. The bangers and playlist mainstays have been made by relative newcomers who are trying to grasp that Hottest Rapper Alive title after spending the last months of last year bubbling. Young Thug, Iggy Azalea and Isaiah Rashad have all been putting in work, and they've been reaping the benefits over the last six months.
Then there's NIcki Minaj displaying her gritty rap roots and Dipset's return to form. The biggest tracks this year prove rappers are coming up and showing out, which is evident in the Best Hip-Hop Songs of 2014 (So Far).
'Turn Down For What'

DJ Snake & Lil Jon

Thankfully, Lil Jon put down the pimp cup, started wearing some fitted clothes and turned crunk to the side in recent years. Fortunately for him, he learned to adapt without changing his core charm. Lil Jon's visceral chants are still able to connect over hyperactive EDM chirps on 'Turn Down for What,' an absurd example of club excess, but one that happens to be right up his alley.

K Camp isn't one for subtlety. The single cover has an image of a severed female figure, and the song's hook callously goes, "It ain't nothin' to cut that bitch off." The track is far from vitriolic. It's a representation of the club as a catharsis. Maybe all the relationship problems and sexual politics can be solved with a few bottles and a memorable hook.

'Drop That #NaeNae'

We Are Toonz

The hip-hop dance craze of the year came pretty early thanks to a group of rabbelrousers from the south. What makes this We Are Toonz track stand out from the contagious dance moves of prior years is how it doesn't quite value ubiquity as much as everyone's favorite activity: winning. The feeling isn't something that needs to be articulated by the English dictionary; just a "Hua!" will do. A simple onomatopoeic hook was enough to connect with a wide audience, from the benchwarmer at an NCAA tournament or an NBA Slam Dunk contest winner.

'Yayo'

Snootie Wild Feat. Yo Gotti

Clipse's 'Grindin' had many junior high school students replicating the beat on lunchroom tables, oblivious to the single being a hard-edged cocaine anthem. Listeners stripped the term "grindin'" of its drug-fueled definition and related to it how they saw fit. It wasn't just a coke anthem, but a prepubescent hustler's calling card.

'Yayo,' a slang term for cocaine, has that similar effect sans the aggression-influencing adrenaline. The beat works just as well, but the song sticks thanks to the addictive nonchalance. "Yayo? Yayo," Snootie Wild hollers as if he's shrugging his shoulders in the process. It becomes a bat signal to pregame, twerk-fests and various shindigs across the country. Make of it what you will.

'Fancy'

Iggy Azalea Feat. Charli XCX

Iggy Azalea had been flirting with Billboard success even before her debut LP, 'The New Classic,' arrived, with singles 'Work' and 'Change Your Life' hanging in the upper half of the Billboard's Hot R&B/Hip-Hop charts. 'Fancy' looked like it wasn't going to catch fire after the silence that immediately followed the song. However, a few weeks later and one 'Clueless' video tribute, 'Fancy' peaked at No. 2 on the Billboard, becoming Iggy's biggest success to date. Accompanied by just an earworm synth, snaps and a sufficient hook by Charli XCX, the Australian native had more than enough attitude to color the track without excess.


How does Wiz Khalifa appeal to a fan base split between those stuck on his 'Kush & OJ' haze and those looking towards him for the next turn up? Well, he didn't compromise and ended up picking the latter for the 'Blacc Hollywood' lead single, 'We Dem Boyz.' What it lacked in stoner cool it more than made up for with its galvanizing, adrenaline-pumping hook. Perhaps Khalifa knew his day one fans also liked to throw elbows in the club.

'Yasss Bish'

Nicki Minaj Feat. Soulja Boy

A recurring theme in Nicki Minaj's recent releases—"Pills N Potions" being the exception—is her ability to dismiss any obstacle, be it societal, personal, industry. Her motto, it seems, is basically, "miss me with your bullshit." Check her revenge advice on 'Boss Ass Bitch (Remix).' 'Yass Bish' continues that design. Soulja Boy's bass drums and horns come nefariously, but that doesn't stop Minaj from tiptoeing over the track with her laser focus. She's isn't too occupied to accurately land those jabs, however: "Bitches is bitter, my titties is bigger / You bitches my sons, I need a babysitter." Soulja Boy is the reliable jester; Minaj owns the court.

'When the People Cheer'

The Roots

The lead single from the Roots' new album, '…And Then You Shoot Your Cousin,' chugs along with a simplistic, slightly off-putting piano riff and Questlove's oddly constructed drum work. It's a loose structure to navigate, especially when they're supporting rap verses, but what's another example of the album's satirical themes also becomes of a show of Black Thought's technical prowess. It's effortless, too. He's not too occupied with keeping up that he disregards the album's overarching narrative. The rapper is prodding and dour as he fills in the drum pattern's gaps with his sketch of an unlikable, misogynistic character. Black Thought adheres to the plot structure, while somehow managing to make 'When the People Cheer' the most accessible cut off the album.

'We Made It (Remix)'

Jay Z & Jay Electronica

Jay Electronica's comeback has had some bad luck, as he's always finding some way to get overshadowed despite giving solid verses. It happened on 'Control' thanks to Kendrick Lamar, then again by the glow of SXSW when he released 'Better in Tune With the Infinite.' This time, it was thanks to a Drake diss from Jay Z: "Sorry Mrs. Drizzy for so much art talk / Silly me rappin' 'bout s--- that I really bought." That line wasn't Jay Z's lone moment though. Hov is getting old (he's 44) and sometimes he needs that boost to get going. Looks like the anthemic horns from the song -- Drake's 'We Made It' -- gave him more than enough energy to siphon.

'The Blanguage'

Young Thug

'The Language' was one of the more unconventional tracks off Drake's 'Nothing Was the Same' album. The Toronto native stamped the track with a specific flow, so you'd expect any rapper covering the song to include some sort of derivation of his rhyme pattern. That would only come with the track title in Young Thug's case. 'The Blanguage' features him at his most frenetic, as he takes Drake's flow for a bit, stumbles into his own, suddenly breaks into sing-song, then some warbling and then offers a bit more lyricism. As messy as it sounds, Thug's performance is fluid while carrying the underlying stability of an atomic bomb -- just a wrong move away from setting it off.

'R.I.P. Kevin Miller'

Isaiah Rashad

Black Medaphor's aquatic instrumental by itself should be enough of a reason to keep returning to 'R.I.P. Kevin Miller,' but Isaiah Rashad's lyrical concept makes the track much more compelling. The 'Cilvia Demo' cut is about the irreconcilable differences between weighty realities and fleeting optimism. Within the first verse, Rashad ruminates about the constant nature of death, general dour and the codeine-enabled means of escape. It's also worth noting that Kevin Miller, Master P's brother, was shot and killed in the mid-'90s.

There's some hope in the second verse that comes via 'Stankonia' on repeat. In fact, it's just enough to do some chest-thumping: "I swear my eyes be bloody red, but bitch I feel amazing." But Rashad fades away at the end as if he's just realizing that maybe conquering outside of Chattanooga is a bit much. So he makes a compromise: bitches, blunts, weed and money.

'Mt. Olympus'

Big K.R.I.T.

On 'Mt. Olympus,' Big K.R.I.T. doesn't rap as much as he rages, rants between lines and emotes. It takes just one listen to understand why K.R.I.T.'s new album is one of the year's more anticipated. The song is a technical masterwork, as the rapper flips taunts, rolls through stream-of-consciousness thoughts and spits at breakneck speed, all while brushing off Kendrick Lamar's 'Control' verse and musing about possibly being better than Andre 3000. It's not simply the technique he displays, but the passion that's leaking out of it. The operatic production on 'Mt. Olympus' helps put Big K.R.I.T. on a grander scale, as if it's a requiem for those standing against him.

'Believe Me'

Lil Wayne Feat. Drake

It's understandable if the majority of reformed Weezyheads think Lil Wayne will never match his 2006-09 peak, which included the multi-selling classic 'Tha Carter III.' That's because of how unprecedented that streak was and his cold critical run with his last two albums. However, Lil Wayne revealed to Elliott Wilson in a CRWN interview earlier this year that he still thought he had another run in him.

Many probably didn't put money on him until 'Believe Me' dropped earlier this month. The production provided by Vinylz & Boi-1da is of course on-point and Drake offers another serviceable verse. Are these going to be Lil Wayne's crutches though? No. In fact, it was Lil Wayne who walks away with the best verse. Is Weezy season approaching?

'Robes'

Freddie Gibbs Feat. Earl Sweatshirt & Domo Genesis

Throughout the course of 'Pinata,' Freddie Gibbs harshly disses Jeezy, plans a robbery and threatens to plant razors in someone's food. But sometimes Gibbs just wants to rap, and Madlib obliges with lush production that easily ranks among the year's finest. Odd Future partners in crime Earl Sweatshirt and Domo Genesis come along for the ride, and they don't sound the least bit disarmed by the track's aroma (Domo straight up starts the song with "You ain't s--- if you ain't never struggle"). Gibbs still rises to steal the show by the track's end. He even sticks a crooning Babyface reference, too. Gibbs is enjoying himself, and he hopes you are too.

'Sanctified'

Rick Ross Feat. Kanye West & Big Sean

It was just over a decade ago that Kanye West was relegated to credit-less hook duty (see: Jay Z's 'Never Change' and Cam'ron's 'Down & Out'). Now he's hi-jacking entire albums. As if he's been feasting on his own ego like some sort of Powerbar, West rises up in the middle of Rick Ross' 'Mastermind' to unleash his immediately quotable sermon on 'Sanctified,' over a soul-burning Betty Wright sample. "But when Ali turn up and be Ali, you can't ever change that n---- back to Cassius," West raps. Listeners sit and learn. Even Ross the Boss sounds humbled in his follow-up verse.

Even if you're not a stoner, you'll be rhyming along with Young Thug like the wannabe pothead you really are after listening to the bipolar mechanics of this hit. Thugger displays his mad sense of genius here, but perhaps the unsung hero may be Dun Deal's instrumental. The beat bottoms out during Young Thug's barks and bounces with its woozy synth when he maniacally chants "andale, andale, andale" after a sing-song section. The controlled, unassuming productionholds the track together just enough to make it a playlist essential.

'Who Do You Love?'

YG Feat. Drake

YG struck hard again after the success of 'My N----' with 'Who Do You Love?' which does away with its predecessor's pop sensibility and parses the more grimier aspects. An ode to camaraderie turns into the audio representation of red cups being spilled, double cups being guarded and red lights shining on beady eyes in a crowded, dim-lit room. At the center of it all are two rappers fully aware that this moment is for their taking, and there are very few 2014 tracks that feel as in-the-moment as this one.

'Move That Dope'

Future Feat. Pusha T, Pharrell & Casino

Future and Mike WiLL Made It's latest great collaboration is also their weirdest. The ground immediately leaves from under you as the burping synths kick into full steam. Yet, Future and his hip-hop band of brothers' lyrics all seamlessly fit together on the track. That includes Pharrell, too, who rhymes, "These n----s ain't tryna hear pleas n----s / These n----s like choppin' down trees n----s / These n----s 1-2-3 and they squeeze n----s," in the middle of his 'Happy' heyday. All four rhymers come away with stellar verses, but perhaps it's Casino who comes out on top with a particularly venomous delivery.

'Danny Glover (Remix)'

Young Thug Feat. Nicki Minaj

'Danny Glover' was Young Thug's infectious hit, but Nicki Minaj comes out of nowhere and hi-jacks the track with the second release of her furious comeback. The way she slides onto to the beat with ease is laudable, but this one is about dominance. "I am not gay, but lesbi precise / 'Cause if she pretty, then watch it cause I'ma be f---in' ya wife," are the closing lines of her verse, and they drive home a point. This isn't about labels. Minaj wants what she wants.

'Dips---s'

Cam'ron Feat. Dame Dash & Juelz Santana

People are always clamoring for the old Dipset crew to return, but think about how awkward men going into their 40s acting like they're in their 20s would sound. Yet, the Dipset crew manage to capture their early 2000s fervor with 'Dips---s.' Producers Just Blaze and A-Trak cook up a time machine as the starry keys rise like they're trying to resurrect the streetlights on 125th. With Cam'ron spitting punchlines with aplomb next to his Dipset brothers, the question is this: how does an unreleased Dipset track from 2003 sound?