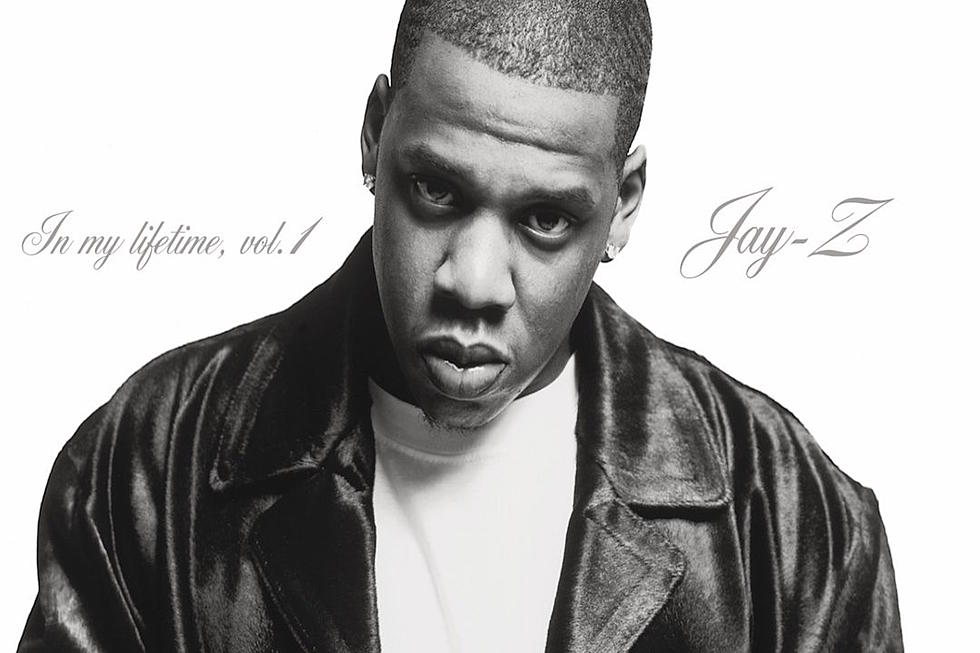 The Perfect Imperfections of JAY-Z's 'In My Lifetime Vol. 1′
Roc-A-Fella/Def Jam
After the release of his debut album, Reasonable Doubt, Jay-Z had built a reputation as being one of the more respected lyricists in New York, but had yet to mint himself as a potential star, let alone someone fans viewed as a contender for the title of the King of New York. Despite spellbinding rhyme spills about the lifestyle of a hustler and the perils and paranoia that comes with it, and having earned the respect of crown-holder The Notorious B.I.G., with whom he'd collaborated on the album standout "Brooklyn's Finest," Jigga had yet to surpass contemporaries like Nas, Raekwon, Ma$e, AZ or Prodigy of Mobb Deep in terms of popularity.
Sure, Jay-Z had scored minor hits in the Foxy Brown-assisted club banger, "Ain't No Nigga," his sublime duet with Mary J. Blige, "Can't Knock the Hustle," and serviced the streets with buzzworthy joints like "Dead Presidents II," but there was no particular aspect of his image that screamed "star," leaving him an odd man out in the rat race for rap supremacy within the five boroughs. Also, the death of The Notorious B.I.G., who had become a close friend and confidant of Jay-Z on the heels of being introduced to each other by DJ Clark Kent, weighed heavily on him, putting a damper on his appearances alongside Big on his sophomore album, Life After Death, and on Puff Daddy's own album, No Way Out, both of which dropped in the months after.
However, one bright spot that would prove pivotal was the distribution deal Roc-A-Fella signed with Def Jam Records, which coincided with the recording of Jay-Z's sophomore album, In My Lifetime, Vol. 1., giving the album the cache of being released on a major label as opposed to an independent, as well as a bigger album budget. Impressed by the performance of Reasonable Doubt in spite of its modest promotional budget, Def Jam believed that with a growing fanbase and his appearances on two of the most successful rap releases of 1997, that Jay Z could turn the corner and become a platinum selling artist in his own right. But to do that, Jay-Z would have to stray out of his comfort zone and employ some of the sheen that had helped The Bad Boy Family dominate the Billboard charts and put radio in a choke-hold for the better part of three years.
Having previously worked with producers like DJ Premier, Ski, Clark Kent, and Irv Gotti, none of whom had a reputation for consistently delivering tracks that catered to the clubs or were female-friendly, Jigga made the decision to switch the style up in an attempt to make the money, and record sales, pile up. To do this, Jay-Z employed Puff Daddy and his in-house production team, The Hitmen, to help mold the sound of the album, resulting in glossier backdrops that mirrored much of what had been proven to translate on a mainstream level. Additional producers included Trackmasters, who had helped transform Nas from a budding rap messiah into a double-platinum selling artist in designer wears, and Teddy Riley, but also included beats from DJ Premier, Ski, and Big Jaz, three of the core architechts of Reasonable Doubt's sound.
To help reintroduce Jay-Z to the public as a more commercially viable record, Def Jam Records went in a complete opposite direction than Reasonable Doubt's roll-out, leading the album with the Daven "Prestige" Vanderpool-produced single "(Always Be My) Sunshine." The song, which features r&b legend Babyface and Foxy Brown, samples MC Lyte's "Cha Cha Cha", Alexander O'Neal's "Sunshine", Kraftwerk's "Man Machine" and The Fearless Four's "Rockin' It" and would be accompanied by a Hype Williams-directed music video. However, the song would be panned by fans of the rapper, who despised his assimilation with the Shiny Suit set and saw it as an attempt to appeal to the mainstream rather than serving his street base, and would peak at a paltry No. 95 on Billboard's Hot 100 chart. What had appeared to be a sure-fire win for Hov had backfired, leading some to believe that his affiliation with Bad Boy may have risen his profile and made his sound more accessible, but cost him in terms of creativity and artistry.
"City Is Mine," the follow-up single to "(Always Be My) Sunshine," would fare a bit better, reaching No. 52 on the Hot 100, but would be critically panned by the streets and taste-makers alike, leaving him without the undeniable smash single that he had hoped for upon his change of course. These egregious misses would result in In My Lifetime, Vol. 1 being deemed the product of a sophomore slump on the part of Jay-Z, especially in light of Reasonable Doubt's unforeseen status as a cult classic gradually coming to light. However, while there a few gripes to make concerning Jay-Z's sophomore set, in retrospect, when dissecting and analyzing the album as a whole, you'll find that despite its imperfections, In My Lifetime, Vol. 1 is actually Jay-Z's most underrated album, and one of the most important in terms of his legacy as a wordsmith and emcee.
Pain In Da Ass, who made his debut on the intro of Reasonable Doubt, returns once again on "Intro: A Million and One Questions/Rhyme No More," an exercise in precision and technique that leaves listeners in awe. "A lot of speculation on the monies I've made, honeys I've slayed/How is he for real? Is that nigga really paid?" Jay begins, addressing all of the questions fans and media have concerning his lifestyle and the validity of the lavish lifestyle he rhymes about on record over production courtesy of DJ Premier, the first of his two contributions to In My Lifetime, Vol. 1. The other, "Friend or Foe '98," picks up where the original left off, with Hov encountering the rival hustler he had previously given fair-warning about trafficking drugs in his territory, bookending the saga on a grisly note, and continuing him and Premo's winning-streak of bangers.
One of the more understated traits of Jay-Z is his sarcastic nonchalance, which is on full display on the In My Lifetime, Vol. 1 track, "Imaginary Players," one of the more beloved deep cuts in his discography. Produced by Prestige, "Imaginary Players" is one of the more fruitful instances of Hov collaborating with members of the Hitmen, if only for teaching us the difference between a 4.0 and 4.6 Range Rover, which has become a classic reference among rap enthusiasts. One producer that's often unsung when listing off Jay-Z's list of collaborators is Ski, who can be credited with crafting the foundation of his most stories album, Reasonable Doubt. Although his role on In My Lifetime, Vol. 1 is a diminished one, Ski makes his presence undeniable through a pair of contributions, "Streets Is Watching" and "Who You Wit II," both of which are considered prime material to longtime disciples.
Built around a sample of "I Got The" by Labi Siffre, "Streets Is Watching" contains some of the most cited Jay-Z lyrics to date and finds him at his zenith as a master of ceremonies. "Look, if I shoot you, I'm brainless/But if you shoot me, then you're famous/What's a nigga to do?" he ponders, juxtaposing his newfound fame and what's at stake with his past as a ruthless hustler, a common thread throughout his career, but is most palpable here. "Who You Wit II" is an extended version of a song titled "Who You Wit" that he contributed to the soundtrack of the 1997 film, Sprung, earlier that year, with an additional verse tacked on and was well-received in comparison to the other singles included on In My Lifetime, Vol. 1.
After keeping guest appearances at a minimum on Reasonable Doubt, Jay-Z begins to spread his wings on In My Lifetime, Vol. 1, tapping a star-studded list of artists to costar alongside him, including sparring partner Sauce Money ("Face Off") and Bay Area rap legend Too $hort ("Real Niggaz"). The latter of the two marked the first of multiple instances in which Hov and Short Dawg would join forces, and was also Hov's first collaboration with artists outside of his locale, a move that would help him transcend regional status over the course of his career. Throughout his career, Jay-Z has mastered the art of masking his vulnerabilities, which made his most recent release, 4:44, such a time-stamp in his career, as it juxtaposes his maturation with his ability to emote and be less guarded. However, the misconception that 4:44 is his first time baring his soul and being transparent is a glaring one, especially after revisiting past material like In My Lifetime, Vol. 1.
"Lucky Me," a Stevie J and Buckwild-produced number that captures him admitting being uncomfortable in his new position as a star and how the trappings of success can take a toll on him mentally, contains admissions like "I hate all girls with ulterior motives/That's why I'm 20+ years old, no sons no daughters," which would later be expounded upon on songs like "Song Cry." But the most revealing moment on In My Lifetime Vol. 1 is by far "You Must Love Me," the first instance of Hov addressing key members of his family and his relationships and encounters with them in detail. From touching on the pain and stress his foray into the streets caused his mother, Gloria Carter, as well as shooting his own blood brother after a dispute over stolen jewelry, Jay-Z steps aside and brings the listeners into the world of Shawn Carter, pulling no punches on what is what of the more emotionally charged compositions he's recorded to date.
Other albums in Jay Z's discography may be more celebrated, produced better singles or represent moments in time, setting them apart from the pack, but few include more individual songs on that can be argued are in the best songs he's ever recorded on them, from a time when he was hell-bent and being crowned as the best pound-for-pound spitter in rap. Vol. 2... Hard Knock Life was Jay-Z's ascension to star status and had stronger singles and remains his most successful album, but lacks the gritty deep cuts of Vol. 1. Blueprint is a better overall body of work, but it could be argued that In My Lifetime, Vol. 1 has higher highs. The Black Album and American Gangster will always be remembered for the spectacle around them, but the former hasn't aged as gracefully as predicted and the latter is more of a period piece that doubles as an above average body of work than Jay Z at his absolute peak as a lyricist.
In My Lifetime Vol. 1 is a flawed album, but how many classic albums aren't? For every ill-advised selection ("I Know What Girls Like"), you get classic anthems ("Where I'm From") that rank near the best that that artist has ever done. And when you add that "(Always Be My) Sunshine" and "City Is Mine" may have had cheesy hooks and predictable production, but weren't actually as bad as initially advertised, the case for In My Lifetime Vol. 1 being Jay-Z's most unsung and underrated album to date, and an undisputed classic by any measure.
Watch Jay-Z's Video for "Imaginary Player":
Watch Jay-Z's Video for "Streets Is Watching":
Worst to Best: Every JAY-Z Album Ranked