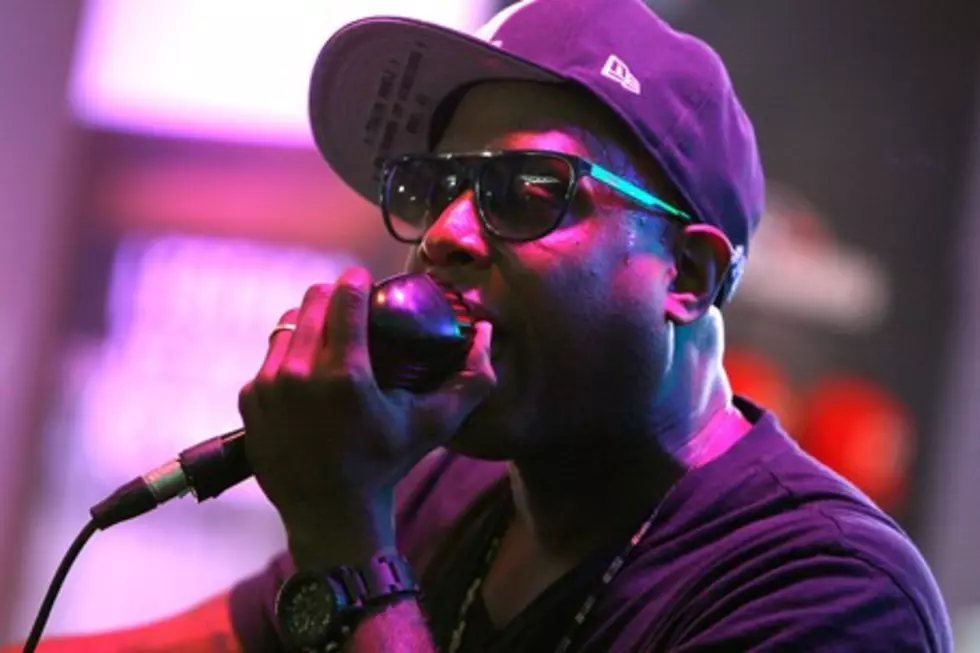 Talib Kweli Pays Tribute to Beastie Boys, Performs Black Star Hits at MLB Fan Cave — Video
Mike Lawrie, Getty Images
On the cusp of releasing his fifth solo album, Prisoner of Conscious, Brooklyn native Talib Kweli took the stage of the MLB Fan Cave Thursday (Sept. 27) in New York City's NoHo district, giving listeners in attendance a short musical journey of his greatest hits. He also paid homage to a few of his own favorite hip-hop artists.
Dressed in black jeans, a black T-shirt and a custom black New Era cap with his name inscribed in Arabic across the front, Kweli was backed by his live band and DJ Spintelect, whom mixed rock and jazz vibes as the rapper performed.
Kweli appeared on stage rapping to "No Sleep Till Brooklyn," a 1987 release from the legendary hip-hop group the Beastie Boys. "How many of you love the Beastie Boys?" Kweli asked the crowd. "I love the Beastie Boys."
He then performed "I'm on One" and "Palookas" from his last solo album, Gutter Rainbows, released in January 2011.
The MC decided to rewind more than a decade back to his Reflection Eternal days with DJ and producer Hi-Tek, rapping their popular chilled out track "The Blast," released in 2001, from their Train of Thought LP.
Turning to DJ Spintelect, Kweli requested a throwback for the people, which followed by the playing of the soul classic "'Cause I Love You" by Lenny Williams. Keeping in line with the softer side, he rapped his will.i.am-produced "Hot Thing" from his album Eardrum.
"That was for the lovers," Kweli said. "This record is for the single people," he said as he segued into his Beatles-sampled "Lonely People." This followed with throwbacks from his 1998 Black Star album, Mos Def & Talib Kweli Are Black Star, he released with Yasiin Bey (formerly known as Mos Def). The rhymer moved through "Definition" and "K.O.S. (Determination)."
His DJ then dropped "Check the Rhime" from A Tribe Called Quest, one of his biggest hip-hop influences, while the crowd showed their appreciation by nodding their heads to the old school track.
Before the show was over, he allowed his drummer, keyboardist and guitarists to each have a moment of shine to show of their musicianship. Kweli then went into his "Get Em High" verse from Kanye West's College Dropout. "This is a smoke free facility, right?" he joked in reference to the track.
Before leaving the stage, Kweli wrapped up his set with "Get By," a motivational track from his debut solo album, Quality.
Watch Talib Kweli Perform at the MLB Fan Cave
See 15 of the Best Hip-Hop & R&B Albums of 2012 (So Far)
%VIRTUAL-MultiGallery-163137|167008|165636%