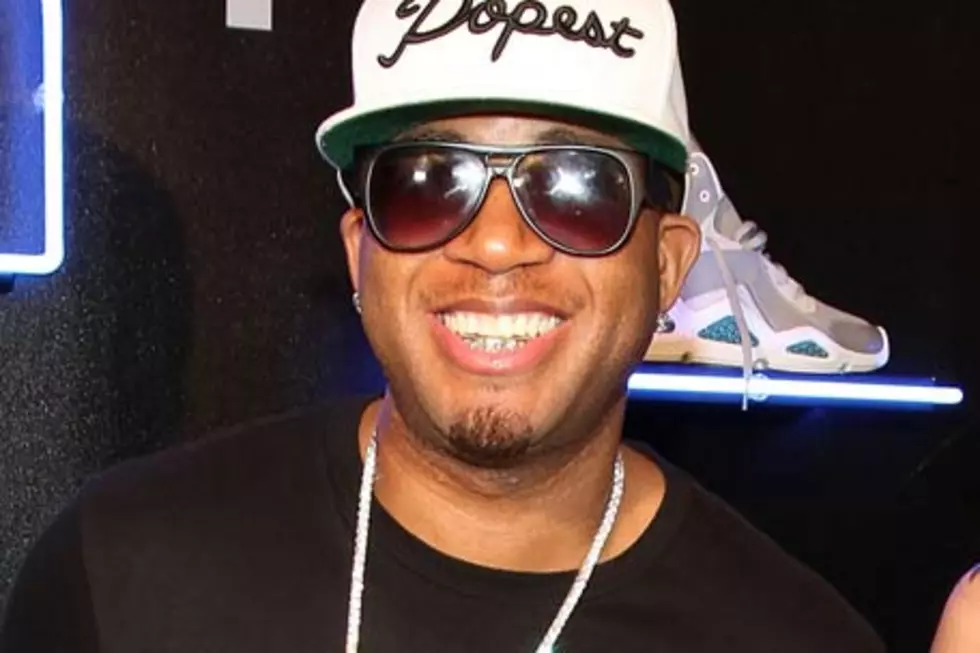 Red Cafe: 'Hell's Kitchen' With 2 Chainz, Preps 'Shakedown'
Jerritt Clark, Getty Images
Red Cafe is almost there. His oft-delayed in-the-works debut LP, 'Shakedown,' is finally dropping at the top of 2012, via Interscope/Bad Boy/Konvict. Now the imminent release is more than just lip service, since the project's lead single, the Ryan Leslie-produced and Rick Ross-assisted 'Fly Together,' is a hit. While his latest radio and club smash keeps getting spins, Red also dropped the street burner 'Let It Go,' a growing street anthem.
Always a class act when interviewed, the Guayana-born, Brooklyn-bred rapper keeps details of his forthcoming project vague at best, but he is eager to get the music to his fans. Before the proper LP drops, his devotees will get a mixtape, 'Hell's Kitchen,' loaded with album worthy material that didn't make the cut. Consider it a hot appetizer. Read on as the Shakedown founder speaks about his real estate ventures, which MCs will appear on his new mixtape and the one thing he's not too fond of his little girl doing.
You must feel like you're in a good space right now.
I'm very happy and excited about what's going down with the project, 'Shakedown.' The album is on the way. We're looking at the top of the year, first quarter. The recording process has been good. It's been a long one, but it's been good. I been learning a lot and just putting myself in that place where I can make great records that I can be proud of, years to come. 'Fly Together,' that's my first single featuring Ryan Leslie and Rick Ross; the last time we talked the record hasn't been out then. We in a different place today and the record is still coming to life.
The record has been doing well at radio and you have the video. Is it performing the way you expected?
Yeah, definitely. I made the record particularly for the women. I wanted to salute all the single parents and all the independent women that's working hard and acknowledge the fact that they can fly just as high as the homies fly. The women have been appreciating the record and I feel good about that. Mission accomplished. And it's setting the tone for the album. Then I also put out 'Let It Go' with me and Diddy. I want to get right back to the ignorance [laughs]. That's like night and day from 'Fly Together' but it's equally as exciting. I feel good about that as well.
Hopefully that will set the tone for the people and make them feel like, "Dude is going to come with some work." We have a few more months so I want to build that record some more. We're shooting that video next week. I got a couple of more records I want to get out to the people before I even come with my album.
Watch Red Cafe's 'Fly Together' Feat. Rick Ross & Ryan Leslie
So that video we saw isn't the official video?
Oh, yeah. We're shooting that video next week for 'Let It Go.' We're shooting a video for everything. Sometimes I might put a record out and I just want to support the record as much as possible so I'll do a tour video or something like that. I'ma shoot an official video for it and then we're going to hit the road and try to get this mixtape out as well, the 'Hells Kitchen.' Just prepare people for the album.
When are you looking to drop the 'Hell's Kitchen' mixtape?
Before Christmas. That has about 14 original records on there. I'm really excited about that as well. It's going to be another preview for the actual album. We going to get out there and get to hustling.
Last time we spoke, you said you had all the records for the album done. So are you just fine-tuning right now?
Since then I actually swapped out a gang of records. At least like five. I have probably five new records. That's going to continue to be the same way until the album comes because I'm that competitive. So if I swap out a record, ya know what, I guess I got to put out another mixtape. I want to continue to prove myself to the people. So the records that don't make the album, I'm going to put them on a mixtape and still give them out. There's no reason for me to hold them. So I give them out to the people and they still good in a certain sense, but I just might make something that I feel represents me or where I'm at today in a better way.
Do you feel you still have to prove yourself to the people?
Yeah, definitely. You still gotta prove yourself every time you get out there. You don't want to be the person that you did good, you gotta do good, today. How good you did yesterday, that's cool, but today, what are you doing today? I want to do my best every time. That's an important thing to me. To continue to push and prove myself to the people so they can feel that Red Cafe is a name you can trust.
Any more details on the album you can divulge?
That's grandma's sauce man. If I say everything about the album... I'm so far out, I still have three to four months, someone else can take it and be like, "Oh, I'ma do the same thing." I name my mixtape 'Hell's Kitchen,' next thing you know, all of these years there ain't been a 'Hell's Kitchen' now a motherf---er just put out a mixtape named 'Hell's Kitchen.' And it wasn't even an official mixtape, somebody just put some Lil Wayne songs together and called it 'Hell's Kitchen.'
OK, who you got on 'Hell's Kitchen'?
I got a couple of my comrades on there that's doing they thing. I got Fabolous of course, Meek Mill, I got 2 Chainz on there. I got this new kid out of D.C. named Fat Trell and he has great energy. The streets is f---in' wit him, I'm f---in' wit him, and I want to showcase his talent. He's on a joint.
Listen to Red Cafe's 'Let It Go' Feat. Diddy
Is he going to be Shakedown affiliated at some point?
I mean anything is possible. Right now I just respect his talent and what he represent. I got him on there probably two or three times on the tape. He's super dope.
What's going on with Lore'l is she still on Shakedown?
Lore'l is doing her thing. I'm proud of what she has going on. She's focused on herself and that's a good thing. We need some more representation for the women out there. She's pretty much handling her own business right now.
What's artists are on Shakedown Records right now?
Mainly, I want to focus on finishing my album and putting out a great album that's successful. That's the most important thing for me right. Then I can move on to working on other artists and thing like that. I want to give all my energy to Red Cafe and the 'Shakedown' project.
The year is winding down, what are some of the records from other artists that you wish you made?
On the 'Watch The Throne' album, they got a record called 'Made in America' that was really, really special to me. I like that record a lot. I also like 'Marvin's Room,' what Drake did with that. I like creative records. We can make club records all day. But if you dig deep into a personal experience or something that you went through and you bring to life in music or song form, that's special.
I have a little girl. She's growing up too fast [laughs].
How important is family to you?
Family is very important to me. I don't really have too much family but I do have enough. It's very important to me to stay close-knit and it keeps me grounded. So yeah, for sure.
I go out to Europe next week. Right after the video, the very next day we leave and go on tour.
You still involved in real estate ventures?
Absolutely, that's never going to stop. I'm always going to invest in things I believe I can make a profit [from] or I can create opportunities to employ people. I always been motivated by where I came from. I came from a third world country [Guyana], showering with rain waiter. That always kept me focused on what I didn't want to go back to and make sure I have that thing that I would prefer to have and be able to finance it. And also help people to get out of situations like that. You have to make the right turns to make sure you don't go backwards. I just chose a different route.
You manage to talk about both the ups and downs in your music. Is that something your mindful of?
Definitely. Because I done had situations to where I was up and situations to where I was down, after being up, which is the worst feeling. Not being able to protect your face, you're just out there like, "Damn, I was the guy that used to have this and used to have that." I don't want to be that. I stay focused, stay driven and stay humble. And remember all the things that I been through.