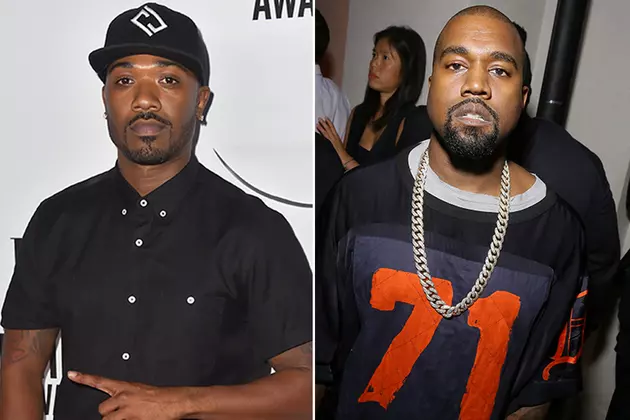 Ray J Does Not Like Kanye West's 'Famous' Video
Alberto E. Rodriguez/Victor Boyko, Getty Images
Ray J may have "hit it first" but Ye is having the last laugh with his latest video that shows the Love and Hip Hop Hollywood reality star naked on a bed alongside Kim Kardashian, Taylor Swift, Rihanna, Chris Brown, Donald Trump and more.
But the video concept was lost on Ray J. "Don't put me part of nothing that's weird, that don't make sense," he said in an interview with Entertainment Tonight while backstage at the 2016 BET Awards  "Can I grow up?"
Apparently, Ray J's fiancée, Princess Love, isn't feeling the video either. "I'm engaged. My marriage is all messed up 'cause of craziness. I'm not part of nothing crazy," he continued. "I walk down a good path. My fiancée tripping. It's all bad in my world, and that ain't cool."
Unfortunately for Ray J, the past rarely lets up -- especially in the age of the internet. It doesn't help that in 2013 he released song, "I Hit It First" aimed at Kim K, just a year before she married Yeezy as well.
"Taylor is livid," a source told Hollywood Life. "Taylor is horrified.Taylor didn't know what to do when she heard about what Kanye did. She is bewildered, feels betrayed and is beyond frustrated with Kanye. It is like a complete nightmare. Taylor is pissed to say the least!"
Chris Brown, who's been facing his own legal issues, doesn't seem to be heading to his lawyer with this video. He actually seems to be taking it well. "Why I gotta have the plumbers butt/ crack showing WAX figure?😂😂😂😂," read a caption by Breezy on Instagram alongside a still from the video. "This n---- KANYE CRAZY, talented, but crazy 😭😭😭🏆"
Do you think Ray J is right to criticize Ye's video? Let us know what you think in the comments below.