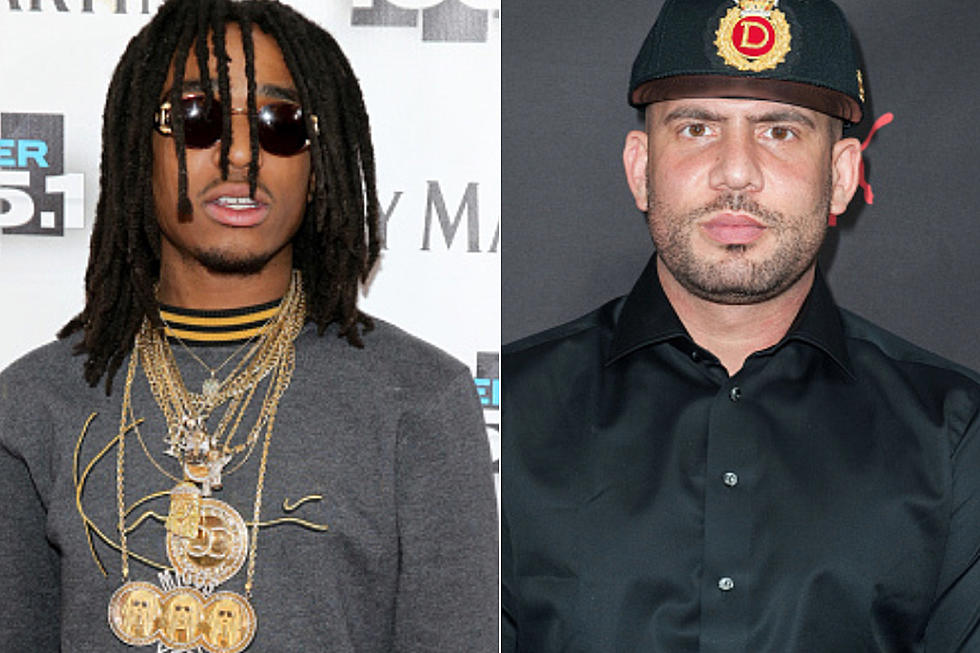 Quavo Slams DJ Drama for Not Recognizing Migos as Atlanta Influencers
Neilson Barnard / Valerie Macon, Getty Images
Another day, another Twitter squabble. Rapper Quavo called out DJ Drama for not giving Migos props for being influencers of the Atlanta music scene.
"If we take the OutKast's, the Ludacris's, the T.I.'s, the Jeezy's, and the Gucci's, and the Future's, and the 2 Chainz's and the Thug's, you know, it's in a good place," said Drama.
Quavo caught wind of the comment and was perplexed as to why Migos wasn't mentioned in the conversation of Atlanta influencers.
Quavo then jumped on Twitter and wrote, "How Dear[sic] You MENTION Atlanta Rap Culture And Not Mention Migos We Think That's Kinda Disrespectful MY UP NORTH BROTHA."
This prompted Quavo and DJ Drama to snipe at each other on their timelines.
DJ Drama responded, "This is me Dram, same 1 that said the whole rap game took Migos style."
Quavo tweeted back, "@DJDRAMA I KNO THAT..... DID U TELL @breakfastclubam THAT!!! Or How Bout The First Time U Met Me!!... NYC.. Before GUWOP!!!!"
DJ Drama ended the quarrel by telling Quavo if he has an issue he can meet with him at his Mean Street Studio and they can have a conversation face-to-face.
Ironically, today (Aug. 15), DJ Drama and Don Cannon are participating in a "Atlanta Mixtape Gods" Roundtable discussion about their mixtape reign in ATL on RBMA Radio.
Hopefully, DJ Drama can clarify his comments about Migos and cooler heads can prevail.