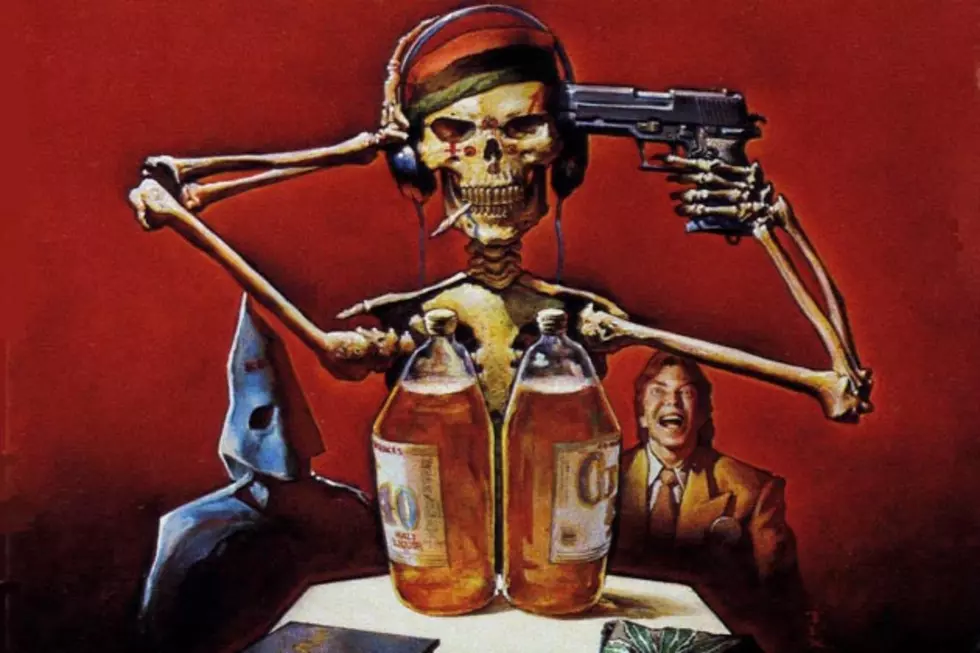 20 Years Ago: Public Enemy Release Their Most Misunderstood Album, 'Muse Sick-N-Hour Mess Age'
Def Jam
In August of 1994, Public Enemy, who were unquestionably among the most influential and revered hip-hop groups of the late '80s and early '90s, released their first album of the post-'Chronic' era, the uncompromising and unfairly maligned 'Muse Sick-N-Hour Mess Age.'
For the most part, Public Enemy refused to bow to these trends. "I had two choices; to go with the flow and make things more melodic," group leader Chuck D explained in his book 'Lyrics of a Rap Revolutionary,' "...or I could make something different. I decided to make something different." Not that the group remained stagnant. 'Muse Sick' added a big dose of "organic sounds" -- particularly "real" drums and large masses of live background vocals -- to Public Enemy's previously sample-reliant formula.
This move added an exciting new energy to songs like the woozy 'Bedlam 13:13,' which somehow makes you feel like you're on both cough syrup and speed at the same time, the frantic 'Race Against Time' and the take-no-prisoners challenge of 'What Side You On?' Chuck D did decide to tackle the new, popular style a couple of times, most notably on the lead single, 'Give It Up.' "It's giving the people what they want and also giving them what they need," he explained. "If you give them a little bit they'll come and meet you halfway."
Watch Public Enemy Perform 'Give It Up'
The song was a big hit, but some (not all) critics were less kind to the album, with Alternative Press accusing the group of "treading water" and Rolling Stone declaring the album "diseased by weak hooks and plodding bass lines and beat loops." The latter review even went so far as to say "I guess by now we should be used to watching black heroes die in public." Low blow!
Reviews like that, along with an ill-timed shift of distribution companies for their Def Jam record label home -- and of course, the aforementioned changes in the general public's taste -- sent 'Muse Sick' down the charts rather quickly and ingloriously. As Chuck D says, "When somebody looks back at 'Muse Sick-N-Hour Mess Age' I hope they will be more apt to look into the mind of where we were trying to come from, as opposed to a couple of reviews that happened to be from a trendy point of view."
He's right, the album deserves better. From its typically dynamic scene-setting opening number 'Whole Lotta Love Goin on in the Middle of Hell' right up to track 13, the free jazz and beat poetry blending 'Live and Undrugged, Parts 1 & 2' (which features one of Chuck's most unhinged, passionate and impressive vocal performances), it's all killer, no filler for the first 55 minutes or so of 'Muse Sick-N-Hour Mess Age.'
Which leads us into the album's one big problem -- at that would-be perfect ending point, there's still another 20 minutes of music to go, and not all of it rises up to that same high standard. Even Chuck admits, "I think the thing that made it seem unbalanced was the amount of product I put on the album." Luckily, in this digital age there's an easy fix for that -- just delete the songs you don't want. Or if you got the vinyl, maybe stay away from side four. You'll still be left with at least an album's worth of great Public Enemy music.
Instead, undeservedly in the mass public's eye, 'Muse Sick-N-Hour Mess Age' was perceived as a rather downbeat end to an otherwise highly impressive (unparalleled, some might say) seven-year run that saw Public Enemy release five groundbreaking albums (and the half-new 'Greatest Misses'). It would be four years before they released their next effort -- the soundtrack to the Spike Lee film 'He Got Game' -- and when they returned it would be without their founding DJ, Terminator X.
The group continues to tour the world and release new albums to this day; they released not one but two well-received albums, 'Most of My Heroes Don't Appear on No Stamps' and 'The Evil Empire of Everything,' in 2012. Oh yeah, and Chuck still has that voice. He also recently released his third solo album, 'The Black in Man.'