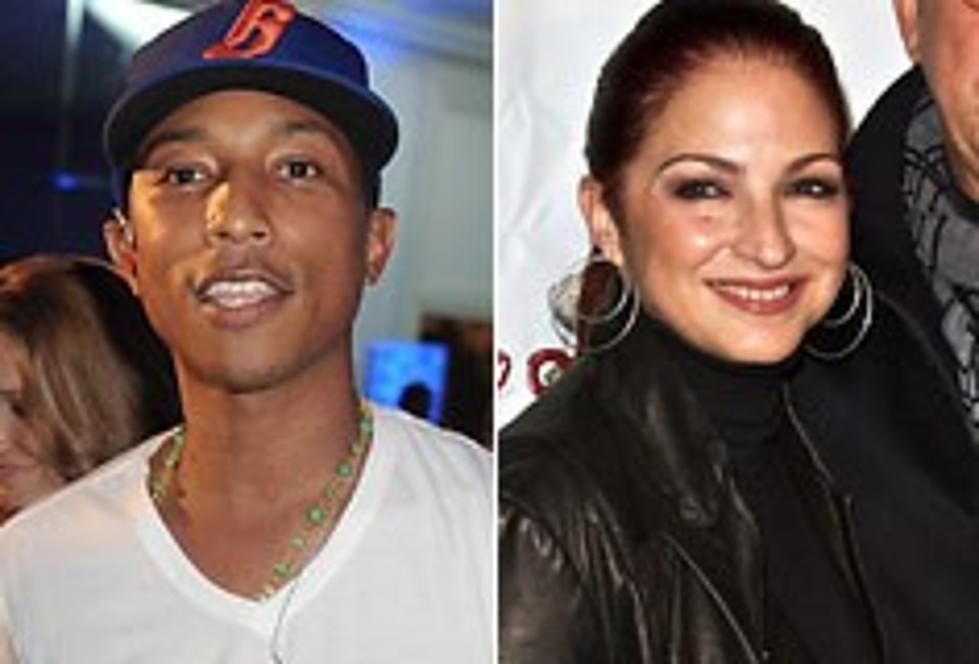 Pharrell Producing Gloria Estefan Comeback Album
Getty Images I jpistudios.com
Having recently executive-produced Game's forthcoming album 'The R.E.D. Album,' Pharrell is reportedly back in the studio, working on an even more surprising collaboration: the comeback album from the Queen of Latin Pop, Gloria Estefan.
Though she was rumored to have retired from music back in 2009, the legendary Cuban-American singer has now confirmed that she is recording her first English language album since her 2004 effort 'Unwrapped.' Neptunes frontman Pharrell signed on as co-writer and co-producer for the entire project.
Roc Nation rapper J. Cole first reported that Pharrell and Gloria were in the studio back in 2010, but Gloria confirmed the collaboration herself via her Facebook page on Tuesday (April 5), writing Skateboard P a happy birthday message, via one of her reps. "Happy Birthday Pharrell!! Love working with you in the studio!!" and posting several photos of the two hard at work in the lab.
While the pairing may at first seem odd, Pharrell has worked with several pop artists in the past, including Gwen Stefani, Justin Timberlake and Britney Spears. Gloria has some hip-hop credits of her own, appearing with Wyclef Jean on her 1998 single 'Don't Release Me.'
There is no word yet as to when the Miami Sound Machine's Pharrell-assisted 11th album will see release, but it is rumored to be "high energy" and "dance oriented," and sure to please her fanbase.


Watch N.E.R.D.'s 'Hot-n-Fun'
if(typeof AOLVP_cfg==='undefined')AOLVP_cfg=[];AOLVP_cfg.push({id:'AOLVP_96910992001','codever':0.1,'autoload':false,'autoplay':false,'displaymnads':true,'playerid':'89761511001','videoid':'96910992001','width':476,'height':357,'playertype':'inline','stillurl':'dynamic','videolink':'#','videotitle':'dynamic','videodesc':''});