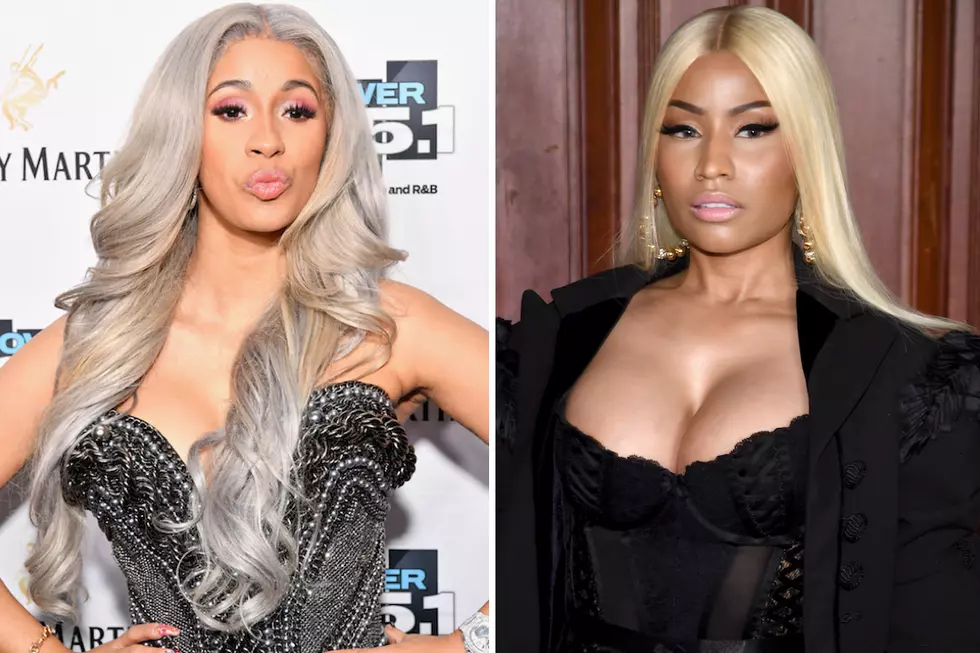 Nicki Minaj Shuts Down Rumors of Beef With Cardi B
Dia Dipasupil / Dimitrios Kambouris, Getty Images
Nicki Minaj recently teamed up with Migos and Cardi B for the song "Motor Sport," bringing together two of hip-hop's biggest female stars. But instead of some celebrating the collaboration, people began spreading a conspiracy that Nicki had no idea Cardi would be featured on the song.
On Tuesday (Oct 31.), Nicki went onTwitter to shut the rumors down. "I was on the song w/ Quavo," she tweeted. "No one else was on it. He called & asked if I think we should put Bardi on it, I said 'ok let's do it'. The end."
The Pinkprint rapper then went on to share more details about how the track came to be and revealed how nothing with her name can be approved until she hears it and gives a written approval.
"Migos weren't even on it yet," she continued. "Just Quavo. The conspiracy theories r just so tired. Relax. Breathe. Imagine me not knowing who on a song w/me. Anything w/ my name on it gets approved by me. It can't even go on a streaming service w/o me hearing it & giving written approval."
Minaj went on to blame men in hip-hop for trying to stir up a feud.
"These are men in our culture who simply refuse to let it go. They don't do this to male M.C.'s. But yo #Motorsport #1 added on urban radio," she wrote.
Nicki's tweets came after an episode of Everyday Struggle where Joe Budden said Minaj didn't know the "Bodak Yellow" rapper would be on the song.
"I think that Kanye suggested to Migos to put Nicki on this song," Budden said. "I do not think that Migos or anybody stepped to Nicki and said, 'We have a record featuring Migos and Cardi and we would like you to get on it.' I don't think that happened."
Budden also suggested the song wasn't created with Cardi in mind and implied Cardi dissed Nicki with her verse. "When I heard the song for the first time and the Cardi verse came on, you know what my thought process was? I said, 'Wow. Different flow,'" he said. "This flow is different from what I've ever, ever, ever heard from Cardi."
Cardi had also commented on the situation, telling Complex, "People wouldn't be satisfied even if [we] was making out." Minaj agreed with the New York rapper, tweeting, "Very true. We could make out & it wouldn't be enough. I'm done."
Check out Nicki's tweets below.
What's Beef? 10 Hip-Hop Twitter Feuds