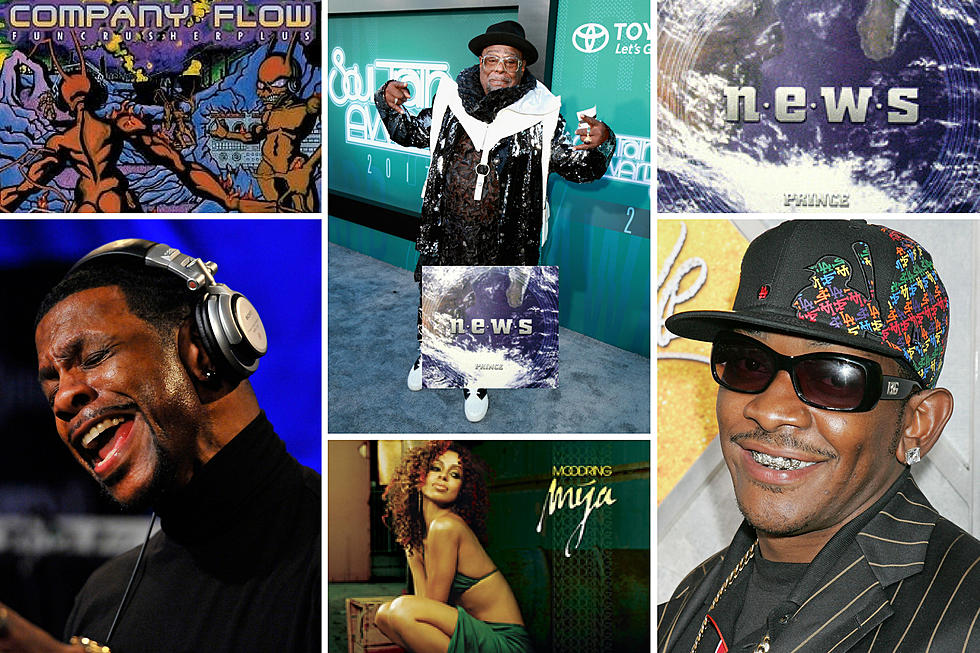 Mya Releases 'Moodring': July 22 in Hip-Hop History
Larry French, Leon Bennett David Livingston,/ Getty Images. iTunes
There were a lot of milestones that took place on this day. From legendary births to classic album releases, we're giving showing love to the people and things that have helped to shape the Hip-Hop/R&B landscape as we know it.
1941 – George Clinton is born
Funk music wouldn't be what it is without George Clinton and the Parliament-Funkadelic collective. Born in the small town of Kannapolis, North Carolina (fun fact: the musician claims he was horn in an outdoor lavatory) and raised in Plainfield, New Jersey. In the '50s, he ran a barbershop called Silk Palace, where he would form his first funk band, Parliament (out of that same barbershop), and pick up a gig as an in-house songwriter for Motown Records in the '60s. For the next decade or so, the Clinton would produce and write songs for everyone from Red Hot Chilli Peppers to Bootsy Collins, until finally releasing his debut studio album, Computer Games, via Capitol records in 1982. This impressive body of work (Rolling Stone magazine said it was a tasty side dish while awaiting the return of the mothership), housed Clinton's classic hit, "Atomic Dog." Now, more than 20 albums later, the funk master is still considered to be the godfather of funk.
1961 – Keith Sweat is born
Keith Douglas Sweat is one of the smoothest men in R&B.  Born in Harlem, Sweat worked his way up the ranks, initially taking on jobs as a stock boy at Macy's and a mailroom clerk at stock brokerage firm Paine Webber (while earning his college degree from CUNY), before joining the band, Jamilah in 1975. As part of the band, Sweat traveled throughout the East Coast, but it wasn't until he went solo in 1984, that he began to find his place in music. Three years later, his debut studio album, Make It Last Forever, was released and landed him the No. 1 spot on Billboard's R&B charts and the New Jack Swing veteran has enjoyed a succession of number one albums. He's also helped to create music for a wide range of R&B groups and artists, including the group Kut Klose, Dru Hill and The Isley Brothers.
1973 – Petey Pablo is born
Known to the world as Petey Pablo, Moses Barrett III, the Greenville-born rapper gained notoriety for the Timbaland-produced, North Carolina anthem, "Raise Up," from his debut Diary of a Sinner: 1st Entry. The rapper came into the game at age 27 and was locked up for five years before meeting Busta Rhymes and Black Mob, and eventually signing to Jive Records. Based off the strength of the lead single, Diary reached certified gold status, landing him a Grammy nomination for Best Rap Album.
In retrospect, what most a lot of music fans may not know, is that rappers like Petey specifically set the stage for the new generation of mumble rappers. He rose to prominence during a time when southern rap was still vying for national respect. A song like "Rise Up" marked the arrival of southern hip-hop. It was less about being lyrical, and more about melodies, which Petey helped to push forward in the genre.
1997 - Company Flow releases Funcrusher Plus
Company Flow was around during a time when 'backpack rap' wasn't a real term. Justin "Bigg Jus" Ingleton, rapper/producer Jaime "El-P" Meline, and DJ/producer Leonard "Mr. Len" Smythe were making hip-hop that represented New York's realness. There wasn't anything to be pretentious about; the concept of selling out had barely begun to become a real topic. Whatever was taking over when it came to hip-hop on the mainstream airwaves, was in the shape of Bad Boy and Death Row Records. Company Flow had initially released their most important work, Funcrusher EP, back in 1996 under the indie label Official Recordings in 1996. The group was anti-establishment in every sense of the word, and the album's jazzy boom-bap beats and complex lyrics complemented their morbid views, which can be heard on "Population Control" and the group's most popular track to date, "8 Steps to Perfection." It took some coaxing, but the trio eventually inked a deal with the hip-hop label Rawkus, turning the EP into the debut studio album, Funcrusher Plus, one year later. The album had nineteen tracks and featured a flawless production almost exclusively by EP. The album received near perfect reviews from venerable music rags and is considered a cult classic.
2003 – Mya releases Moodring
By the time released her third album, she'd established herself as a superstar in her own right. A year before she won a Grammy award for "Lady Marmalade" collaboration with Pink, Lil' Kim, and Christina Aguilera. And, the cute yet feisty singer was the girl-next-door with a twist. What really carried her through, was her ability to dance. So, when the lead mid-tempo single "My Love is Like… Wo" from Moodring was released, the key element was the music video, which showcased Mya role-playing and, of course, dancing the hell all over the place. The album itself did have some other hits, such as the lovelorn "Fallen," and "Things Come & Go" featuring dancehall king Sean Paul, Moodring was the project that would motivate the singer to focus on her international fan base.
2003 – Prince releases N.E.W.S
Around this time, Prince had established himself as an early adapter when it came to streaming music online. The singer had launched his NPG (New Power Generation) club, and get access to exclusive content, which included the release of his twenty-seventh album N.E.W.S, before its wide release a month later. As you can imagine, the artist's vision was light years ahead. The album featured a mere four tracks (each of them fourteen minutes in length), which was an indirect pre-cursor to the short album releases adapted by major stars in the hip-hop/R&B hemisphere today. The album was not a mainstream success, but N.E.W.S still received a Grammy nomination for Best Pop International Album.
2003 – Canibus releases Rip the Jacker
One of hip-hop's the most longstanding debates in hip-hop, was the rap feud between Germaine "Canibus" Williams and James "LL Cool J" Todd Smith. Canibus experienced success seven years earlier with his debut album, Can-I-Bus. Produced by Wyclef Jean, the album thrust the young rapper into the spotlight but was overshadowed by his beef with the bigger, more popular rap heavyweight. The feud had convinced hip-hop fans the young rapper's career was over, but the artist continued to put music out. By the time Rip the Jacker came out, Canibus was five albums deep. The project was released by an indie label and managed to chart. While the album was not as strong as his debut, he still had the respect of his rap fans. The rapper's loyal fans consider "M-Sea-Creasy" and "No Return" to be sleeper hits.
2005 – Hustle and Flow is released in theatres
Hip-hop movements have been depicted in feature films for some time. Hustle & Flow, directed by newcomer Craig Brewer, the MTV film had a lot of ambition. Everyone involved in the film wanted to create a dramatic, if not stereotypical, story about hip-hop in the deep south. It had a glossy cast of musicians (Ludacris), big screen actors (Terrence Howard, Taraji P. Howard), and Hollywood co-signs (John Singleton served as Producer). Though the film received mixed reviews, it went on to gross more than $23.6 million (trumping its initial $2.8 million budget) and received an endless catalog of awards, including a Golden Globe nomination and two wins at the Sundance Film Festival – two of the highest awards for any film in any genre.
2008 – Khia releases Nasti Muzik
"My Neck, My Back," was Khia's most prominent hit, but the songs on her third album, Nasti Muzik. The indie gangstress got better, and stronger lyrically. She held her own on the lead single "What They Do" featuring Gucci Mane. Her other single, "Be Your Lady" was an anthem for women who weren't afraid to hold their men down. This album is strictly for Khia's loyal fans, and it proves that the Florida rapper is so many more than a one-hit wonder.
2008 - Hell Rell drops Black Mask, Black Gloves
Hell Rell is one of the most prolific rappers in hip-hop, point blank. By the time his second studio album, Black Gloves, Black Mask, dropped, the Dipset had a solid catalog of solo and collaboration mixtapes, and had made several guest appearances on songs for Cam'Ron, Jim Jones, and J.R Writer. Hell Rell, born Durrell Mohammad, had built a steady cult following, and the album, peaked at No. 9 on Billboard's Top Rap Albums chart.
2008 - Skillz drops The Million Dollar Backpack
Skillz, born Shaqwan Lewis, is one of those rappers who studied hip-hop. The title of his third album is symbolic of an artist that is a student of the game. He is what you'd constitute as a conscious, lyrical rapper. His beats, and collaborations —specifically fellow rappers Freeway, Common and Black Thought—tick the usual boxes regarding what you'd expect from artists that fall into this sub-category in hip-hop. The album was rated favorably by indie music mags. And while there wasn't a specific standout track, aside from the lead single, "(For Real) He Don't Own Me," Skillz, was mastered his craft and knew how to create sounds and styles that catered to his audience.