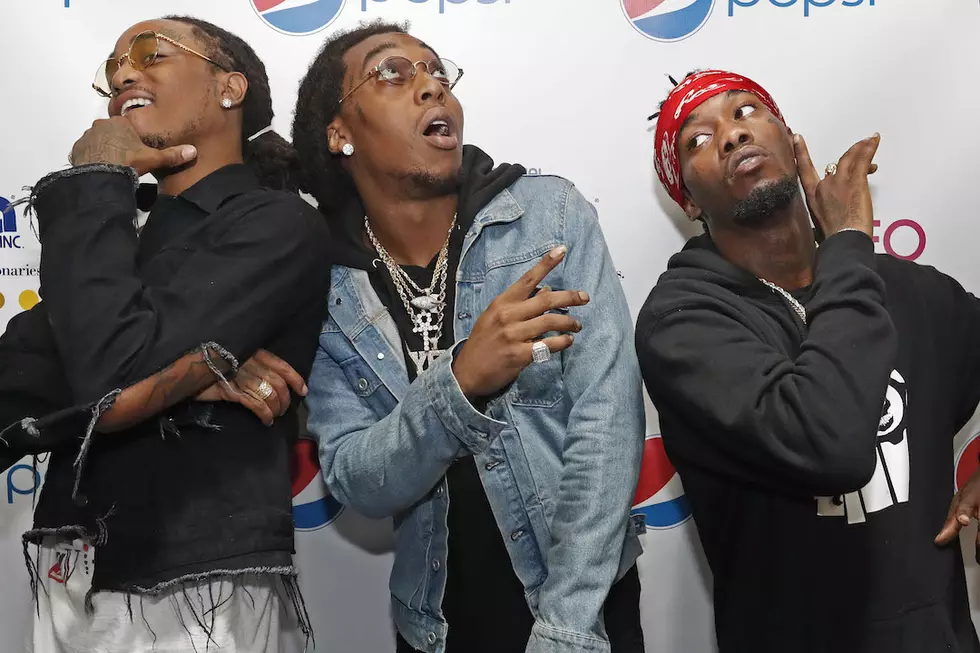 Migos' 'Culture' Likely to Nab the No. 1 Spot on Billboard 200 Chart
Tyler Kaufman, Getty Images
Migos have been taking over the music game by storm for the past month, and now that they've finally dropped their latest album, fans are in a frenzy. The rap trio released their highly-anticipated Culture album last week, which has been met with a ton of praise from the hip-hop community and listeners. While they landed their first no. 1 hit on the Billboard singles chart earlier this month with their track "Bad and Boujee," which is still in the top slot, the group has a fight to put up to land the same title on the albums chart.
According to reports, Migos have to beat out country music singer Brantley Gilbert to land the no. 1 spot on Billboard's 200 albums chart for the first week of their album's release. HITS reports that both Gilbert and Migos are projected to sell between 70,000 and 80,000 equivalent album units, and that 1,500 audio streams is the equivalent to one album.
Unfortunately for Migos, video streams don't count towards the projected numbers, which would probably help them officially land the slot, being that both their "Bad and Boujee" and "T-Shirt" videos have racked up millions of views in the last month.
We'll have to wait and see who snags that no. 1 slot on the charts, but we know that the hip hop community is currently rooting for Quavo, Offset, and Takeoff.
20 Unforgettable Mixtape Moments of the '00s