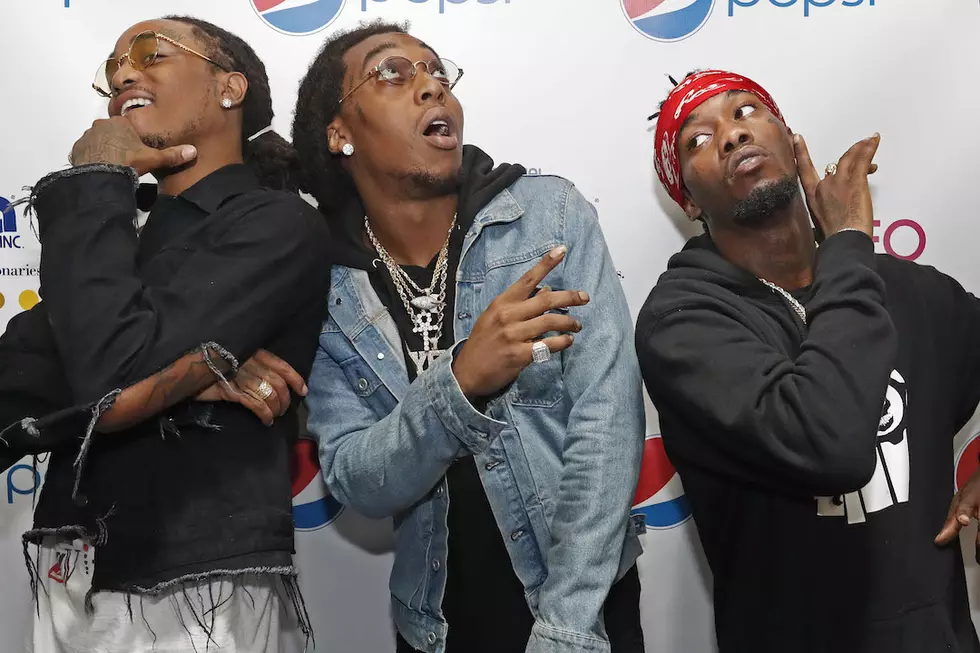 Migos Are Hitting Their Next Licks on 'Seize the Block' [LISTEN]
Tyler Kaufman, Getty Images
Along with the car-racing flick, The Fate of the Furious, the movie's soundtrack is available for download and streaming at digital stores. The collection features songs that are related to cars and capers. Among them is Migos' revved-up track, "Seize the Block."
On the high-octane song, the Atlanta trio spit about trying to hit their next lick on the block. "Just left the lot / I grabbed my Glock, let off a shot / Codeine on rocks, I need to stop / I seize the block, I need the block," spits Takeoff.
Along with "Seize the Block," Migos' Quavo makes another cameo on the soundtrack. The in-demand rapper appears on "Go Off," which features Lil Uzi Vert and Travis Scott. Other songs on the soundtrack include, " Good Life" featuring G-Eazy and Kehlani; "Mamacita" featuring Lil Yachty and Rico Nasty; "Don't Get Much Better" featuring Jeremih, Ty Dolla $ign and Sage The Gemini, and "Candy Paint" by Post Malone.
Currently, Migos are racing up the Billboard Hot 100 chart with three different songs. Their ubiquitous single, "Bad and Boujee," is still hot at No. 12, while "T-Shirt" is bubbling at the No. 26 spot and finally, "Slide," their collaboration with Calvin Harris and Frank Ocean is at No. 40.
Check out Migos' new song above.
Rolling Stone's 20 Best Hip-Hop Covers