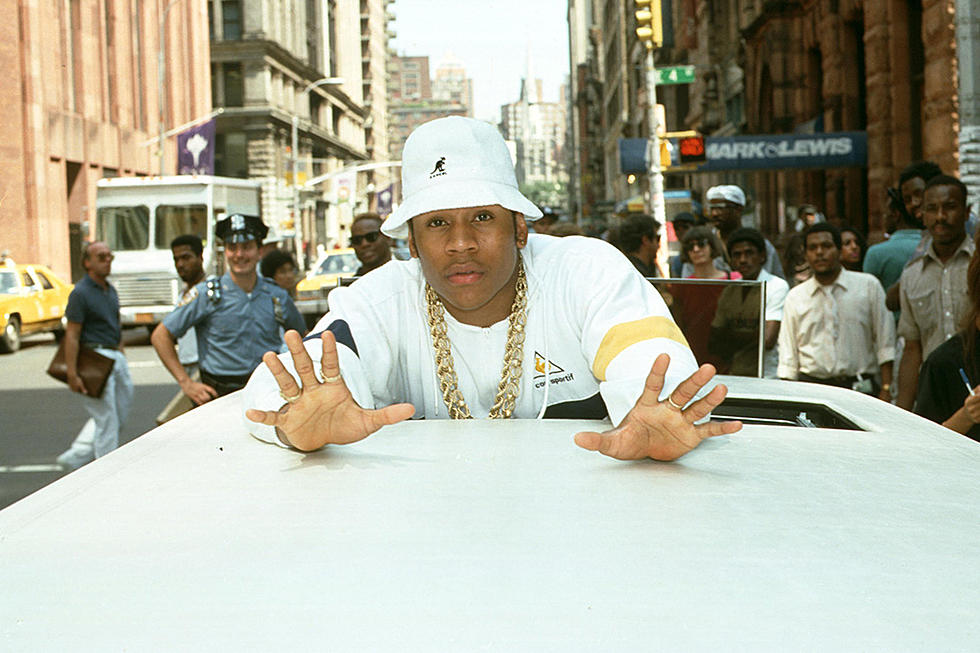 LL Cool J's '14 Shots to the Dome' Remains His Most Criminally Slept-On Album
Michael Ochs Archives/Getty Images
Emerging on the scene as a 15-year-old in 1985 with his debut album Radio, LL Cool J grew up before the rap world's eyes, delivering classic albums like 1987's Bigger and Deffer and hit singles like "Going Back to Cali," "I'm That Type of Guy," "Jingling Baby," and "Big Ole Butt" on his way to solidifying his status as a supreme rap soloist in the mainstream.
However, LL faced backlash from his wildly successful, yet critically-panned 1989 release, Walking with a Panther. A number of members from the hip-hop community lambasted the album for its lack of sociopolitical content, fixation on love ballads, and radio-friendly fare.
But the following year, the Hollis, Queens native returned with a vengeance with his fourth studio album, Mama Said Knock You Out. The project is widely considered to be rap's first true "comeback" album, and one that redeemed LL.
Songs like the scathing diss track "To da Break of Dawn," which took aim at rappers MC Hammer, Ice-T and Kool Moe Dee, as well as the smash singles "The Boomin' System," "Around the Way Girl" and the album's title-track would help push Mama Said Knock You Out past the double-platinum mark and make it a career-defining effort that also ushered LL into the '90s
In 1991, the year following Mama Said Knock You Out's release, acts from the west coast would begin to rival the east in terms of popularity, with Ice Cube, Cypress Hill, N.W.A., Ice-T, Compton's Most Wanted, DJ Quik and others releasing pivotal releases that would dominate the Billboard charts and outsell many of their coastal counterparts.
By this time, LL Cool J had become entrenched in Hollywood, scoring roles in the 1991 action comedy film, The Hard Way, and Toys, a 1992 fantasy comedy—a move that left the east coast without one of its major stars on the frontline of rap.
In 1993, hip-hop was in a state of transition and new beginnings, with the west coast having usurped the east in terms of popularity, leaving New York City in a state of flux and uncertainty. While acts like Wu-Tang Clan, A Tribe Called Quest, Black Moon and others would end the year off on a strong note with releases that would prove pivotal in the grand scope, for much of 1993, the five boroughs were in major need of a lack of star power and someone who could carry the city on their back.
One candidate that seemed fit for the job was LL Cool J, who would make his return to music that same year with 14 Shots to the Dome, the anticipated follow-up to Mama Said Knock You Out. The album would be one of the most polarizing of his career. While LL would not be the one to shift the momentum back east, 14 Shots to the Dome served as the bridge between two eras in his career, and should be given its proper appreciation and respect.
Having regained his mojo after working extensively with producer Marley Marl on Mama Said Knock You Out, LL chose to reunite with his fellow Queens native on 14 Shots to the Dome, with Marley producing a majority of the record alongside contributors QDIII and Bobby "Bobcat" Ervin. The result was a street-wise sound that translated into 14 Shots being Cool J's hardest album to date.
From the minute listeners are greeted with the 14 Shots to the Dome opener "How I'm Coming," it was clear that the album would be far from a string of rap ballads or crossover attempts. It was simply hard-hitting east coast hip-hop.
However, that's not to say that LL doesn't neglect his female fan base, with select cuts like the singles "Pink Cookies in a Plastic Bag Getting Crushed by Buildings" and "Back Seat (of My Jeep)," both of which peaked at No. 42 on the Billboard 200 and found him resorting back to his seductively charming devices.
Produced by Marley Marl and QDIII, respectively, both featured prominent samples, with Marley reworking the classic "Blind Alley" loop Big Daddy Kane made famous with "Ain't No Half Steppin'" on "Pink Cookies," and QDIII laying the template for Monica's 1995 single "Don't Take it Personal (Just One of Dem Days)" on "Back Seat.:
LL Cool J shied away from sharing the mic during the earlier part of his career, but he made a rare exception with the posse cut "[NFA] No Frontin' Allowed," on which LL hosts New Jersey spitters Lords of the Underground, who turn in a riveting guest spot that would serve as a precursor to future battle royals like "I Shot Ya (Remix)" and "4,3,2,1."
Often maligned for his lack of depth as an emcee, LL Cool J made a concerted effort in making strides in that area on 14 Shots to the Dome, as the Def Jam franchise player touches on societal ills on "All We Got Left Is the Beat" and the climatic closing cut "Crossroads," the latter of which is a departure from anything we'd heard from LL up to that point. It was an artistic risk that actually worked in his favor.
Released on March 30, 1993, 14 Shots to the Dome received mixed-reviews from critics and failed to produce a single in the Top 40. It was his first album since his debut to miss that mark, and stalled out at Gold certification, a commercial disappointment when compared with the triple-platinum status of Mama Said Knock You Out.
This has led the album to be one of the most overlooked and unsung of its era. It often is forgotten in the grand scope of the LL Cool J canon in regards to his career arc. However, when examining the album 25 years later, 14 Shots to the Dome is actually one of LL Cool J's more complete and lyrically impressive bodies of work from the first half of his career. While none of the singles on the album are considered essential or groundbreaking, the deep cuts on 14 Shots to the Dome gives the album a cohesive feel that many of his long-players lack, from cuts like ""Straight from Queens" to "Funkadelic Relic," which find Uncle L in pocket and at the top of his game.
While other releases from its era get more fanfare, and deservedly so, 14 Shots to the Dome should not be remembered as a failure or a setback, but a slept-on album that has aged quite gracefully. It still sounds fresh enough to warrant an occasional spin more than two decades after its release.
The 25 Greatest Rap Albums of 1991