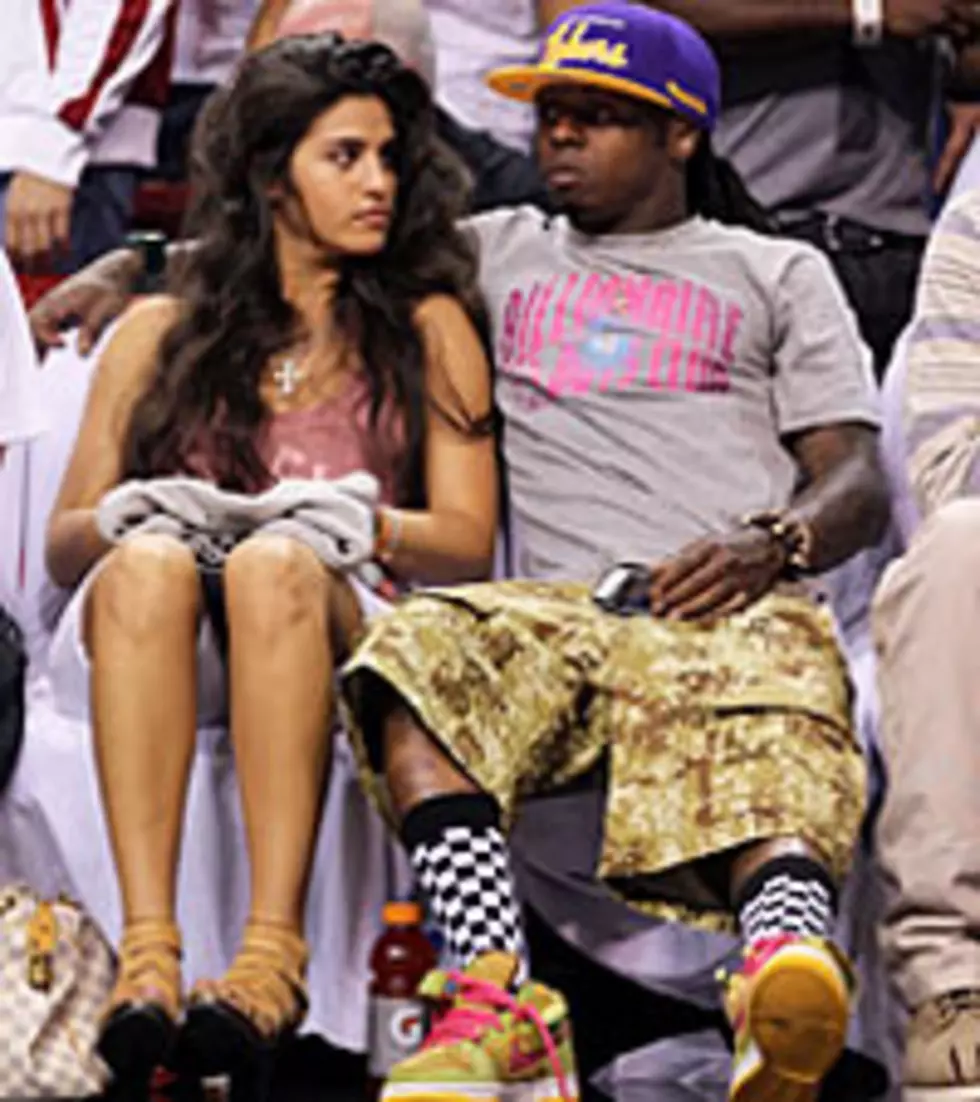 Lil Wayne Steps Out With New Love Interest in Miami
Mike Ehrmann/Getty Images
Lil Wayne has a new lady in his life. The Young Money frontman has been spotted out and about with a new love, and doesn't appear to be shy about showing affection towards her, as the two were snapped holding hands while walking on the beach in Miami. The twosome was also spotted sitting courtside at a recent basketball game.
After some serious investigating, Complex Magazine found out that Weezy's new girl's name is Dhea and she is from Scottsdale, Ariz. She also worked as a host at Suede Restaurant and Lounge. The magazine however was not able to find out how the two met.
The new relationship seems to be rubbing off on Wayne who tweeted his elation earlier this week. "Happiness is a necessity. I got what I need," he wrote.
Although he has yet to confirm or deny a relationship with his latest flame, Wayne has a reputation for having his way with a host of ladies. Aside from his now defunct relationship with Trina, the 28-year-old also has three sons -- two of which belong to actress Lauryn London and singer Nivea. He also shares a daughter, Reginae, with his ex-wife, Antonia "Toya" Carter.
Since getting out of prison last November things are going pretty well for Wayne on a professional level. Fresh off the success of his I Am Still Music tour the New Orleans native has decided to extend the trek through September.


Watch Lil Wayne's '6 Foot 7 Foot'
if(typeof AOLVP_cfg==='undefined')AOLVP_cfg=[];AOLVP_cfg.push({id:'AOLVP_865327477001','codever':0.1,'autoload':false,'autoplay':false,'displaymnads':true,'playerid':'89761511001','videoid':'865327477001','width':476,'height':357,'playertype':'inline','stillurl':'dynamic','videolink':'#','videotitle':'dynamic','videodesc':''});