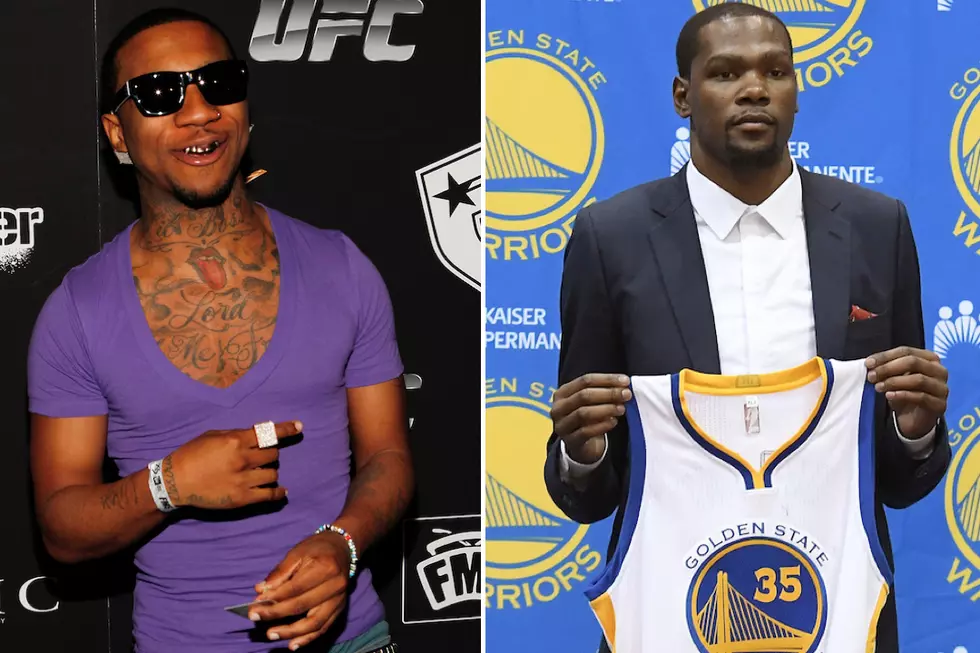 Lil B Pens Open Letter to Kevin Durant: 'Our One-on-One Game Still Has to Happen'
Isaac Brekken / Thearon W. Henderson, Getty Images
Although Lil B lifted the Based God Curse from Kevin Durant, who recently joined the Golden State Warriors franchise after nine seasons with the Oklahoma City Thunder, the Bay Area rhymer still has one pending issue with the NBA star—he still wants that one-on-one game.
The "Wonton Soup" rapper posted an open letter on ESPN's The Undefeated praising Durant for his decision on joining the Warriors team.
"The Based God always works in very different ways. Me being Lil B, I don't want to say it was super unexpected, but it was amazing," he writes. "The Based God understood. I know The Based God definitely knew and had it foreseen."
The 26-year-old rapper then explained why he lifted the curse off of Durant.
"The curse had to be removed for the simple fact that Kevin Durant has shown his humility by coming to the Warriors," he writes. "Me being Lil B, I really feel like The Based God did it because The Based God is humble and very empathetic. Just from what I've seen, Kevin Durant has shown that he wants change."
"The Based God said the curse is over, so the curse is officially over," he added. "As for a sorry, I don't need one. I think Kevin Durant has shown where his heart is. And his heart is in the Bay Area."
However, Lil B has one small issue with Durant that needs to be resolved before the start of the new NBA season in October.
"Our one-on-one game still has to happen. I think it's for the love of the sport," he states. "The world wants to see it — hundreds of thousands, millions of people. They want to know what would happen with this game. They're obviously interested."
The ball is now in your court Kevin Durant.
What do you think? Should Kevin Durant play a round of b-ball with the illustrious Based God? Tell us in the comments below.