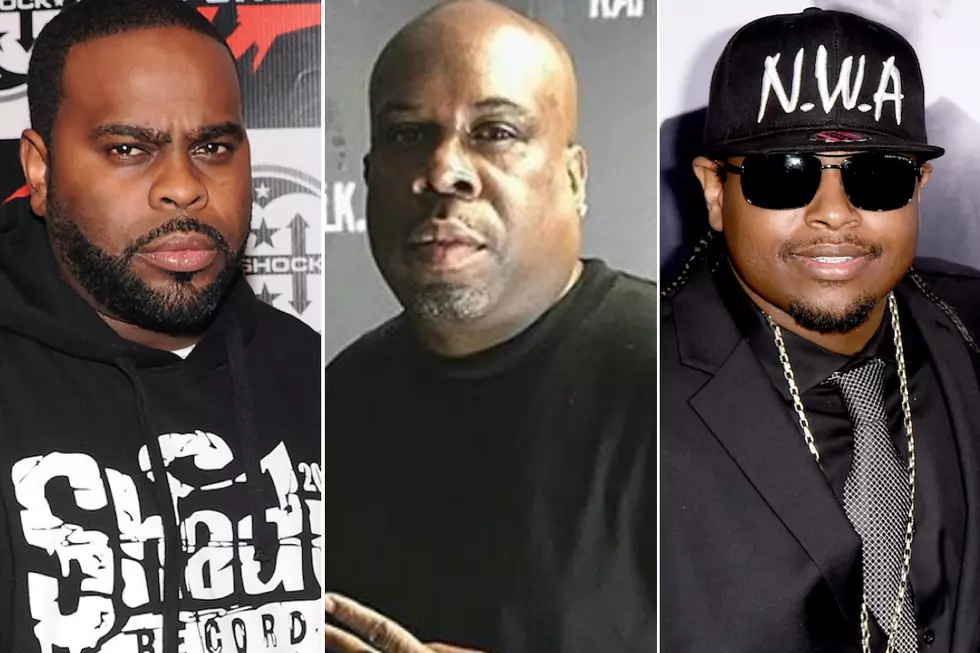 Kxng Crooked, King T, Eric Wright, Jr. and More React to Jerry Heller's Death
Jamie McCarthy, Getty Images / Instagram / Kevin Winter, Getty Images
Rap group JJ Fad tweeted, "R.I.P. Jerry Heller, U were always good 2 us! Thanks 4 looking out for 3 teenagers who just wanted to be rap stars!"
Slaughterhouse rapper Kxng Crooked also pay homage to Heller, writing, "Just heard Jerry Heller died.. I was just watching Straight Outta Compton too that's crazy man.. He's definitely cemented in Hip Hop History."
Finally, Eric Wright, Jr., the son of the late Eazy-E and Ruthless Records founder, issued a statement on Facebook. It partially reads:
"Eric "Lil Eazy E" Wright, Jr and the family of Eric 'Eazy E' Wright are deeply saddened over the homecoming of Mr. Jerry Heller. Jerry Heller gave the world Eazy E and N.W.A, and for that, we are forever grateful. Condolences to his family and all his friends."
Several artists released statements (via Billboard) on the death of Jerry Heller.
"I'm completely saddened and heartbroken by the news of Jerry's passing. He was not only my manager and mentor, he was my friend. I'm grateful that, just a few months ago I was able to let him know how much I appreciated what he did for us," said Michel'le, who was a rising R&B star on Ruthless Records.
Alonzo Williams, a member of the World Class Wreckin' Cru, and the person introduced Heller to Eazy-E told Billboard that Heller was a shrewd businessman to a fault. "In order to win a battle it takes brains and muscle. Jerry was the mental muscle of the N.W.A. musical movement. Shrewd to a fault. Rest in peace," he said.
Read the rest of the tributes below.
Artists We Lost in 2016