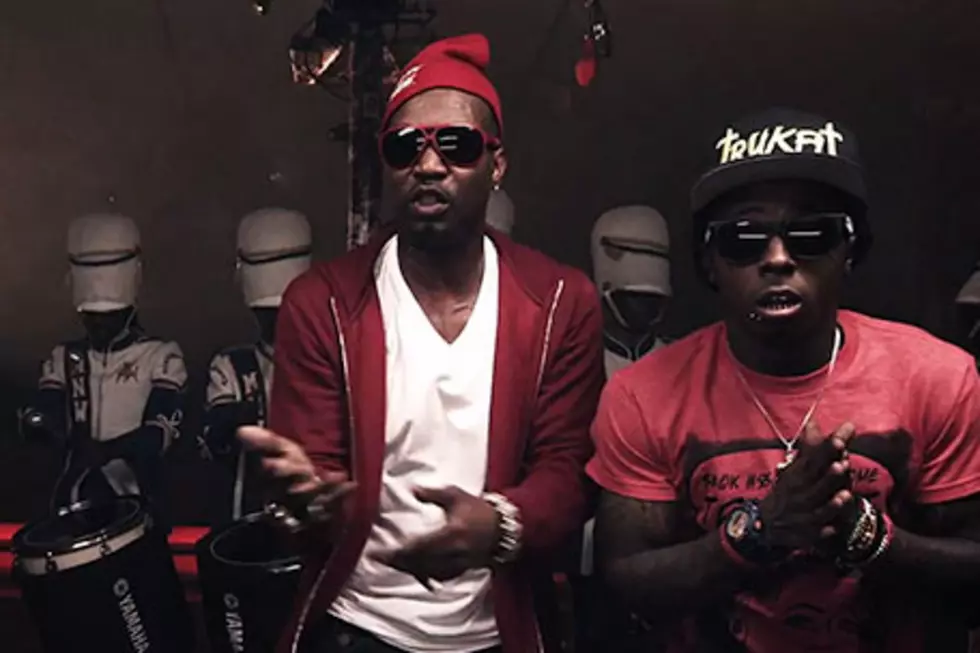 Juicy J 'Bandz a Make Her Dance' Video at Center of High School Marching Band Controversy
Vevo
Juicy J's latest video for the remix to his scintillating hit "Bandz a Make Her Dance" features some surprising guest stars, including Lil Wayne, 2 Chainz, and six members of the Miami Northwestern High School's marching band.
However, the band members had no idea that their performance would be integrated into a music video that mainly features and discusses strippers. The video was released Sunday (Sept. 23) and according to the Miami Herald, neither the participants nor school officials were properly informed about the video's explicit messages.
John Schuster, a spokesman for the Miami-Dade County Public Schools, said administrators were told the video would be "a drum line type video." Northwestern Principal Wallace Aristide expressed his concern that a major performer like Juicy J would deceive high school students about the nature of their performance.
"It's just outrageous to think you have an individual take advantage of a school and students for a video," Aristide said. "They're playing their instruments and thinking it's something innocent, wearing our uniforms, only later to find out they edited the video with racy content."
Although the majority of the video is shot in a dark warehouse with makeshift poles mounted to emulate the atmosphere of a strip club, the students' performance was filmed in front of a blue screen and later edited into the rest of the video. The song's lyrics thematically center around strippers and strip club culture, and one of the many scantily clad women who appears in the video is porn star Alexis Texas. She also sports a T-shirt promoting the pornographic site Brazzers.
The school board's attorney Walter Harvey is looking into the matter, but what is especially incriminating is the unauthorized use of the school's logo. Apparently when the band director Chad Norton was contacted by producers, the school did allow six members to go perform in a studio in Miami, but they didn't do much research.
School policy dictates that principals and regional directors give the final OK on off-campus performances, but as a broadcast film, this should have been submitted to the district for final approval. Either way, the community -- both local and through social media and other avenues -- are in an uproar. The marching band is well-known within the community and have performed for such prestige figures as President Obama.
Juicy J or members of the Creative Dream Production team were unavailable for comment and have not responded to inquiries.
Watch Juicy J's "Bandz a Make Her Dance" Video
See 10 Stars' Surprising Studies Before They Were Famous
%VIRTUAL-MultiGallery-164536|163137|161082%