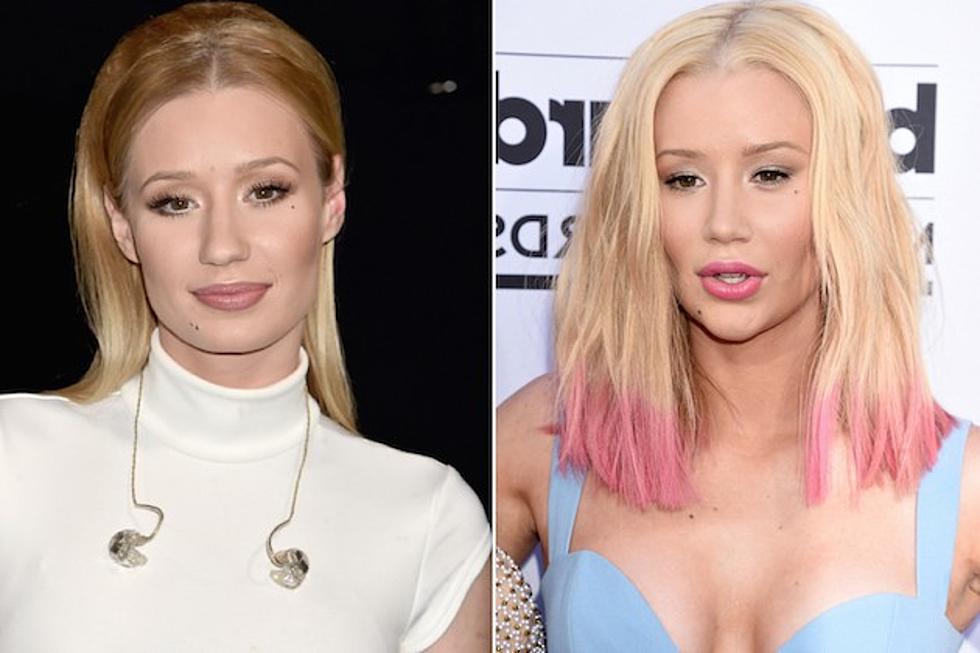 Did Iggy Azalea Get Surgery Done on Her Face? [PHOTO]
Jason Merritt, Getty Images
Although Iggy Azalea won honors like Top Rap Song for her hit "Fancy" at the 2015 Billboard Music Awards on Sunday night (May 17), the chatter on Twitter was centered on her face rather than her accolades.
The Aussie rhymer appeared at the BBMAs with a new look, showing off a much shorter hair length with pink highlights and a baby blue-colored crop top and matching mini skirt with nude paneling on the side, but fans noticed a difference in her face, which prompted the plastic surgery rumors to fly across social media.
The above image on the left shows Azalea earlier this year in January compared to how she stepped out to the Billboard Music Awards on the right.
Azalea is no stranger to plastic surgery rumors. Fans and critics have speculated that her derriere is enhanced, but the rhymer has never admitted to altering her backside. However, she has admitted to getting some work done in one area. In an interview with Vogue in the April Shape issue, the 24-year-old artist revealed that she got a boob job.
Fans on Twitter were very critical of the rapper and her presumed new face. One person tweeted, "whoever did iggy azalea's plastic surgery f---ed her s--- up," while another commented, "Iggy Azalea shouldn't have [gotten] plastic surgery, she looks ugly af now."
What do you think? Did Iggy Azalea get plastic surgery on her face? Tell us in the comments below.
See Your Favorite Rappers & Singers on the Red Carpet at 2015 Billboard Music Awards