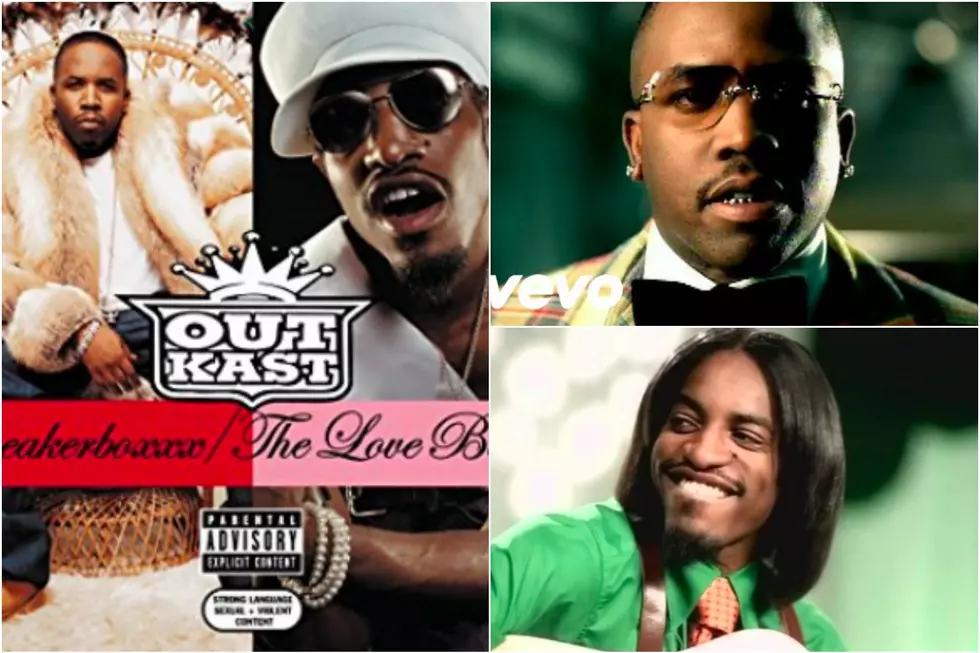 15 Years Ago: Outkast Blow Up With 'Speakerboxxx/The Love Below'
Arista Records
OutKast ushered in a new vision for southern hip-hop. While Geto Boys (and Scarface as a solo act), Eightball & MJG and southern bass from Atlanta and Miami had previously set a template for the sounds emerging from the South, OutKast was something different. And they took that something different even further with 2003's Speakerboxxx/The Love Below.
Yes, 1994's Southernplayalisticadillacmusik found the duo employing the same "playa" personas embraced by many southern rappers. But anchored by producer Organized Noize's futuristic sound that at times seemed to skate from the streets into outer space, Big Boi and Andre 3000 differentiated themselves from the start with a mix of youthful enthusiasm and wisdom beyond their years. And in Atlanta, where the hip-hop scene had previously been defined by street bass artists like Kilo Ali and Hitman Sammy Sam, they, along with fellow artists from the music collective the Dungeon Family, introduced an entirely new era that would set the blueprint for decades to come.
By the time their sophomore, career-defining record, ATLiens, came around in 1996, OutKast's musical path was even more distinctive. And when 1998's Aquemini dropped, it was pretty evident off the strength of their first three, arguably classic albums, OutKast wasn't just another great group, they were maybe the best the rap world had ever seen. 'Kast's next album, 2000's Stankonia, would push them to the mainstream success they hadn't seen before, propelled by the mega-hit singles "B.O.B.," "Ms. Jackson" and "So Fresh, So Clean" that leaned left of whatever radio was doing at the time.
For years, Big and Dre had been dogged by suggestions that they were leading completely separate lives, and the music would therefore suffer or stop. This was borne out by the fact that their next project was a double album. Speakerboxxx/The Love Below featured Big Boi on one side and Andre 3000 on the other.
Aqeumini had already proven that Big and Dre could be different but cohesive. They had a yin-yang dynamic that worked because even though Big was positioned as a southern playa rap star with street smarts and Dre as a weary, alien-like dreamer with visions of the future, they shared the same basic earthy perceptiveness, homegrown in Georgia's red clay dirt.
Five years later, however, Speakerboxx/The Love Below gave them the freedom to explore their individual creativity without completely relinquishing the OutKast banner that tied them together.
The album was their most commercial successful, selling more than 11 million copies and winning Album of the Year at the Grammys, the first time a hip-hop album had won the category since Lauryn Hill's Miseducation.
Elevated by two monster hits from both sides, Dre's "Hey Ya" and Big Boi's "The Way You Move" featuring Sleepy Brown, Speakerboxx/The Love Below is one of hip-hop's most successful releases of all-time — but also signaled the end of OutKast. Though they'd collaborate again for 2006's Idlewild film and soundtrack, as well as on various one-off singles, "Royal Flush" and "Da Art of Storytellin' 4," it was their last official album as a duo.
Big and Dre had separate ideas for the project that were fully realized on their halves of the album. In fact, they only collaborated on one song, "Roses," which shows up on Dre's half and was released as a single because it was the only track that featured them both (Big does, however, make a cameo in Dre's "Hey Ya" video).
"I had a complete vision of what an album could be that was entirely me, and the idea was just to keep it funky, keep it jamming, it's always bass-heavy," Big Boi told XXL in 2014. "And lyricism, it's all about lyrics, taking pride in your pen and your pad."
Big Boi's concept was carried out throughout the project, from the hugely successful second single, the dance-driven "I Like the Way You Move" to bass-heavy tracks like the Mr. DJ-produced "War," which called to mind early OutKast production with its Funkadelic-inspired hook. The mellow, grinding Big Boi-produced "Reset," featuring cohorts Goodie Mob's Big Gipp and CeeLo, is another standout that brings to mind the best of what the Dungeon Family had to offer as a collective. Thoughtful and lyrical with homegrown street wisdom, the album features Big Boi at his finest, incorporating the world-weariness of old-school soul acts like Curtis Mayfield while honing in on his classic funk inclinations, as well as New Orleans bounce on tracks like "Bowtie."
"I'm seein' just how they lyin' to the general population / Don't be patient, get up and stand up for your life / Don't you agree or understand we lost some rights at 1-1-9? / Come dumb, come young, come blind unwind confined / To the situation, we facin', cause in time, tick tick boom," he raps on "War," which directly calls to mind Aquemini-era OutKast.
As for Dre, he's previously said he was getting bored, and was looking for ways to stretch himself creatively.
"When we first came out we looked totally normal, but after our second album (1996's ATLiens), I just got bored. I bought this turban and started to wear it," he explained to The Guardian in 2003. "Thought it looked cool. I started buying one-of-a-kind things from thrift stores. ... I had girls who were making things for me, these outfits I drew. I don't think the hip-hop community had ever seen anything like it before. They didn't understand what the fuck was going on. The record company would say to Big Boi, 'Hey, talk to him.' He'd tell me the shit they were saying, but at the same time, it was new to him. He'd come along to photoshoots and I'd show up with all this - this shit and he'd be standing there like, 'What the fuck am I supposed to do?'"
It took seven years after ATLiens was released for Dre to fall completely into his own brand of creative freedom. The result was a sprawling, at times almost overly ambitious effort that nevertheless both embodied and rejected everything that hip-hop could be. Infused with pop, funk, jazz and hip-hop, The Love Below was a concept album about Dre searching the defining element that makes all human—love.
"I think about that a lot, but I don't know if I'm chasing the right thing, y'know?" Dre told The Guardian. "I don't know if God intended you to be with one person and just cut yourself off for the rest of your life. In hip-hop, people don't talk about their vulnerable or sensitive side a lot because they're trying to keep it real or be tough - they think it makes them look weak. That's what the Love Below means, that bubbling-under feeling that people don't like to talk about, that dudes try to cover up with machismo."
From "Happy Valentine's Day" to "Spread," "She Lives in My Lap" and "Prototype," the album is full of songs and concepts that remain influential topics in hip-hop-- it was vulnerable, outside the box, and entirely relatable in all of its alien mysticism. Dre only rapped when he felt like it, and in some ways, it defies the convenient "hip-hop" label it's been given. Then again, maybe it's exactly hip-hop-- encompassing all the elements that make the genre bold and brash, and wholly original.
And just as you can directly draw a line from The Love Below to early Prince records, you can take that same pen and make the link from The Love Below to Kendrick Lamar's more ambitious releases, like 2015's To Pimp a Butterfly, Drake's vulnerability on his records and Kanye West's 808's & Heartbreak, which arrived five years later.
Speakerboxxx/The Love Below remains a proper stamp on OutKast's legacy. Nt just because of its popularity, but because it clearly showcased Big Boi and Dre's individual talents, shining a clear spotlight on the elements that made them two of the best to ever do it.