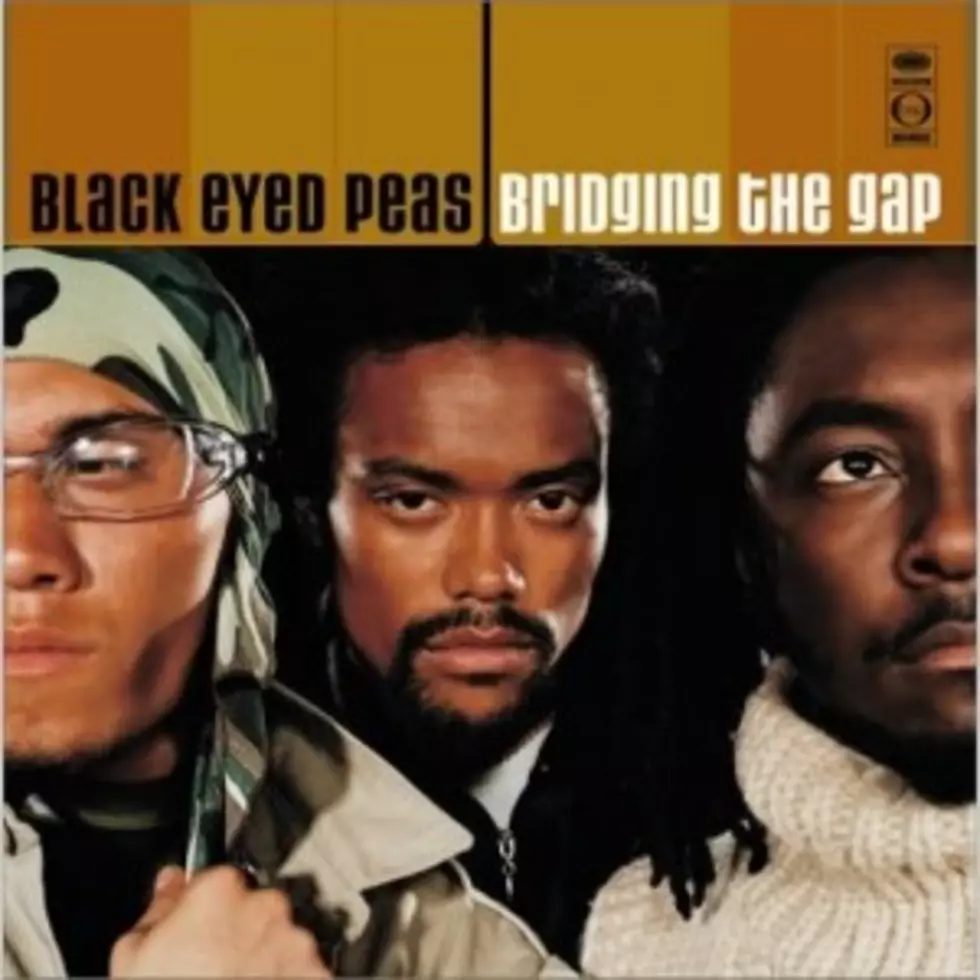 Five Best Songs from the Black Eyed Peas' 'Bridging the Gap' Album
Interscope
Rap groups may be a rarity nowadays, but out of the few acts that continue to carry on that tradition, The Black Eyed Peas are arguably the most successful over the better part of the last decade. Currently comprised of will.i.am, apl. de. ap, Taboo and Fergie, the group has released some of the biggest crossover hits in recent memory but have faced their share of adversity along of the way.
Pandering to the pop crowd has always been considered a no-no in the eyes of rap fans, which the Peas have been accused of, but if you take a close glimpse at their catalog, they have a bevy of songs geared towards the hip-hop traditionalist.
Originally known as Atban Klan, the group would sign to Ruthless Records during the early '90s, but their tenure on the label would halt due to Eazy E's death in March 1995. The untimely passing of the Ruthless Records founder left them in limbo and subsequently their debut album, Grass Roots, was shelved indefinitely. Reshuffling the lineup, will.i.am would rechristen the group as the Black Eyed Pods before finally settling on a better name the Black Eyed Peas.
Chart-topping hits may come to mind when thinking of their music, but the pre-Fergie-era Black Eyed Peas were actually akin to a west coast version of the Roots. Such is the case with the group's 1998 debut album, Behind the Front, which featured the group performing with a live band and backup singers.
The collection would be lauded by critics and spawn the sleeper hit, "Joints & Jam," but was an afterthought in comparison to the endless stream of blockbuster releases at the time. Going back to the drawing board, the group concocted their sophomore album, Bridging the Gap in 2000. Plaques and fanfare from the masses may have alluded the Black Eyed Peas yet again, but the project did feature the group's first appearance on the Billboard Hot 100 Songs chart for their Macy Gray-assisted single, "Request + Line."
Fifteen years later, we give B.E.P.'s Bridging the Gap a spin to see what songs on the album have stood the test of time.
5

"People get prepared cause we dropping in / Motivating everybody when we rocking it / But for the envious fake, vacate the premises / Cause they acting all jealous and sensitive" spits will.i.am on the opening bars of "Lil' Lil'," a song on Bridging the Gap that takes listeners on a musical journey that's both delightful and lyrically air-tight. Produced by will.i.am, the beat contains everything from standard drum and snare patterns to a bass and guitar, all of which collide together causing for a dreamy soundbed. Guest vocalist Kim Hill shine brightly as well on the hook, giving the track a subtle wrinkle that takes it to the next level.

4

The Black Eyed Peas get futuristic on the banger "Go Go." On the song, the trio kick crazy flows over stellar production courtesy of will.i.am. Batting lead-off on the track, will.i.am. utilizes a stop-and-go flow on this outing, spitting, "Alright, we about to set it off now / You know the Black Eye Peas be coming with power / Before vibes we about to help you let it all out / rhythm, keep you bouncing about." Treating the beat like a three-man relay with Apl De Ap and Taboo, the group urges party people to "Have a good time / Let's keep it pumping / Go Go, get funky." The California rapsters serve up yet another banger with plenty of replay value.

3

"Request + Line"

Featuring Macy Gray

"Joints and Jams," the most visible song released from Behind The Front, may have been a sleeper hit among die-hard fans, but it failed to penetrate the mainstream and left without much of a peep. The same can't be said for "Request + Line," which would be many casual rap fans introduction to the group and would become their first taste of commercial success on a pop level. Featuring Macy Gray, the track is a bouncy feel-good song aimed at music lovers worldwide. "Request + Line" would be the group's first entry onto the Billboard's Hot 100 Songs chart, peaking at No. 63.

2

"On My Own"

Featuring Les Nubians and Mos Def

"On My Own" is a soulful tune that sees B.E.P. linking up with a few collaborators to get their point across. Group member Apl.de.ap kicks off the festivities, rapping "We gonna build this bridge on our own / Original creation and let it be known / No duplication, that I can't condone / Constant elevation til' I'm fully blown" before handing the rhyming duties to will.i.am, who decides to get introspective on his verse. "I'm all by myself, no one can help me out / Plus, I'm the only one that knows what it's about," he raps. Yasiin Bey (formerly Mos Def) pops up for a show-stealing appearance and drops a dose of knowledge on the listeners. "I know self, own self and control self / Avoid and destroy whatever that did to po self / When brothers right, Muslim write and compose self / Stay on the grind to protect, feed and cloth self," he raps. African singing duo Les Nubians lend their refreshing vocals to the track, which serves as one of the premier tracks on the album.

1

"Weekend"

Featuring Esthero

The Black Eyed Peas give the people something to party to on the upbeat jam "Weekends." Pop singer Esthero proves to be a worthy co-star and contributes breezy vocals on the hook, singing "Jumping music, swift DJ / Smoke machines and laser-rays / Look out weekend cause here I come / Because weekends are work." Will.i.am and company hold up their end of the bargain with each member delivering in solid verses over the jittery production. Lyrics like, "Walked up in the club at like 10 o'clock / And the spot is hot, blowing up rooftops / Thursday night and the night is young / Four-day weekend, time to have some fun," paint the scene of a weekend night perfectly.

BONUS

20 Rappers & Singers Who Disappeared From the Spotlight

[gallery galleryid="625:147905" showthumbs="yes" inititem="11" enablefullscreen="yes"]