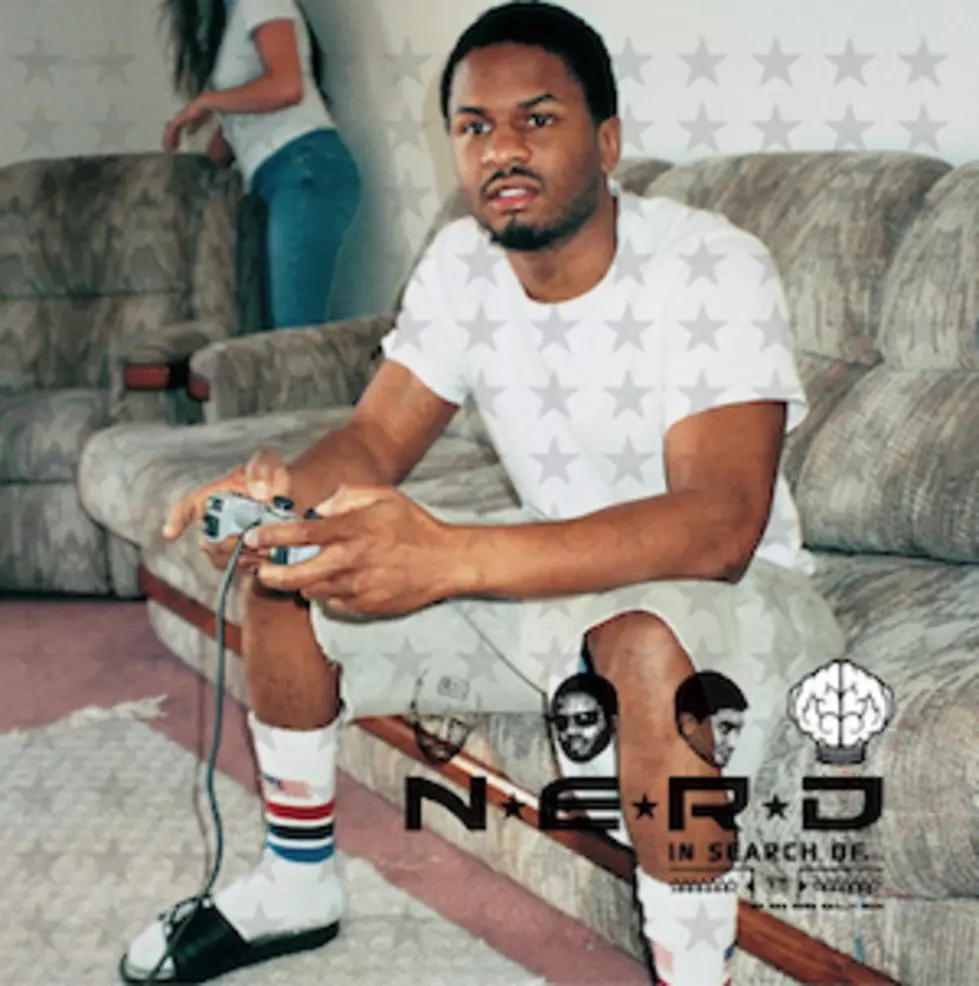 Five Best Songs from N.E.R.D.'s Debut Album 'In Search of…'
Virgin
By 2001, the production team of Pharrell Williams and Chad Hugo, otherwise known as The Neptunes, established themselves as go-to producers in the pop, R&B and hip-hop worlds. Having crafted chart-topping hits for Jay Z, Justin Timberlake, Snoop Dogg, Mystikal, Kelis, Britney Spears, the dynamic duo were eager to show fans another side of their musical repertoire.
On Aug. 6, 2001, the Neptunes' released their first project under the guise of N.E.R.D. (a backronym for No One Ever Really Dies) with their debut album, In Search Of..., via Virgin Records. The title itself was inspired by Pharrell's fascination with space travel and his love for the cult '70s television series of the same name, hosted by the late actor and theorist Leonard Nimoy.
The 13-song collection also introduced listeners to an unknown member of the Neptunes crew named Shad Haley who is featured prominently on the cover playing video games on his couch. Sonically, N.E.R.D. pushed the envelope with soaring rock guitars, crashing drums, soft pianos, and other instruments that would be embraced by both rap and rock fans alike.
Essentially, the album showed that Pharrell, Chad and Shad had range as sonic creators. They weren't just hip-hop producers, the trio had no musical boundaries when it came to their production.
N.E.R.D.'s In Search Of... boasts a sprawling mix of rap, rock, funk and soft rock with a great deal of no f---s to give attitude when it came to their lyrics.
On the album's 15th anniversary, we take a look back at N.E.R.D.'s audacious debut and we selected the five best tracks from the project. Peep our list below.
5

"Things Are Getting Better"

N.E.R.D. gets funky on "Things Are Getting Better," a head-nodding jam with live drums and melodic guitars and groovy synths. On the track, Pharrell is talking s--- and feeling good but also spits a cautionary warning. "Don't look at me like 'What is up?'" he raps. "Said I was a N.E.R.D. but I ain't a punk / If you talk s--- be prepared to thump / Plus Terrar's 4/4 is prepared to dump." Skateboard P's swagger on here is off the chain.

4

On "Provider," N.E.R.D. presents an angst-filled folky track about a drug dealer trying to provide for his girlfriend. Over melodic guitars and drums (played by blink-182's Travis Barker), Pharrell details the story of a desperate man's attempt to transport cocaine by truck without being stop by the police. Knowing the dangers it brings, P sings of the man's plight. "So I'm driving this truck down 95 / I pray to God I make it home alive / I don't get pulled over by the man / I just want to make it home to hold your hand," he sings.

3

"Bobby James" is another angst-filled ballad about a 17-year-old teen druggie who spirals out of control into his addiction. Pharrell's sullen lyrics is big contrast to the music soothing production of orchestral strings and a plodding drum beat. "Hey there mister give me some cash / I'm high as hell and I'm ready to blast / I'm just one hit away from being passed out / Young and assed out," P sings on the chorus. Stick around for the ending as the song takes a different sonic turn with swirling synths, a soothing saxophone and a sing-along refrain.

2

"Lap Dance" (Feat. Lee Harvey and Vita)

One of N.E.R.D's most known songs, "Lap Dance" is not a strip club anthem but rather a raucous banger where a rebellious Skateboard P takes aim at dishonest politicians who he compares to strippers. "It's so real how I feel / Cause this society, that makes a n---- wanna kill / I'm just straight ill, ridin' my motorcycle down the streets / While politicians is soundin' like strippers to me," he raps.

1

Arguably, "Rock Star" is the group's unabashed anthem against the system. Over electric guitars, stabbing synths and crashing drums, Pharrell is a loose cannon as he spits threatening rhymes at his distractors. "You can't be me / I'm a rockstar / I'm rhyming on the top of a cop car / I'm a rebel and my .44 pops far," he raps. On this track, P and the crew show that nerds can be rock stars and can kick some ass too.

BONUS

The 50 Greatest Alternative Hip-Hop Albums of All-Time

[gallery galleryid="625:208995" galleryindex="0" ids="209039,209284,209040,209091,209028,209187,209026,209020,209017,209013,209011,208999,209031,209103,209010,209037,209012,209099,209005,209024,209083,209036,209186,209047,209025,209041,209043,209045,209035,209021,209075,209014,209033,209042,209006,209004,209019,209009,209018,209003,209016,209046,209032,209015,209002,209044,209034,208997,209001,209029" enablefullscreen="yes" showthumbs="no" inititem="26"]