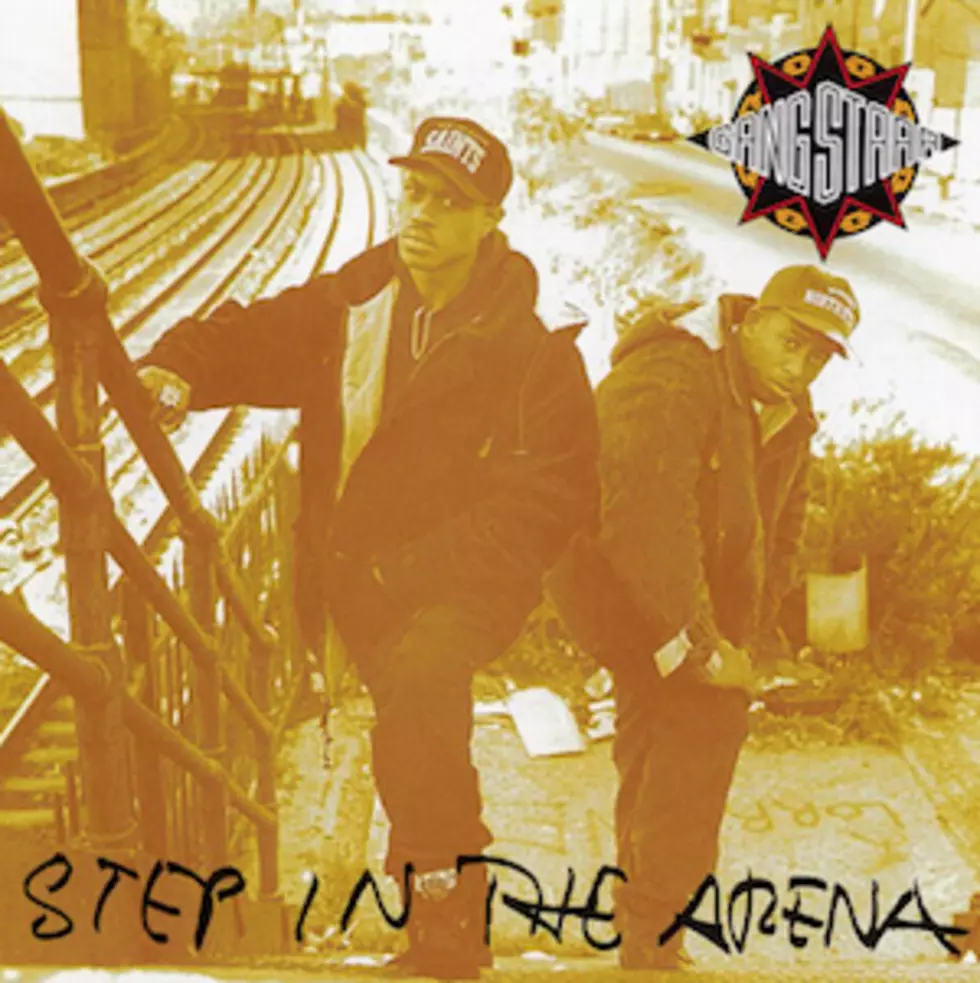 Five Best Songs from Gang Starr's 'Step in the Arena' Album
Chrysalis Records
Rap duos have played an integral part in hip-hop history. Some of the most prominent groups that have placed their stamp on the culture include DJ Jazzy Jeff and the Fresh Prince, Mobb Deep and OutKast, among many others. But there are a few rap tandems that have the resume and respect like Gang Starr. 
Founded in Boston, Mass., during the mid-80s, Gang Starr was originally comprised of Guru, DJ 1 and 2 B-Down. But Houston, Texas native DJ Premier would enter the fold after DJ 1 and 2 B-Down split from the group in 1989.
The reincarnated version of Gang Starr would quickly get to work, releasing the single, "Words I Manifest," which caught on with listeners due to Guru's steely lyricism and DJ Premier's production prowess. Their debut album, No More Mr. Nice Guy, followed shortly after, which yielded another hit with "Positivity," giving Gang Starr a solid buzz. But while their debut was a strong one, their sophomore set would be the one to truly lay the foundation for their career.
Step in the Arena arrived on Jan. 15, 1991 and made a strong impression on rap fanatics. Produced exclusively by DJ Premier with input from the late Guru, the collection would fail to be a mainstream success but its importance to hip-hop goes well beyond any sales figures or metrics you could think of.
Loaded with quality from beginning to end, Step in the Arena helped steer the direction of where east coast rap was headed in a big way with a heavy dosage of beats, rhymes and life. Regarded as an undisputed classic, this masterpiece still retains its freshness 25 years later.
For the 25th anniversary, we take a look back and pick the five best songs from Step in the Arena that help place it in a class of its own.
5

"Form of Intellect"

Gang Starr

The funky "Form of Intellect" is centered around the importance of knowledge and being an intellectual. Featuring a sample of KRS-One's line, "Intelligent but not yet equivalent" (from "Dope Beat"), Guru commences his lyrical dissertation. "Like a supervisor he who is wiser than the others / Cause they need someone to advise them to discover / Things that they don't know so the papers I will check / Then they'll start to grow to this form of intellect," he raps. Overall, the late rapper breaks down the importance of thinking for oneself over dope breaks provided by DJ Premier.

4

"Who's Gonna Take the Weight"

Gang Starr

"I was raised like a Muslim...prayin' to the East / Nature of my life relates rhymes I release," spits Guru on the jazzy track, "Who's Gonna Take The Weight. Produced by DJ Premier, the song features a sample of Maceo & the Macks 1973 tune "Parrty," along with distorted noise in the vein of a Bomb Squad production. On the song, Guru drops extensive quotables in between Premo's scratched-in hooks. Gang Starr may not be the torchbearers for the new generation as they were to rap fanatics of past, but DJ Premier remixing "Who's Gonna Take The Weight" for use in the popular video game Grand Theft Auto IV has made it a timeless song. Hopefully, it will encourage millennials worldwide to search out and discover the brilliance of this dynamic duo.

3

"Execution of a Chump"

Gang Starr

One of Step in the Arena's finest moments comes courtesy of "Execution of a Chump," which sees Guru flexing his knack for storytelling and analytical musings. Rapping "I knew this chump see, he tried to play me / He was my right hand man, but he betrayed me," the late rhymer begins to spill about conniving fair-weather friends and his disdain for opportunists. Elsewhere, Guru details his own run in with a chump while lamenting the lack of honor in these days and times. "Stepped to him quietly, he copped a plea / Told him to fix it or I'd have to catch a body / In this society, there's many snakes / Don't be too eager when you're seeking a break," he raps. "Execution of a Chump" features one of the more refined arrangements on the album with its dusty drums and infectious piano keys occupying prime real estate within your memory bank from the second you hear the song in full.

2

"Step in the Arena"

Gang Starr

Guru and DJ Premier come correct with the title track that also doubles as one of the first hits to establish them as underground stalwarts. Following a exhibition of turntablist wizardry by Premo, Guru wastes no time tearing into the track, spitting "Once you step in the arena, cheater / You're gonna be amazed when you gaze at the armor on this leader / Fully clad and glad to fight a cause, I won't pause / Fear is a joke, slowpoke, I'm like claws." Premo holds court on the hooks, while Guru turns in one of his more impressive lyrical performances, making for a enticing and engaging rap tune. The final single released from the album, the song peaked at No. 5 on the Billboard Rap Songs chart and one of the many standouts on the collection.

1

"Just to Get a Rep"

Gang Starr

"Stick up kids is out to tax!" Those words, which were originally spoken by Nice of Nice & Smooth, are one of the main draws of the brilliant song, "Just To Get A Rep." On the track, Guru warns listeners to respect the shooter, spitting "Brothers are amused by others brother's reps / But the thing they know best is where the gun is kept." Elsewhere, Guru kicks a cautionary tale of a stick-up kid that gets marked for death. "At the sight of a four-fifth, I guess you just might / Wanna do a dance or two / Cause they could maybe bust you for self or with a crew / No matter if you or your brother's a star / He could pop you and jet without a getaway car," he raps. are spat matter-of-factly and comes across as sage wisdom from a street veteran. The stick-up kid's heartless deeds eventually come back to haunt him in the worst way by the song's end, but it was Guru's sagely wisdom and message that resonated deeply with rap fans back when it was released. Arguably, "Just to Get a Rap" is one of the most popular songs in the Gang Starr discography and a major standout on their stellar album.

BONUS

20 Best Hip-Hop Albums of 2015

[gallery ids="199164,198986,198980,198976,198985,198977,198989,198992,198988,198978,198987,199121,198994,199069,199108,198997,199070,199082,199086,199093,199096" galleryid="625:198975" galleryindex="0" enablefullscreen="yes" showthumbs="no"]