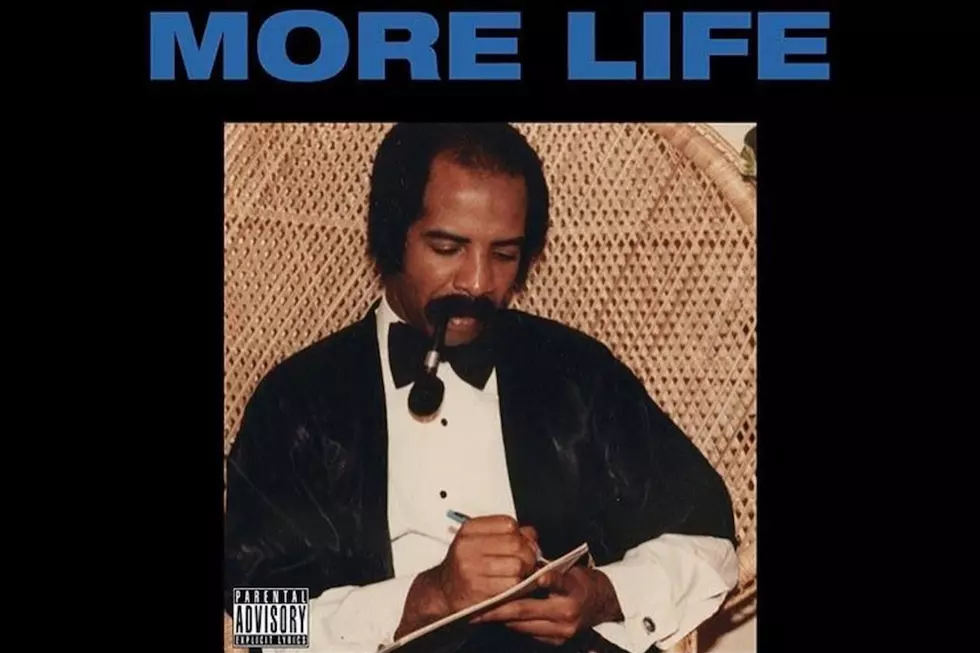 Drake's 'More Life' Is Broad and Big–But Is It Just More of the Same?
Young Money Entertainment / Cash Money Records
After months of buildup and conspiracy theories, Drake premiered his highly-anticipated More Life "playlist" this Saturday (March 18). The ambitious 30 track don't-call-it-an-album-but-its-also-not-a-mixtape was named after the Vybz Kartel dancehall song and features Drake going for a broader sound than on 2016s Views. But it's not any kind of bold leap forward, despite the rapper's undeniably grand approach.
"The style in which it's being put together is based on the concept of OVO Sound Radio. It's almost like a radio show," he said during a March 4 interview with DJ Semtex. "I basically asked myself, 'What if I did it like OVO Sound Radio, but every song was a new Drake song?' It's more like an evolution of a mixtape. After Views, I was inspired and I wanted to keep the music going and get people inspired." On March 11, a Drake post on Instagram confirmed that More Life was dropping over the coming weekend.
Views was the most-streamed album of 2016, but commercial success is pretty routine for Drake. But beyond the hits, one gets the sense that the OVO founder wants desperately to be seen as an "important" artist, and a 22-song release is the kind of sprawling "statement" album that suggests a major bid for further acclaim. Even after the hits, Drake still faces the critics.
A common criticism levied at Drake is that he has never delivered a truly classic album. That may not be a damning offense in the digital age, but his is true; he has not dropped the sort of seminal, era-defining long player that warrants canonization alongside the greatest albums in hip-hop (or even general pop music) history. But he's also never released anything truly embarrassing; he's remained a solid craftsman, even when he hasn't been all that creative. Drake's discography vacillates between the rote and the inspired. For the highlights, there's the assured singularity of Take Care and Nothing Ever Was the Same; for the relatively pedestrian there's Thank Me Later and Views. You can praise Drizzy's consistency, but consistently releasing B- level work isn't all that praise-worthy; imagine Jay Z's discography if you removed Reasonable Doubt, The Blueprint and The Black Album. That would still be a fairly consistent album run, but would it be a remarkable one?
Views was an extremely polarizing release. For all of it's commercial success—and it was one of the biggest albums of 2016—the general public outside of Drake's hardcore base was underwhelmed. The album suffered from what has hamstrung Drake off-and-on throughout his career:  that desire to be all things to all listeners. His lesser albums all have the earmarks of phoned-in crowd-pleasing; and Views might have been the most egregious. On More Life, he sounds more in command than he has since Nothing Ever Was the Same; even if its not exactly groundbreaking work.
Opening with Nai Palm musing "Is it the strength of your feelings overthrowing your pain," the Boi 1Da helmed opener "Free Smoke" starts things off with the kind of navel-gazing that sunk Views: "Tryin' to figure out the whole thing/I saw people doin' things/Almost gave up on the music thing/But we all so spoiled now/More life, more everything/Must have never had your phone tapped." Drake brings U.K. spitter Griggs onboard for "No Long Talk." With this guest spot and a showcase for Skepta later on More Life, it appears that Drizzy's latest stylistic infatuation is with grime. "Passionfruit" is the first real highlight on the project, however. "Listen, hard at buildin' trust from a distance," he sings. "I think we should rule out commitment for now. 'Cause we're fallin' apart." Produced by Rogues, its not exactly new territory for Drake, but he always sounds most confident playing to his strengths—and that holds true throughout More Life.
Black Coffee and Jorja Smith add to the pulsating club vibes of "Get It Together." The song alludes to Drake's fling with Jennifer Lopez, who was supposed to feature on the hook (it interpolates her 1998 hit "If You Had My Love") and references drunk-texting the superstar. Faux-Caribbean Drake shows up to bounce over the muted guitar of "Madiba Riddim." With chants of "Gonna teach me how to love you again," it's a winning track, but its an example of Drizzy's mockable tendency towards dancehall genre exercises. His penchant for dabbling in various scenes—which now also includes U.K. grime—mostly draws scoffs and for good reason. But he nonetheless ups the island ante on Blem: "I'm blem fah real, I might just say how I feel." It sounds like a hybrid of megahits "Work" and "Hotline Bling." "Don't switch on me, I got big plans. We can go to the island and get you gold, no spray tan," complete with a random Lionel Richie nod and typical Drake rhetorical questions like "How come we can never smash and stay friends."
A Lil Wayne cameo opens the Sampha-assisted "4422," one of the best songs here. The singer's haunting vocal over gilded beat, as he coos "You say you'll change but you never change." With production that wouldn't sound out of place on an early 90s Jodeci album, the singer croons "You build it up to break it..."
After "Gyalchester" (run-of-the-mill Drake trap), and the "Skepta Interlude," there's "Portland." Woodwinds are obviously the hot shit in 2017. After Future's flauterific "Mask Off," Drake features this pan flute-driven winner. The track also boasts a standout Quavo appearances: "I got the key to the streets. You got the key to defeat." "Never let a nigga ride ya wave." Travis Scott chimes in with "No I did not sign with Jay" and "Me and Drake kick like Kid N Play."
Over the melancholy piano lines of "Sacrifices," ATL superstars 2 Chainz and Young Thug drop by for an assist as Drake works in another J. Lo reference "I ain't know it was a date" and explains that he "he wrote this shit on Jan. 21." 2 Chainz's stream-of-consciousness flow works well, as he claims that he's "Moved on from the election" while also complaining that "Yeah, I love my fans but I don't want to take pictures in the restroom." Unusually intelligible Thugger verse. "Talking wet like Dasani" with his squealy melodic flow and warning: "Don't try to take it, I got guns."
"Same nigga speaking always duckin' my release date" he raps on "Can't Have Everything," another highlight. With its rat-a-tat bounce and featuring Drake at his cockiest, it's one of his more paranoid moments that works well because he never oversells the confrontation. "All that Drake hysteria. Six side, east side—all that for my area."
Drake's Mom features on an interlude, quoting Michelle Obama and voicing concern about the "negative tone in your voice these days" as she acknowledges that "that attitude will just hold you back in life" and her son will "continue to feel alienated" if he doesn't change his outlook. "You can reach your desired destination and accomplish your goals much more quickly without this confrontation that I'm hearing in your tone these days." It's supposed to reflect Drake's focus but comes across as too obvious an attempt to announce Drake's take no prisoners attitude. The music should say this without needing a pronouncement this literal.
Like "4422," "Glow" has the ever-popular 90s nostalgia feel; with the synths of a quiet storm jam from 1991. But that Sampha-led track is plaintive while here, things are infinitely more upbeat--with Kanye sounding the most ballerific he's sounded since the Graduation-era Ye: "They used to laugh when my whip was on the tow truck, til me and being broke finally broke up." The live Earth Wind and Fire "Devotion" outro highlights the musical connection between the songs in a way that feels a bit too on-the-nose.
Many of the best moments here feature Drake dropping the phony patois and my-fame-is-my-pain navel gazing. But even when he avoids both, his heart remains fixed on his sleeve. Asking "Did I lose you, did I?," the classic Drake-ism returns on "Lose You." Produced by Boi-1da, the Snoh Aalegra-sampling "Do Not Disturb" is another moment of introspection, closing More Life with what Drake has always done better than almost anyone. But it highlights what's frustrating about the release.
 More Life sits somewhere between Drake doing what he does best and Drake trying to polish some of the tricks he indulged in on Views. It does feel much more assured than that project, but the fact that he doesn't really push himself more has always been regrettable for an artist of his caliber and talent. Nonetheless, it's one of Drake's most rewarding releases and the best he's dropped in two years. Whether or not it's enough to silence his critics, it once again proves he's one of music's most consistent superstars.
At this point, that's about as good as we can expect.
Rolling Stone's 20 Coolest Hip-Hop Covers