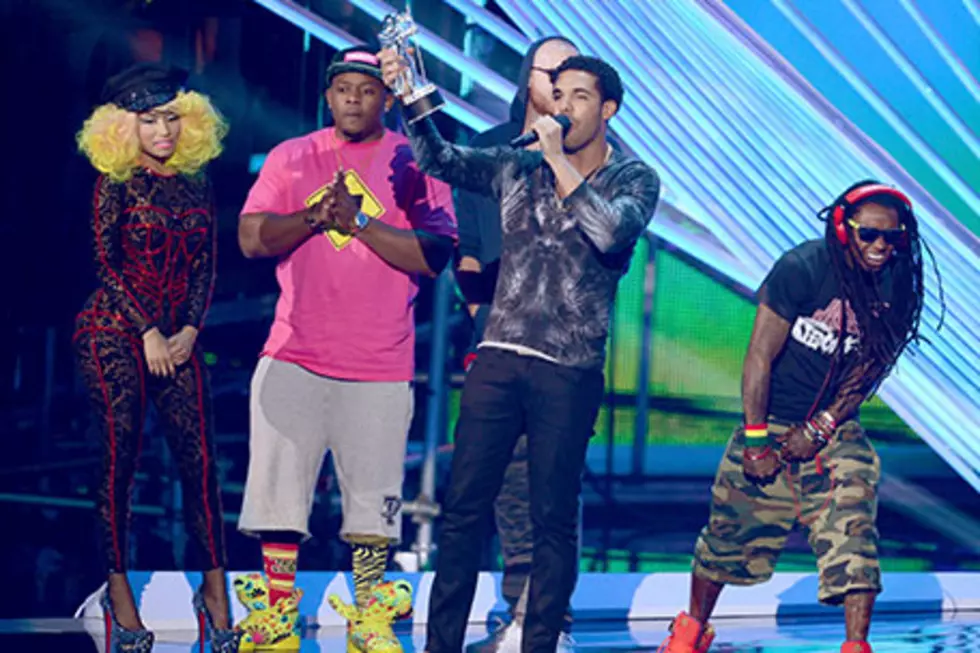 Drake, Best Hip-Hop Video: Rapper Gives Heartwarming Speech at 2012 MTV VMAs
Kevin Winter, Getty
Drake was awarded the 2021 MTV Video Music Award for Best Hip-Hop Video at Thursday night (Sept. 6) for his "HYFR" video, which featured Lil Wayne and a crew of his friends. The Canadian rapper took the stage to accept the award accompanied by a headphones-wearing Weezy, a neon yellow wig-wearing Nicki Minaj and others.
The video follows the story of Drake attending a bar mitzvah ceremony as an adult to renew his commitment to his Jewish heritage. After he was presented with his Moonman for the visuals, the Take Care rhymer, who is also African American, gave an acceptance speech that basically explained how he was once bullied for just being who he was.
He shared a personal story about attending a house party that was anything but a celebration. "I ended up getting made fun of," the 25-year-old lyricist said. "I want to dedicate this award to any kid that's ever had a long walk home by yourself. This is to you."
Witness the heartwarming words below.


Watch Drakes 2012 MTV VMAs Acceptance Speech
Watch Drake's "HYFR" Video Feat. Lil Wayne