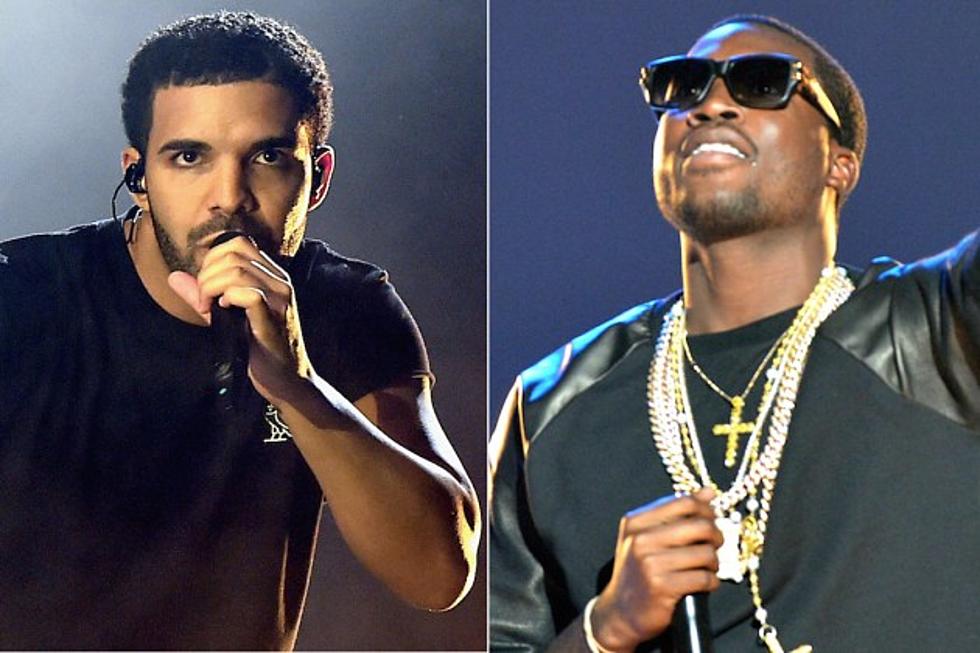 Drake Fires Back at Meek Mill Again on 'Back to Back' Freestyle
Kevin Winter / Rick Diamond, Getty Images
It looks like Drake wasn't done giving Meek Mill a verbal thrashing. Just days after dropping his diss song "Charged Up," Drizzy goes for the jugular again on his "Back to Back" freestyle.
Before we get into the song, the cover art on the Soundcloud player is particularly interesting. It's a photo of Toronto Blue Jays player Joe Carter who hit a home run that won them the 1993 World Series against Meek's hometown baseball team the Philadelphia Phillies. The Blue Jays had won the World Series before in 1992, thus Drake titling his song "Back to Back." Essentially, he's already declaring himself a two-time winner in this so-called rap feud.
As for the song, it features another sinister beat, courtesy of producer Noah "40" Shebib, and the OVO Leader methodically spitting acidic bars at the Philly rhymer.
First up, Drake addresses the ghostwriting controversy, rapping, "This for ya'll that think that I don't write enough / They just mad 'cause I got the Midas touch."
Then the "Hotline Bling" rapper goes in on Meek, who is currently performing with Nicki Minaj on her Pinkprint Tour. "You love her then you gotta get a world tour / Is that a world tour or your girl's tour? / I know that you gotta be a thug for her / This ain't what she meant when she told you to open up more," he raps.
He then drops a lethal zinger that's now being quoted on social media: "Trigger fingers turn to Twitter fingers / You gettin' bodied by a singin' n----."
At this point, Meek has no choice but to respond. The "I'm a Boss" rapper was supposed to drop a response song on Funkmaster Flex's show earlier this week, but nothing happened. And now fans want Flex to step down from his position on Hot 97.
Clearly, this rap feud is not over. Stay tuned.
Listen to Drake's "Back to Back" (Freestyle)
What's Beef? 10 Hip-Hop Twitter Feuds