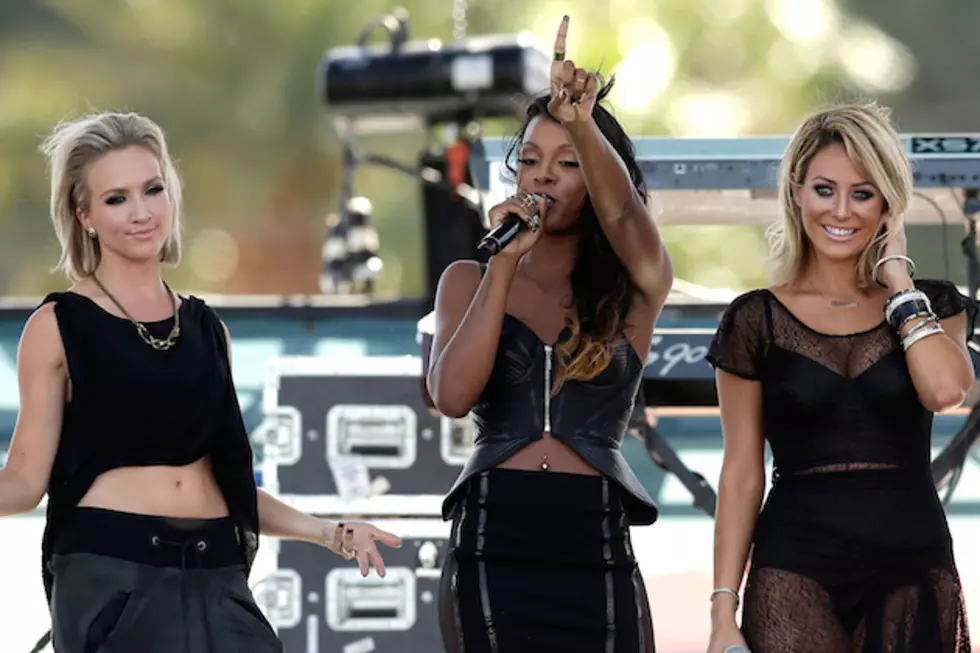 Are Danity Kane Getting Back Together?
Isaac Brekken, Getty Images
Update: Dawn Richard posted on social media that DK3are hitting the road for a "DAWN x Dumblonde x DK3" called "The Universe is Undefeated" tour starting Connecticut Conecticut on September 28. While all the dates haven't been announced, dates for the Stanford, CT, New York City, Hudson, NY and Anaheim, CA shows are on sale now. For more details and to grab a pair of tickets go to the Patriot Artists website here.
----------- Original Story----------
Is another Danity Kane reunion in the works? A recent social media post has fans speculating whether a Danity Kane reunion is on the horizon. The group's former member, Audrey O' Day posted a pic of her, Dawn Richard and Shannon Bex on Instagram Stories, leading fans of the group to wonder if their dreams will come true.
Danity Kane was formed on Sean "Diddy" Combs' MTV's reality show Making the Band 3 in 2005 and was disbanded by the mogul in 2009. Richard stayed with Diddy to form Dirty Money with Kalenna Harper, but then that group disbanded in 2012, and Dawn went solo. In 2013  she reunited with DK — sans D. Woods, but ultimately broke up in 2014 after releasing the single "Lemonade."
The group's first two albums went platinum producing the hits "Show Stopper" featuring Young Joc, "Ride For You," and "Damaged." But there was trouble in Diddy's paradise. After Aundrea Fimbres announced her pregnancy and left the group, DK cut down to three, then Dawn Richard and Aubrey O'Day reportedly gotten into a physical altercation at a Los Angeles recording studio during the recording of DK3. A battery report was taken, but O'Day didn't press charges against Richard and DK3 was released without promotion. A video for the next single, "Rhythm of Love" was released, but none of the girls appeared in the video.
"When something is poison and you go into the studio, and people are literally going behind your back and lying to you and taking your vocals that's fowl," Richard told The Breakfast Club. "And not only that, I found out my father had cancer, my grandmother died. They knew this. I was like 'Yo, all we have is the studio, all I have is this project. I believed in them.' [I'll go even deeper and say] I got sick. They had a whole week to go into the studio and I texted them and said 'I love you guys. Y'all gon' kill it. Whatever you leave open I'ma go in and record.' They told me they had the studio the next day, but they went in the day before. They were gonna record the ad-libs I did. I walked in on them doing it. I tried to confront them and they were like 'No we're talking,' putting their hands in my face, and I blacked out."
O'Day remained neutral about the altercation "I feel the same way about any difficult time in my past, or difficult situations or difficult people," The singer said in an interview. "You have to forgive yourself and forgive them. Just wish the best life possible for everyone around you or else your life will be angry and miserable. That's such a waste of time."
Judging by O'Day's post, the two have made amends. But as to whether there would be a reunion is up in the air. O'Day and Bex went on to explore the synth-pop realm once they became Dumblonde, releasing their self-titled debut a year after DK split. Richard has been the most successful member since leaving DK. Following the release of Dirty Money's Last Train to Paris, Richard has built a cult following releasing four solo albums that explore EDM, trance and other dark genres. She's also become something of a fashion icon and is known for collaborating with various brands to release capsule collections.
"I started on a TV show and it was such as generic and mainstream pop group, that no one would have thought the black girl would be going back into EDM." Richard told VFiles "If it was up to me we'd probably be a dark-ass I girl group that would have probably would have been wearing those JNCO jeans, with the raver water bottles. It would have been a whole different thing. But you can't walk up to Puff and be like 'I wanna do what Apex Twin did' He would've been like 'You're the devil and you're Satan.'"
Remembering the OTHER Female R&B Voices of the '90s